Posted on
Overcoming all the obstacles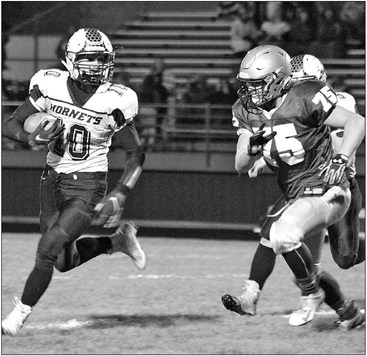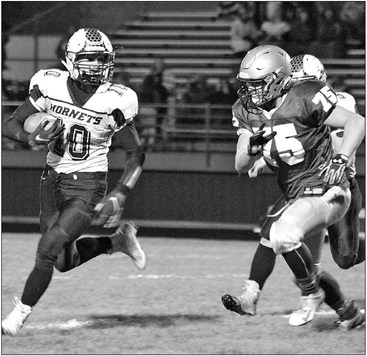 Jeske eager to play ball at Ripon College
Connor Jeske vividly remembers the worst night of his life. While his teammates were grinding out a win on the football field, he was in an ambulance, the fate of his playing days uncertain.
Jeske knew he had suffered a bad injury, knew his junior season with the Colby Hornets football team was over - what he didn't know was if he'd ever be back in pads and playing football again.
"I can remember waiting for my MRI results, thinking this may result in me not being the athlete I had set out to be," Jeske recalls from that night.
A great bear of a man, Jeske had been killing it on the field during his junior season where his 6'4, 245 pound frame wreaked havoc and gave opposing offensive linemen nightmares.
In only a handful of games, Jeske had already racked up 13 tackles, including four sacks and one fumble recovery. He was on pace to have the kind of season that gained the attention of college recruiters before it all came to a halt.
It wasn't long before Jeske learned the extent of his injury. It was serious, a broken knee cap, but while it meant Jeske would miss the remainder of the 2018 season, he knew he had months to work his way back into playing shape for his senior campaign.
"When I got my results and realized it was only a broken knee cap, I set out to do exactly what the trainer told me to do to rehab myself back to full strength and speed," Jeske said. "I stayed focused and determined, but it killed me to not be on the field at game time."
Jeske worked his way back to the basketball court during the 2018-19 winter sports season, then took part in track, where he increased his speed, dropping half a second off of his 40-yard dash time As the summer loomed, Jeske vowed to make the most of what time he did have left in a Hornets' uniform, dedicating himself to the weight room and fitness.
"I knew I wanted the most out of my high school athletic career so I trained the hardest the summer between my junior and senior years," Jeske said.
'There were daily workouts, weight lifting and I typically ended my nights with heading to the high school track at dark and running to build speed and endurance."
The time spent training definitely paid off. When Jeske came onto the field he had transformed his body so dramatically that opposing players had no idea who he was.
They quickly learned his name, along with the rest of the Cloverbelt Conference. Jeske, together with a strong and deep senior class, clobbered opponents left and right, with Colby's only losses coming at the hands of two top ten teams in Spring Valley and Eau Claire Regis, last year's WIAA D-6 state runner-ups.
By the time Jeske's senior season was over he had helped guide Colby to a second place finish in the Cloverbelt Conference and an 8-3 record. His individual accolades were even more impressive.
Before the first game, the first play or even the first snap, Jeske had outlined his goals for his final year in Colby green and gold.
"Over the course of the summer I had two goals: one was make the all-star game, and the other was first team all conference. I really had to step up and lift weights and work hard."
He knew if he could have a big enough senior season he might even be able to attract the attention of colleges and hopefully continue to play the sport he loves for another four years.
As the season drew to a close, Jeske's numbers all but speak for themselves. In 11 games, and as a defensive lineman, a position where players fight in the trenches, Jeske led Colby with nine tackles for loss, including five sacks. He finished 2019 with 38 tackles and forced a fumble en route to first team honors at offensive and defensive lineman.
More accolades followed, with Jeske named All-Region at both positions. The awards continued to pile up when he was chosen as the Cloverbelt Defensive Player of the Year and All-State honorable mention as a defensive end. He also made that coveted WFCA all-star game.
"I had absolutely no idea that I would be that recognized," Jeske says during a FaceTime interview. Even now, months later, his voice is still incredulous when he talks about the postseason accolades. "I was just amazed and it was awesome and it showed that all my hard work paid off. I'm so happy to have that state-wide recognition, and to see that my hard work paid off."
It wasn't just high school coaches who began to take notice of Jeske and his talents by season's end. Soon he was fielding offers from NCAA D-III and even NCAA D-II schools.
"It definitely had an impact on that," Jeske says about his postseason hardware. "Sometimes there were three colleges talking to me a day - all that all-state and all-region stuff definitely helped me out and got me some notice."
Nearly ever school in the WIAC came calling for Jeske, with coaches begging him to visit college campuses in Eau Claire, Stevens Point, and Oshkosh so they could make a recruiting pitch.
Soon enough, even D-II schools in Minnesota and Michigan were inquiring about the tall and ruggedly built young man hailing from Colby. Jeske scheduled visits and tried to get out to as many schools as possible.
"I visited Point, Ripon, Michigan Tech, Moorhead," Jeske recalls. "We were going to go down to Duluth, but didn't have the chance to."
Despite being on the road nearly every weekend this winter to visits colleges, Jeske loved the thrill of being pursued.
"It wasn't overwhelming at all," Jeske says. "To be wanted at so many places was awesome and it made my decision so much harder because I had scholarship offers. It was really cool."
Even so, each trip and each campus had something to offer, and did their best to influence him. Jeske found himself enjoying his time with different players from across different states, but when it came down to it, picking out the right school that was the right fight for him was harder than he expected.
In the end, Jeske chose to stay in Wisconsin, and he narrowed down his choices to a pair of in-state schools.
"It was a tough decision, really tough. I had it down to Stevens Point and Ripon, Point has an awesome team, but Ripon's academics just got to me. I'm majoring in biology and pre-med, and they have the highest placement for med students."
Jeske, a top student during his time at Colby, couldn't resist the allure of a storied academic program, and a school that placed education over athletics. Of course, it never hurts to have a successful coach, with the Ripon Red Hawks guided by Ron Ernst, the all-time wins leader in the Midwest Conference.
"I'm going to college to get an education, and that was my mind-set going into the recruiting process. The education just really got to me, and to be able to have the best of both worlds - a great education, and a chance to play football, it was just too good to pass up."
It's an uncertain time for Jeske, with his senior season ending prematurely thanks to the coronavirus, but he's hopeful there will be a football season in the fall. He continues to train at home in the hopes of seeing the field, where he hopes to continue to play as a defensive lineman for the Red Hawks.
"I always knew I could play college football, probably by my sophomore year, but I wasn't sure if I wanted to," Jeske admits. "At the end of my sophomore year I really kicked it into high gear, and I said I'm not ready for this to be over with."
Jeske's time with a successful program like Colby has prepared him for bigger things, and his head coach Jim Hagen knows he'll continue to represent his alma mater well - both in the classroom and on the field.
"As a coach, you always want to see your former players do well with whatever career path they choose and I am extremely proud to say that I have known and coached Connor," Hagen said. "I look forward to following his collegiate football career and I hope I can make a few games during his time at Ripon."
Jeske says he's excited to be a college student and to pursue medicine. But he's also excited for the next four years, where he wants to get everything he can out of being an NCAA athlete.
"I'm really excited, that's the biggest thing about it. I just can't wait to get out there and see what college ball is all about," Jeske said. He's also happy to show other Hornets what's possible.
"I never really had anyone that played college football before, so it's going to be a new experience. There's some nerves but I'm so excited and really pumped about it."