Posted on
Nowacki to run at next level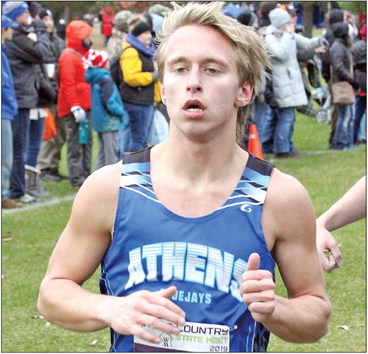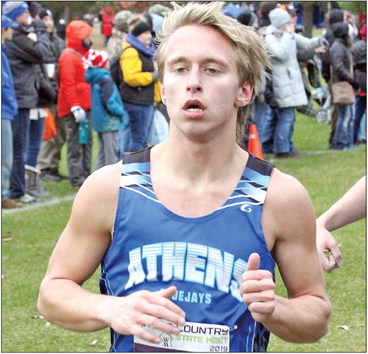 Young man will be in two sports at UW-Parkside
By Casey Krautkramer
A few years ago, Athens senior Johnathon Nowacki never imagined he'd develop himself into a good enough runner to receive a Division 2 college athletic scholarship.
Johnathon, who is the son of Robert Nowacki and Jennifer Kramas, is taking his talented running skills to UWParkside in Kenosha, which is located in the southeast corner of Wisconsin. He'll compete in both cross country and track for the Rangers in the Great Lakes Intercollegiate Athletic Conference.
He has a great high school athletic success story. Johnathon didn't even participate in running sports during his freshman year in Athens; he only played football and basketball.
"I was running in my physical education class in the fall of my sophomore year in high school when Athens cross country coach Korey Rottscheit, who was my math teacher, saw how fast I could run and he convinced me to join the cross country team," Nowacki recalled.
Johnathon went from being only the eighth or ninth best runner on the Athens cross country team, after he first joined the squad midway through his sophomore year, to becoming the best boys cross country runner in the Marawood Conference during his senior season this past fall.
"I have come a long ways since running cross country and track for the first time when I was a sophomore in high school," he said.
He already qualified for the WIAA Division 3 track state championships in the one-mile run during in his sophomore year, which was the first time he'd competed in the sport. He didn't place at state but it was a valuable learning experience.
Johnathon also qualified for the WIAA Division 3 cross country state championships, in which he took 38th place, during his junior year in high school. He continued to improve as a runner in his junior track season by breaking former Athens great Josh Langteau's school track records in both the one- and two-mile runs.
Langteau received a college Division 1 athletic scholarship to run at UW-Green Bay, which he did during his 2017 freshman year in college before deciding to change his job career path. He was Johnathon's assistant track coach last spring and assistant cross country coach this past fall. Langteau pursued his passion for wanting to work as an electrical lineman by graduating from Northwest Lineman College in Meridian, Idaho, this winter.
Johnathon qualified for the WIAA Division 3 track state championships in both the one- and two-mile runs during his junior season. He also qualifi ed for state track as a member of the two-mile relay team. Johnathon made the state championship podium with a sixth-place finish in the two-mile run; he also placed eighth in the one-mile run. His two-mile relay team that included members Aaron Hartmann, Brock Thompson and Tanner Westfall didn't make it out of the prelims and took 16th place.
During his senior 2019 cross country season, Johnathon beat his rival Garrett Dolan of Wisconsin Rapids Assumption to win the Marawood Conference championship race at Frey Field in rural Spencer. His proudest moment, however, is helping lead the Athens boys cross country team to its first conference title in school history.
He also ran a faster time than Dolan at the WIAA Division 3 cross country state championship race at The Ridges Golf Course in Wisconsin Rapids, where Johnathon achieved his goal of placing in the top 10 runners. He took 10th place to earn a spot on the state podium inside the Wisconsin Rapids Lincoln High School gym. He was the first Athens boys cross country runner to place in the top-10 cross country runners at the state championships since Doug Riske accomplished this feat in both the 1967 and 1968 seasons. Riske placed third at state cross country in 1967 and second in 1968.
Johnathon will be a college track teammate of Stratford graduate Hunter Hannan, the son of Dennis and Kim Hannan, at UW-Parkside next year. Hunter was a college freshman attending UW-Parkside this year. Johnathon said the Rangers track coaching staff might have him run the 5,000 Kilometer races during both the indoor and outdoor seasons.
He has experience competing in the past two Athens Fair 5K runs, in which he took third place two years ago and second place last year behind champion Xavier Lechleitner of rural Edgar, who is a 2016 graduate of Marathon High School.
Xavier just finished a four-year college running career in both cross country and track at Division 1 Drake University in Iowa. Lechleitner won the 800-meter run at the WIAA Division 3 state championships in 2015, and he helped lead the Marathon boys track teams to state titles in both 2015 and 2016.
Johnathon, meanwhile, never got a shot at winning the two-mile race at the state track championships this season because it was canceled due to the coronavirus pandemic. He said all runners who finished ahead of him in the event at state last year were seniors who graduated from high school, making him one of the favorites to win the race this spring.
"It hurts to not have a chance to show I was one of the better track runners in Division 3 this year, but now I need to focus on training for my upcoming college cross country and track seasons," he said.