Posted on
Veal jumps at the chance to continue playing at UW-Stout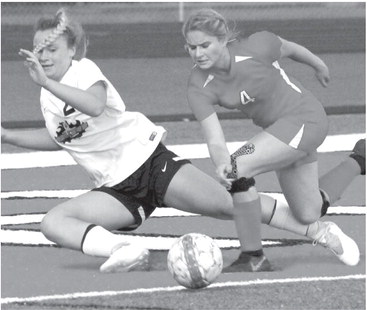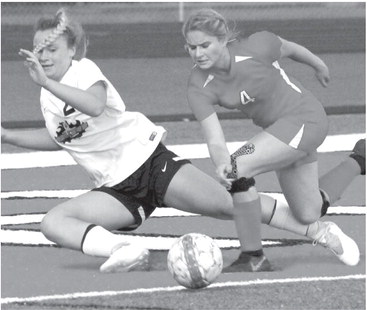 ON TO THE NEXT LEVEL
Unfortunately, Chris Reardon never got the chance to be Bella Veal's head soccer coach at Medford Area Senior High.
But the one year they have known each other resulted in an opportunity the Raiders' graduating senior is quite thankful for.
Even though Veal was able to compete for just two of her four years with the high school program, she did enough to land a spot with the UW-Stout women's soccer team. The Blue Devils are a team looking to make a move upward in the Wisconsin Intercollegiate Athletic Conference after their sophomore-dominated squad went 5-13 last season, including a 1-6 league record, under head coach Ryan Raufus. Raufus will begin his 10th season in that position this fall, assuming the sports season will be allowed to get underway.
"It's very exciting because I really didn't play that much in high school with injuries and now the corona," Veal said. "Now I can keep going."
Playing soccer beyond high school was something Veal hadn't given much thought to until the seed was planted by Reardon at the start of last season.
"It's funny, because, and I'm kinda going back 12 months now, the first time I saw Bella play, I sat next to her and I said, 'what are your plans?'" Reardon said. "She said, 'well I think I'm going to go to North or South Dakota,' where her parents went. I forget exactly what she said. I was like, 'no, no, no, no. You need to play college soccer.' At the start of the summer, she texted me and said 'I want to play college soccer.' I said 'all right.'" Veal verified that's how the whole thing started.
"I never really thought I was going for it, but then Chris Reardon came and he told me that I needed to," Veal said. "So then he helped me get video and I went to some college camps and everything. Then Stout wanted me and I said yes."
Reardon was hired as Medford's girls assistant coach last spring and was promoted to the head coaching position last summer. Reardon grew up excelling in soccer in his native England and his coaching stops in America included a three-year stint as an assistant with Stout from 2010-12. The last two years were under Raufus.
Reardon's Stout connection certainly helped, but it was a personal viewing from Raufus last fall that sealed the deal.
"I had played fall season with a club team (MC United, based in Wausau)," Veal said. "Then we started sending videos. (Raufus) came and watched one of my games and after that game, he said 'I want you.' And I said 'yes' after that. That's when it all happened.
"I thought I was going to go to South Dakota State," she added. "They're a D-I college so I realistically couldn't play soccer there. But then with Stout happening, that changed my mind."
Things certainly happened for Veal when she was on the field as a Raider.
She made an impact as a freshman, scoring five goals and adding three assists for a two-win team. Her role was projected to increase as a sophomore, but she wound up missing the season due to injury as the improving Raiders finished 7-8.
She returned last spring and, despite missing a few games with another injury, she played a pivotal role on a team that took a big jump under head coach Dan Felix, going 11-7-3 overall and making it all the way to the WIAA Division 3 sectional final, which the Raiders lost to Great Northern Conference champion Ashland.
Veal scored nine goals and had seven assists, including hat tricks in both of Medford's wins over Antigo and two goals in a WIAA tournament win over Waupaca. She earned second-team All-GNC honors.
"I never thought we'd get that far," Veal said of last year. "I was so excited for this year because we probably could've went farther with Chris as our coach. We didn't get the chance to."
Obviously, this season was wiped out by the coronavirus pandemic. Women's soccer in college takes place in the fall, so teams across the nation are crossing their fingers they'll be able to play. Stout's first two games are scheduled for Sept. 1-2 in California.
"Very disappointing," Veal said of losing this season. "It was really hard, but I still have four more seasons hopefully. I've just been going to the field a lot, but it's still heartbreaking that I don't get my senior season.
"Every day I go to the field," she added. "Chris normally puts together videos for us to practice. So I do those drills."
"She's so dedicated to better herself," Reardon said. "The thing about it is she's always been the best player. Now she's going to be part of a team where they're all great and she's just going to excel. She's going to be an absolute super star."
Veal said the early indications are that she'll start out at Stout playing a midfield position, which is different than the striker/forward position she's typically played. But it should allow her to be in the middle of the action with both offensive and defensive responsibilities.
"I like how you can just be aggressive and you never have to stop," Veal said about her love of the game. "For 90 minutes, you just keep going and hustle."
Academically, Veal plans to use her determination to work toward a degree in criminal justice.
"I either want to become a detective or I want to be an officer with a drug dog," she said.