Posted on
Wiensch at home on the ice from an early age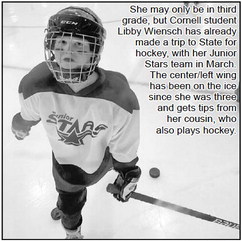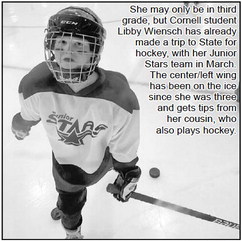 Most high school students can only dream of making it to State competition in their sport, but Cornell third grader Libby Wiensch has already made her mark in the record books. As part of the Chippewa Valley Girls Youth Hockey Association Junior Stars, Libby saw her first trip to State competition, March 7-8, in Baldwin.
The Stars qualified for the State level during a playdown in February.
"It was a miracle that they made it, because their team was young and they really didn't do well through the season," said Michelle Wiensch, Libby's mother. "They ended up winning that game to go to State."
However, once the eight and nine-year-olds got to State, they faced some tough competition, as most of the other girls were 11 and had bigger teams. The Stars were lucky to have two lines (switch-up players) for breathers, as the other teams had three or four lines.
The Stars also were down four players, on account of illness and a scheduling conflict.
"They were up against all these…'A' hockey teams," said Michelle. "It was great for them to play higher skilled girls."
Playing 30 seconds to a minute each player, the other teams were naturally fresher after sprinting back and forth on the ice.
"We had to play a lot," said Libby.
"Our kids are out on the ice almost constantly, which is tough," agreed Michelle.
Although the Stars did not place, Michelle says the girls had fun and got good experience.
Looking ahead to next season, Libby will be part of the Squirts co-ed team in Chippewa Falls, as Michelle says they are trying to recruit enough girls for a team of their own.
"We're trying to keep all these girls together, because they've been playing together since they were three years old," said Michelle. "So, once they get to high school… they'll have a great team."
For now, Libby will continue to practice in the off-season to keep up her lung capacity and leg muscle strength. She's also set to do traveling hockey in Minnesota, with tournaments throughout the summer, as part of the Wisconsin Crush team.
While Libby, Michelle and Dan (Libby's father) live in Jim Falls, there are no plans right now to have Libby attend anywhere but Cornell, as Michelle likes the teachers and academics offered to Libby.
"She's doing so well in the after-school program," said Michelle, adding that Libby often helps out at after-school. "That's great character building."
Libby has known she wanted to play hockey before she even started preschool, after her parents took her to see Michelle's nephew, Lucas, who was eight at the time.
"Libby has always looked up to Lucas (now 14), wanted to do everything like Lucas," said Michelle. "He really has a successful hockey career starting."
Libby was two and a half at the time she was first introduced to hockey.
"She fell in love with it," said Michelle. "She was like, this is what I'm doing."
Because her daughter enjoys hockey so much, Michelle said she would be glad to help parents get their kids into hockey and that it's not as expensive as one would think. For information on how to sign up for youth hockey, parents can contact Michelle at [email protected]
As for what Libby's long-term plans are with her hockey career, her answer is simple.
"I don't know," said Libby, who admits she'll take things as they come.
"Athletically, she's pretty talented," said Michelle. "I see her continuing with hockey. She's doesn't stop smiling when she's on the ice."