Posted on
First turkey comes quickly for 6-year-old hunter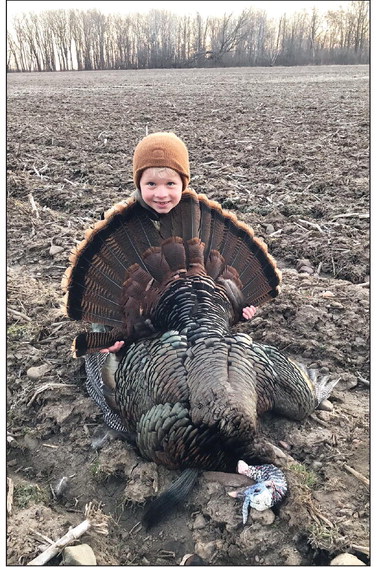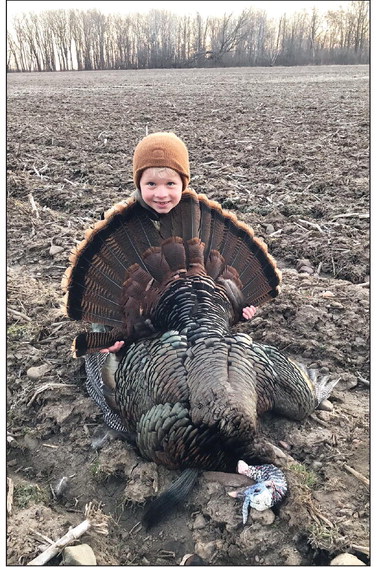 Michael Green didn't need very much time to get a turkey bigger than any his dad has ever harvested. Less than an hour, that's all it took for the 6-year-old to bag the 26-pound tom that gives him family bragging rights after his first-ever mentored hunt.
Michael and his dad, Joe, were in their blind before light on April 11, the first day of Wisconsin's 2-day Youth Turkey Hunt. Their spot was in a wood line along a town of Hendren field, a place where Joe knew the local turkey population likes to congregate. With a tom and two hen decoys placed in front of their blind, they settled in to see what might come their way.
It was a gorgeous spring morning, Joe said, and he called a few times before dawn just to let the local toms know there was a hen in the area. Just after first light, two of them took notice, and came out of the woods on the far end of the long field. Joe knew from that point he didn't need to call anymore, as turkeys on that field tend to group up once they see each other.
Across the field the toms moved, toward the blind. Michael and Joe watched them come, until the pair had made it all the way, within 10 yards of their decoys. That's when Michael let loose with one round from his 20-gauge shotgun, and just that like that, the hunt was over.
"It was a really quick hunt," Joe said. "They were in full strut all the way across the field, which was probably 300 yards. It was pretty neat."
This was the first hunt on which Michael was prepared to shoot. He had been in the blind with his father before, including last year when Joe got his bird.
"He's gone hunting with me for a few years now," Joe said. "He's been around everything."
This spring, Joe worked with Michael in the backyard to sight in the shotgun using a tripod. They also used the device in the blind "so all the weight of the gun is on the tripod so he doesn't have to hold it," Joe said.
When the big moment arrived, Michael was ready.
"He wasn't scared at all," Joe said. "He said he really didn't feel the kick of the shotgun because he was so pumped."
Joe and Michael were taking advantage of Wisconsin's mentored youth hunt rules, which allow hunters of any age to take part in a harvest as long as their adult mentor is with them. They are allowed only one gun, and are allowed to use any tag they may have drawn during the April 11-12 Youth Hunt period. Michael may get to hunt again — weather permitting — this coming weekend as Joe purchased a bonus tag for the local unit.
Michael's trophy weighed in at a stout 26 pounds, larger than any Joe has bagged in his many years in the woods. The bird had a 10 1/2-inch beard and 1 1/4-inch spurs. The beard and tail fan will be mounted for the Green home wall.
Joe said almost everything about Michael's first hunt went as well as could be planned. The weather was warm, and the birds cooperated in short time.
"When you're six, your patience doesn't last very long," Joe said. "The whole thing lasted maybe an hour. That's about perfect."
Michael thought so, too, and has reminded his Dad every day since that his bird is the heaviest anyone in the family has taken.
"He was just giggling. He loved it," Joe said of the harvest. "He was just thrilled. It was just a great moment."
CONTRIBUTED PHOTO