Posted on
An Outdoorsman's Journal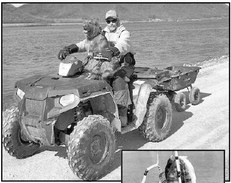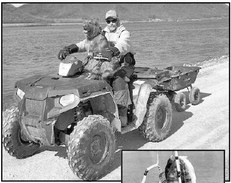 An Outdoorsman's Journal
By Mark Walters
Perch on the Mississippi
Hello friends, Of all the places my outdoor travels take me, nowhere puts me at peace or makes me go down memory lane, so much as anywhere on the Mississippi River. This week, I headed over to Buffalo County, with a canoe, an ATV, my golden retriever, Ruby, and a powerful urge to catch some fish.
Tuesday, March 31 • High 53, Low 33
My plan was to shore fish for much of this adventure, but to travel by canoe or ATV to get to the fish. As seems to be the norm these days, adversity would create challenges and this week, it would be in the form of a 4-foot rise in the river.
I was told that on the road leading to Wabasha, Minn., from Nelson, people were catching perch from shore and that they were really big. My mind works different than many people's and this report had me thinking nothing but 11-14 perch, sleep on shore or my truck, and live large.
When I arrived today, before I pulled a rod out of my truck, I began talking to fishermen fishing these beautiful backwaters and everyone told me the same thing. "Should have been here last week, the perch were huge and plentiful, the water has gone up so much the bite is non-existent."
I fished among about 20 shore fishermen and women for a good hour, and saw what I had been told was true. I had a plan, and that was to put the ATV in my trailer and take that ATV and gear down a three mile stretch of dike to Lock and Dam 5A. I did this last year, for the first time and after figuring out how to fish it, caught some beautiful walleye.
So, I drove to Buffalo City, which is a very impressive community, headed to a boat landing just south of town, loaded a small trailer with gear and hooked it to my ATV. At first, Ruby ran as I drove along the river on one side of me and backwaters on the other side. Then, she gave me a look, and I let her jump up and ride with me.
Ruby loves ATV rides, and about every minute has to look at me and give me a kiss like she is saying, "Ain't life grand?"
The entire ride it, was duck city by the hundreds and all I could think about was canoes, ducks hunts, hog hunts on this same river down by the Gulf of Mexico, and sand bar fishing trips.
So, I get down to the dam, which I am on the side of the river which is all backwaters and no roads, and I go for a hike with fishing gear. I set up in some backwaters with a minnow on one pole, worm on another and wax worm with a bobber on another.
I had to work for them, but I caught some beautiful perch with the biggest 13 inches. At dark, I hiked back to the ATV, for a mile Ruby ran, then she gave me the look and rode with me; a good day it was.
Wednesday, April 1 • High 56, Low 27
I slept in the beautiful confines of The Chevy Hotel with my pup last night and was up before it got light out this morning.
When I was 18 years old, I was a deckhand on a riverboat that pushed gasoline from New Orleans, La., to Louisville, Ky. It was the winter after I had graduated from high school and I loved that job. One night, Captain Ed Cox told me to take the flag down from the flag pole and burn it, as it was toast from the exhaust coming out of the diesel engines. I kind of disobeyed some of that order and kept that flag, and still have it. My boat was called the Universal Trader and life was good.
Ruby ran the first mile, the sun had not risen and life was good, as my ATV, which had a lot of frost on it, carried me to "Perch Paradise." After a bit, Ruby gave me the look, I let her jump on our horse and we made it to the dam.
I tried really hard both days to get a walleye, but had no luck. I did have a beaver swim into my line and I caught a beautiful limit of perch, as I sat on the banks of a river that has always been very good to me.
Spend lots of time in the outdoors, you will have no regrets! Sunset