Posted on
Ten Raiders, plus Marcis, earned All-GNC awards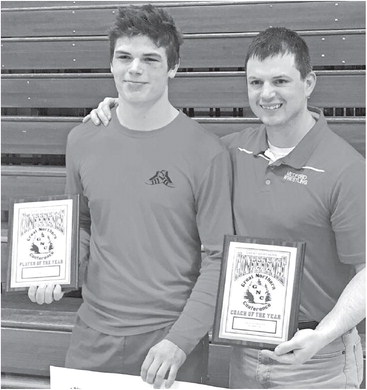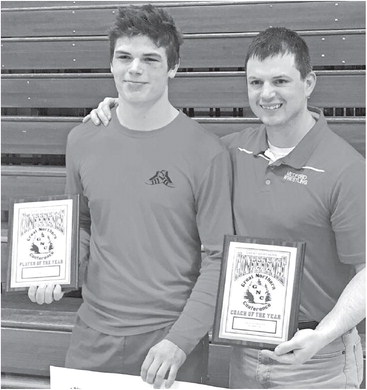 ALL-GNC WRESTLING
The Medford Raider wrestlers went a perfect 5-0 in Great Northern Conference dual meets this winter, won their third Great Northern Conference championship in four years and earned the program's second consecutive WIAA Division 2 regional crown.
Ten Raiders played a big role in sealing that conference championship with their performances during the league tournament, which Medford hosted on Feb. 8 and won with 418 points, 27 more than runner-up Tomahawk.
Medford earned six weight-class championships, two second-place finishes and two thirds at the GNC meet, where individual awards are determined by performance.
Leading the list of this year's honorees were fourth-year head coach Brandon Marcis, who was named GNC Coach of the Year following the conference meet for the third time in four seasons, and senior 182-pound wrestler Clay Bowe, who was named Wrestler of the Year.
Under Marcis, who also won the Coach of the Year award in 2017 and 2019, Medford went 12-2 overall in dual meets during the 2019-10 season. The Raiders sent nine wrestlers to the sectional meet in Osceola and qualified two of them for the state meet. Senior Jake Rau defended his 220-pound state championship.
In their appearance at the team sectional in Baldwin-Woodville, Medford beat Northwestern 63-16 in the semifinal round and lost to eventual state runnerup Gale-Ettrick-Trempealeau/Melrose-Mindoro 35-28 in the championship dual.
Bowe's Wrestler of the Year honor followed a season where he was basically unchallenged in conference competition. In the five dual meets, Bowe earned three pins, a 7-0 win over eventual 182-pound runner-up and state qualifier Kade Wenninger and a forfeit. In the GNC meet, he again took a forfeit and got four pins. Three of them were accomplished in the first period. He pinned Wenninger in 1:05. The longest match, against Rhinelander's Connor Lund, took 4:28. The GNC title was Bowe's second. He won last year's 170-pound title. Bowe was a regional champion for Medford and finished the year 35-8.
Rau and senior Zeke Sigmund ended the year at state and as three-time GNC champions.
Rau went undefeated in GNC matches and finished 38-2 overall. He pinned Antigo's Nick Roller (45-6) in 5:38 in an All-GNC state championship match in Madison on Feb. 29. During the regular season, he won four contested matches in the duals and took one forfeit. One of those matches was a pin of Antigo's Talik Bussey at 285 pounds. He also beat Tomahawk's state runner-up at 285 pounds, Tony Matti, 2-1 in a Jan. 30 matchup.
At the GNC meet, Rau beat Roller 5-2 and won three other matches in first-period pins.
Rau won his first-ever sectional championship at Osceola Feb. 22.
Sigmund successfully defended his GNC championship at 145 pounds. He went 4-0 in the duals and dominated his bracket in the GNC meet, earning five first- period pins, including the final one in 45 seconds over runner-up Jason Hilgart of Lakeland. Sigmund finished 40-7 overall and won the 145-pound regional championship at Eau Claire Regis on Feb. 15.
Senior Dane Higgins won a GNC title for the second straight year, taking the 138-pound weight class with a perfect 5-0 mark in the duals with five pins and another 5-0 record in the conference meet. In the GNC meet, Higgins earned a bye and then won by pin, major decision and technical fall before ending with a 6-1 win over weight-class runner-up Alex Bishop of Tomahawk.
Higgins won the regional championship and finished the year 35-8, falling just short of earning four straight berths in the state tournament.
Juniors Emett Grunwald and Carson Church both won their first GNC titles.
Grunwald completed a perfect GNC season at 152 pounds that included two pins, two forfeits and a 12-8 win over Tomahawk's Tom Rigney in the duals and a 5-0 record in the GNC meet. That day included three pins, a 20-7 major decision over Rigney and a 6-2 win in the decisive final match in the weight class over Antigo senior Neil Bretl.
Grunwald wound up with a 35-12 overall record and qualified for sectional competition for the second straight year.
Church overcame an early-season knee injury and went 4-0 in GNC dual meets at 132 pounds with a pin over Antigo's Logan Edwards, a forfeit and wins of 10-3 over Lakeland's Zane Grams and 5-3 over Tomahawk's Mason Evans. Church went 3-1 at the GNC meet, losing 3-2 to Evans in the final bout, but he emerged as the winner by criteria in a three-way tie for first with Evans and Edwards. In the meet, Church pinned Edwards in 5:28 and pinned Grams (5:50) and Rhinelander's Brady Schrieber (:48).
Church's season extended into sectional weekend after he won his first regional championship. He finished 25-5.
Senior Eric Rehbein and freshman Ty Sova earned All-GNC second-team honors with their runner-up finishes Feb. 8.
Rehbein's came at 126 pounds, where he lost a 2-1 heartbreaker to Mosinee junior Chase Kmosena in an overtime tiebreaker. Kmosena also beat him 1-0 in the teams' dual meet Jan. 28. Those were Rehbein's only conference losses of the season. Otherwise, he went 8-0 with two pins and a big 5-4 win over Tomahawk's Luke Knight in the duals and three pins and a 3-2 win over Knight at the GNC meet.
Rehbein was another of Medford's sectional qualifiers and finished 27-14.
Sova was part of a three-man bracket at 106 pounds in the GNC meet and went 1-1. He dominated Tomahawk's Addison Peissig 15-3 and lost a late lead against Lakeland senior Sawyer Duir in a 7-4 loss. Duir beat Peissig to finish 2-0.
Sova split his time between 106 and 113 pounds in the GNC duals and won two matches by pin, lost two by pin and won a match by forfeit. Sova made it to the sectional after taking second at the regional and finished his first year 23-13.
Senior Jake Brunner and junior Hayden Johnson earned All-GNC honor- able mention with third-place finishes in their weight classes.
Brunner got his mention at 160 pounds. He came out on the short end of a three-way tie for first at the GNC meet with three wins and a bye that day. He knocked off Tomahawk's Logan Bishop 9-7 in an overtime tiebreaker, but got pinned by eventual champion and state qualifier Joshua Heuss of Antigo. He also beat Lakeland's Nick Rybicki and Rhinelander's Joe Fugle. Brunner was 3-2 including two forfeit wins in GNC duals. He finished the year 26-12.
Johnson pinned Mosinee's Jaydon Cherek and Antigo's Gideon Sass and drew a bye to start his GNC meet at 170 pounds before losing 7-3 to runner-up Marcus Matti of Tomahawk and getting pinned in 1:54 by champion Walker Hartman of Rhinelander. Johnson was 4-1 in GNC dual meets, losing only to Hartman. Johnson had a solid year, especially in the second half, and finished 20-17.
Medford's 10 individual award winners were the second-most in the GNC behind Tomahawk's 12. The Hatchets had just one champion, however and six honorable mention wrestlers. Medford's two state entrants equaled Antigo and Rhinelander, while Tomahawk had three. Rhinelander wrestled in Division 1 in the post-season. Tomahawk also was a regional champion, losing its sectional semifinal 46-14 to eventual state champion Wrightstown.