Posted on
Redmen start fast, finish off Wildcats 71-58 in final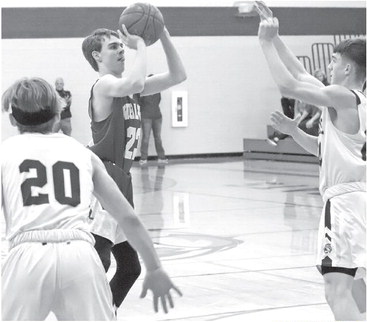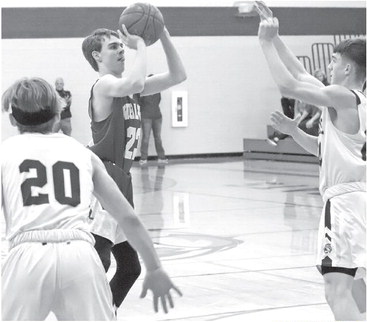 WIAA DIV. 5 REGIONAL CHAMPIONS
The Rib Lake Redmen started fast in each half Saturday and built a 24-point lead before holding off a furious Wild Rose rally to get the WIAA Division 5 regional championship they felt they let get away a year ago with a 71-58 win over the second-seeded Wildcats.
With multiple motivating factors driving them, the Redmen weren't going to be satisfied unless they brought the regional plaque back from Wild Rose High School.
"We definitely had a chip on our shoulder from last year," senior Levi Ewan. "And we came in with a lot of motivation because we think we kinda got gypped on our seed. We felt like we should've had a home game, so we came in with a chip on our shoulder there. We had a lot of motivation with Jerry Blomberg (passing away). So we had a lot coming in."
Blomberg, the grandfather of sophomore guard Logan Blomberg lost his battle with cancer the previous night.
"That was kind of a motivational thing for them with Jerry passing away (Friday) night," head coach Carrie Ewan said. "They wrote his initials on their shoes beforehand. Jerry was number 23 back in the day, so Logan and Brock Thiede switched jerseys today. I think they fed off that a little bit."
By the time the second-seeded Wildcats (18-7) knew what hit them, their deficit was too large to overcome.
Levi Ewan got the first basket of the game on a drive through the lane. That was answered by a bucket from Wild Rose's top gun, Caleb Williams, off a perfect lob pass from Colten Hanson. The next few minutes became the Nick Gerstberger show as Rib Lake's senior forward put up a quick 10 points on two inside baskets and two 3-pointers to put Rib Lake up 12-7.
"It's a good feeling knowing that when he shoots it, it's most likely going in," senior Steven Petkau said. "He's been shooting really well."
Hanson's 3-pointer cut the lead to 12-10, then Rib Lake went on 20-3 tear that wound up being the difference in the game. Devyn Vlach hit a couple of 3s in the run, Gerstberger pushed his point total to 15 for the half with another bucket and a triple and Blomberg hit a midrange jumper to make it 32-13. Blomberg scored again to make it 34-16 before the Redmen settled for a 34-19 halftime lead.
"We just worked the ball around and when you're open, hit it," Gerstberger said of the team's fast start. "We're not necessarily the most patient team there is. When we see an opening, we're going to take it. We've got good shooters."
"That start saved us really," Petkau said. "That got our momentum going and we couldn't miss."
"We came out firing," Carrie Ewan said. "We were dead on on offense. We hardly missed a bucket coming out. We were fired up. Defensively we got some stops. They hit a few quick shots right off the bat and I thought here we go, back and forth. Then they started to miss. We were getting the rebounds, getting stops and kinda kept the pedal to the metal the whole first half."
The break didn't help the Wildcats at all, at least initially.
Ewan scored from the baseline off a Ryan Patrick assist and then capped an excellent, patient possession by hitting an open 3. Ewan scored again off a Vlach steal to push the lead to 20 for the first time at 41-21.
When Wild Rose started employing full-court pressure, Rib Lake burned it repeatedly with Vlach, in particular, getting wide open on the back end for layups as the lead grew to 47-23 with 13 minutes to play. Two and a half minutes later, Vlach scored and Gerstberger got a three-point play off a Petkau assist for a 54-31 lead.
But eventually, Wild Rose's desperation defense started paying off with some turnovers and momentum. Williams, the Central Wisconsin South Conference co-Player of the Year, led the Wildcats' rally with a steal and dunk that made it 56-38, a steal and 3-pointer that pulled them within 58-44 and, after two baskets by teammate Sam Walters, a 3-pointer that got the deficit to single digits at 60-51 with 5:05 still to play.
"He can shoot from deep and he's so quick and shifty," Petkau said of Williams. "He's good with the ball. He can jump too."
"In the second half, we did lose our composure just a little bit," Carrie Ewan said. "They had some unlikely heroes on that team today. We were trying to shut down their three main shooters, then all of a sudden two other guys started hitting. They really made it interesting."
Over the next three minutes, however, the Wildcats went cold from the field and Rib Lake made enough free throws to salt it away. The lead got back up to 13 at 64-51. Wild Rose got a 3-pointer from Johnathan King and a layup by Kane Cronkrite to close within eight at 65-57, but Patrick got free for an easy two and the Redmen got a quick outlet pass to Vlach off a defensive rebound and he sealed it with a three-point play that made it 70-56 with 1:14 left.
"I think it really helped that the crowd just started yelling," Patrick said of Wild Rose's run. "I think that really just calmed me down personally."
"I think we tend to feed off that stuff. We really do," Gerstberger said.
"I felt pretty confident that we were going to pull through and get the win," Blomberg said. "But it was a little nerve wracking."
Gerstberger led Rib Lake in scoring for the second straight night, following up his 31-point outing against Newman Catholic with 23 points. Vlach finished with 17, Ewan had 11 and Petkau and Patrick had eight apiece. Patrick also came up with some big rebounds and a couple key assists. Blomberg added four points while wearing number 23, rather than his usual 21, in honor of his grandfather.
"It was really cool," Blomberg said of his teammates' support. "It was pretty fun too."
"I feel like that's the special thing with our team," Gerstberger said. "We back each other on everything. If something happens, we're there for each other. It's a brotherhood."
"(Patrick) works hard on the inside, gets rebounds," Levi Ewan said. "He's improved a ton over the last two years. He's a huge part of our team."
"I don't really score much because the four seniors do a lot of that," Patrick said. "When Logan comes in, he hits the 3s for us. I just try to get the rebounds and either put it up myself if I get an opening or kick it out to somebody else for a shot."
Williams wound up with a hardearned 20 points to lead Wild Rose, who won its conference by a game over Almond-Bancroft, the top seed in the sectional half-bracket. Both teams went down Saturday as fourth-seeded Pittsville, the third-place team from the Central Wisconsin South, upset Almond-Bancroft 62-49.
Pittsville (19-6) will meet Rib Lake tonight, Thursday, in a sectional semifinal at D.C. Everest at 7 p.m. (see story on page 3). The winner will face Wabeno-Laona (18-7) or Wausaukee (20-5) for a spot at the state tournament at 1 p.m. Saturday in Pulaski.
"We're just thinking one game at a time," Petkau said.