Posted on
Raiders make late run, but deficit too big in season-ending loss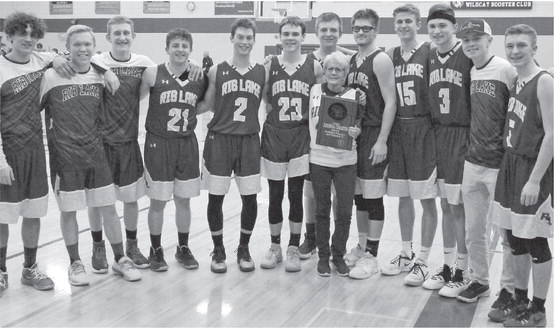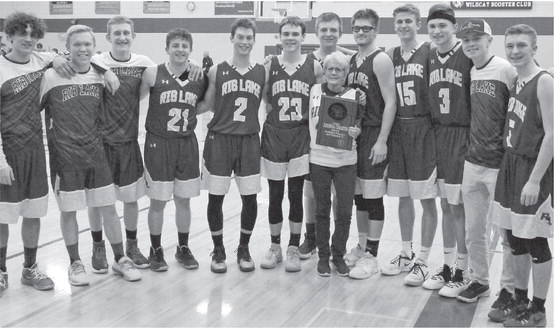 WIAA DIV. 2 BOYS BASKETBALL
For a stretch in the second half Friday, Medford players and fans had that "Hortonville" feeling that a memorable comeback was about to happen.
But unlike that regional final rally from a 20-point deficit four years ago, the New Richmond Tigers refused to let the Raiders finish the comeback and ended Medford's season with a 66-56 WIAA Division 2 regional semifinal win.
The sixth-seeded Raiders knew nothing was going to come easy after the first round in the highly-competitive western side of this year's sectional bracket. In this second-round matchup between conference champions, the third-seeded Tigers were the ones who struck for the two biggest runs of the game midway through the first half and early in the second half, building an 18-point lead that Medford whittled down to seven on multiple occasions. But the Raiders couldn't get that additional stop and score that really would've put crunch-time pressure on the Tigers.
"It was really a matter of we missed some real good opportunities when we had some open slips when they cheated a bit looking for steals in the first half," Medford head coach Ryan Brown said. "They got some easy layups off our turnovers in the first half. Defensively I didn't think we played that bad. But they got those easy baskets off turnovers and they got some extra points off second chances."
New Richmond advanced to Saturday's regional final and finished at 20-4 with a 76-58 loss at second-seeded La Crosse Central (19-5). Medford ended up 19-5 with Friday's loss.
La Crosse Central meets top-seeded Onalaska (23-1) tonight, Thursday, in one of the state's most highly-anticipated sectional semifinals. The winner will face either Mosinee (18-6) or Hortonville (19-5) in Saturday's sectional final.
The Raiders responded well early after their two-hour bus ride. Peyton Kuhn hit a pair of 3-pointers and Mason Rudolph added one for a quick 9-4 lead. Medford answered a CJ Campbell 3-pointer with Rudolph's nice pass to a cutting Justin Sullivan that made it 11-7.
The half turned, however, on New Richmond's ensuing 16-4 spurt that put the Tigers up 23-15. Campbell went on a tear, scoring 15 of New Richmond's first 19 points with five of those coming off turnovers and Joey Kidder also got four points off steals during the run.
Kidder, a 6-3 senior guard, was one of the top players Medford has seen all year. He finished with 27 points, 11 rebounds, five steals and three assists.
Medford battled back within 29-23 on a short shot by John McMurry and a tip-in by Rudolph, but the Raiders went scoreless in the last three minutes of the half and Campbell scored with a tough inside shot and Kidder drove through the lane and scored to push New Richmond's lead to 33-23 at the half. In the half, the Tigers had 10 points off turnovers and six second-chance points off seven offensive rebounds.
"On the board, I thought we were as physical as they were," Brown said.
"They weren't huge, but all their guys seemed like they had 2 to 3 inches on each one of our guys. Watching the film, it's not that we weren't boxing out or using our bodies to try to push them out. At times they were jumping right over our guys."
New Richmond was just two of 11 from 3-point range in the first half, but Jacob Parent hit one early in the second half and Jack Stuedemann hit two killer 3s, one of them off a second-chance opportunity to help the Tigers build their biggest lead at 49-31 with 11:50 left.
Medford's Logan Baumgartner answered Stuedemann's second 3 with one of his own and that started the Raiders' effort to get back into it. Defensively, the Raiders started getting stops and Kuhn went to work on the offensive end, scoring on a tough move at the rim, scoring in transition off Baumgartner's defensive rebound and then hitting three straight 3-point shots from near the top of the key to pull Medford within 54-47 with seven minutes still to play.
"For a while it really felt like we were going to come all the way back and have another Hortonville type game," Brown said. "We got some opportunities to get even closer. We had a couple of shots go in and out. It just wasn't quite enough to come all the way back, but we were right there. Where New Richmond did a good job was Kidder getting them points when they needed a basket. I felt we never hit the panic button at any moment. We just needed one or two more big stops."
After Kuhn was stopped on a drive that would've gotten Medford within five, Kidder was fouled and sank two free throws with 6:33 left. He took the ball to the rim on New Richmond's next possession to push the lead back to double digits at 58-47. Baumgartner's free throws with 4:00 left got Medford within 58-51 and Onyi Ekwueme's free throws with 2:47 left made it 60-53. The Raiders nearly got a steal but couldn't corral the ball with 1:42 left. The Tigers made them pay on the ensuing inbound, getting Kidder free on a back cut. He took a perfect sideline pass from Parent and scored to push the lead back to nine and basically seal Medford's fate.
Kuhn wound up with 25 points, five rebounds and two assists. Rudolph scored nine points and had three rebounds and three assists. Sullivan scored eight points and had five rebounds and two assists. Ty Baker had five points, two rebounds and two assists. Baumgartner had five points, three rebounds and two assists. Ekwueme and McMurry scored two points each. Ekwueme had two steals, three rebounds and an assist.
Campbell had 20 points for the Tigers, 17 of which came in the first half.
With the loss, Medford says goodbye to a large and impactful group of seniors that includes Ekwueme, Sullivan, Cooper Wild, Rudolph, Austin Schultz, Dylan Wickersheim, Doug Way and McMurry with Kuhn, Baker, Baumgartner and Brady Hupf being among the veterans the Raiders would expect to lean on next year to keep the success rolling.
"I'm so proud of this group of players," Brown said. "Like so many of the teams before them, they got so much better as the year went on. They went 10-12 last year, but we brought most of the team back. Not only did they win the conference, but they basically dominated, having the number-one ranked scoring offense and number-one scoring defense.
"I'm so proud of the seniors and the great leaders they became this year," Brown added. "They never gave up. They held each other accountable. They came to practice every day ready to work hard and ready to help the younger players any way they could."