Posted on
Chieftains slip by Falcons, Warriors prove too tough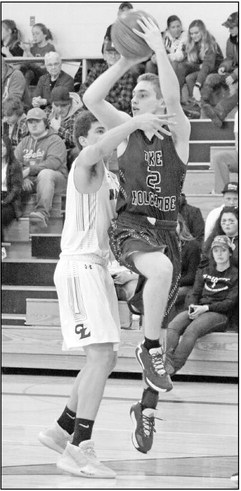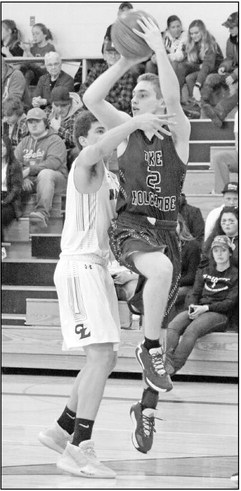 It was a week of celebration and farewells for the Lake Holcombe boys basketball squad, as they faced off in Regional action.
March 3 vs. Flambeau First Round Regional (W 71-58) Drawing the No. 6 seed, the Chieftains hosted No. 11 Flambeau in first-round action. Lake Holcombe struck often and hard in the match-up, taking a 44-17 lead into halftime.
Flambeau would rally toward the end of the game, holding the Chieftains to 27 points, opposed to their 41, but it wasn't enough and the home team walked away the victor, 71-58.
Senior Jarred Jiskra led the charge with 20 points, including a three-point shot. Junior Brock Flater knocked down three shots from beyond the arc, finishing with 17 points.
Junior Kaden Crank also got in on the three-point shooting, nailing one and ending with 15 points. Senior Kaden Kinney added 8 points to the mix, while senior Josh Jones added a three, finishing with 7 points on the night.
Senior Tyler Dixon and sophomore Colton Minnick each got on the scoreboard, with 2 points.
March 6 vs. Clear Lake Second Round Regional (L 80-62) Moving on to the second round of playoffs, Lake Holcombe traveled the distance to Clear Lake to take on the No. 3 seeded Warriors. Although the Chieftains started strong, Clear Lake's height played a factor in the game, a did their deadly shooting from three-point land.
"We just were out-matched on the boards and we couldn't get the ball to drop," said coach Joy Webster. "With just five offensive combined boards, it's going to be tough to win."
Foul trouble also reared its ugly head, as Crank picked up his third foul with six minutes still to go in the first half. Lake Holcombe went into the break, down 44-24.
The second half was much closer on the scoreboard, but with the already large deficit and Jones fouling out with two minutes left, the Chieftains season came to an end. Clear Lake claimed the 80-62 victory and moved on to the next round.
"We had a great season, finishing 9-3 in conference and second place," said Webster. "We also had a great overall record, finishing 15-9."
Kinney and Crank combined for 8 defensive boards, while Kinney, Jones and Flater combined for 9 assists.
Crank led the way on scoring, ending with 21 points, including three shots from long range. Jiskra also nailed two, three-pointers, ending with 12 points. Flater and Jones each had 10 points, which included a three for each.
Kinney finished with 7 points and Minnick added 2.
"Our season came to an end Friday, but I couldn't be prouder of these boys," said Webster.