Posted on
Taking the game to a new level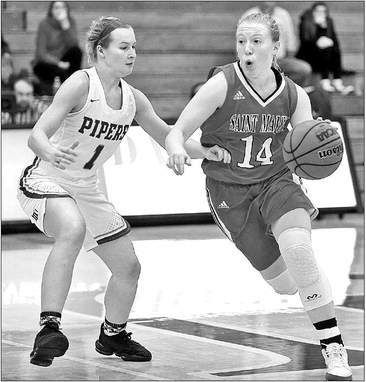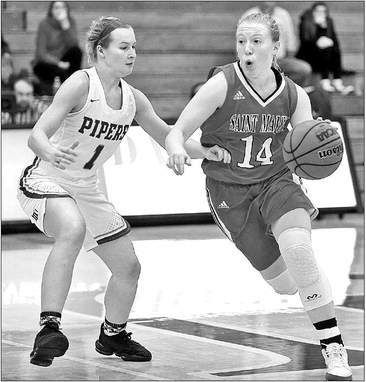 Former Hornet living college hoops dream
Every year innumerable athletes take to the court, field or baseball diamond. They go to practice and imagine hitting a home run out of the park, or swishing a buzzer beater, or scoring the game winning touchdown.
They go to bed dreaming of athletic glory, hoping to take their talents to the next level and to play before thousands of screaming and adoring fans.
For most athletes these ideas remain a dream. The world of sports clearly delineates between the haves and have-nots, and there are a variety of reasons why hopes fall short - not fast enough, not strong enough, not tall enough.
But where there's a will there's a way, and college is replete with stories of those who have bucked the odds and made it to the NCAA, and even the pros.
Ashley Streveler is a practiced hand when it comes to defying expectations. A former standout for the Colby Hornets girls basketball team, Streveler and her teammates made history last year when they became the first team to make it to the state tournament in Green Bay.
She's continued to make a name for herself on the court, this time playing for the St. Mary's University of Minnesota Cardinals in Winona.
"It's really special to be able to play at the next level, especially seeing as how Colby is a smaller school and we haven't had a lot of people going and playing at college," Streveler said.
Streveler was recognized for her achievements as a Hornet by being named All-Conference and All-State. She received further notice playing on the AAU circuit, where she squared off against future college athletes.
"Playing AAU, playing some of the top teams and top players in the nation helps prepare you for what's coming next and that next level of competition that college brings," Streveler said.
Colby's deep playoff runs, combined with her time in AAU, certainly paid off with Streveler earning varsity minutes for the Cardinals in 2019-20, playing in all 25 games and starting in five.
Most freshmen never get the chance to play, much less start, but Cardinals head coach David Foley saw Streveler's potential right away.
"She really shines at our level and is a true student athlete and works extremely hard on the floor and is a coach's dream," Foley said. "She just grew and her work ethic is only going to pay dividends and she puts in a tremendous amount of time in the gym and with her film study."
In her first year, Streveler averaged just over four points, two rebounds and one steal and assist a game. They're modest numbers compared to what she routinely put up for Colby, but Foley expects those numbers to rise.
"I think the sky's the limit for her and she's been focusing on her game, and she's working on growing her natural talent and getting the most out of it," Foley said, praising Streveler's growth on and off the court.
"She's handled that transition to the next level extremely well. She's stayed true to her hard work and we are excited about her, and what she's doing on the court is only going to grow."
Streverler seems like a perfect fit for the Cardinals, but her choice to come to St. Mary's wasn't an easy one, nor was it even her first one.
She had visited UW - Superior, UWStout and St. Catherine University in St. Paul/Minneapolis prior to St. Mary's, and after her tours, Streveler set her sights on Superior, eager to follow in the footsteps of her cousin, Connie Urmanski, and become a Yellowjacket.
"I wasn't even planning on going [to St. Mary's] because it was kind of a last minute trip," Streveler admitted. But when she set foot on campus and met the coaching staff, and her future teammates, she felt an instant connection.
"I just fell in love with the whole campus and the team. I love the campus - it's small, but it's still spread out and really beautiful."
While she now finds herself far away from Colby, Streveler says St. Mary's reminds her a great deal of her hometown.
"There's a lot more action on campus and in college than the small town of Colby, but St. Mary's is kind of isolated from Winona and in its own little area, so it has the same type of small town feel as Colby and I really do enjoy that."
That connection, that feeling of home, made the transition from high school to college easier. Which is a good thing says Streveler, since life as a college athlete, while amazing, is a daily grind.
"It feels great to be a college athlete, but it's definitely a daily thing, whether you're in the gym lifting or shooting or scrimmaging. You're always doing something, even if it's just getting shots off by yourself or with a teammate in between classes or watching film."
Long bus rides to and from games were another hurdle to overcome, with games a lot further away than the 10-20 mile drive to Spencer, Loyal or Athens.
With the Cardinals playing in the Minnesota Intercollegiate Association Conference (MIAC), Streveler could be almost anywhere in the Midwest.
But Streveler adjusted, and just as she did during her time with Colby and the Hornets, she's set lofty goals for herself.
The Cardinals, while enjoying a pair of winning seasons prior to Streveler's arrival, took their lumps and finished 5-20. That's due in large part to a very young team, with just one senior on the roster.
Streveler knows it's just a matter of time until the tide turns in the 'Cards favor, and just as she made history for Colby, she's ready to make history for St. Mary's and be on the first team to earn an invite to the NCAA DIII tournament and experience March Madness.
"I definitely want to keep working on becoming a more prominent player . . . and keep looking at how as a team we can keep winning and try to get into the conference tournament. Ultimately the goal is to get a berth to the NCAA tournament before I graduate."
With a year under her belt, Streveler is confident she and her teammates will make big steps on the court next year. The season might be over but the work continues and Streveler would not have it any other way.
She's achieved a dream that so many have but so few get to live out, and she takes nothing for granted.
"I always wanted to play college basketball and always loved watching college basketball on TV. To be here, playing at the next level, it's a dream come true."