Posted on
SECTIONAL CHAMPS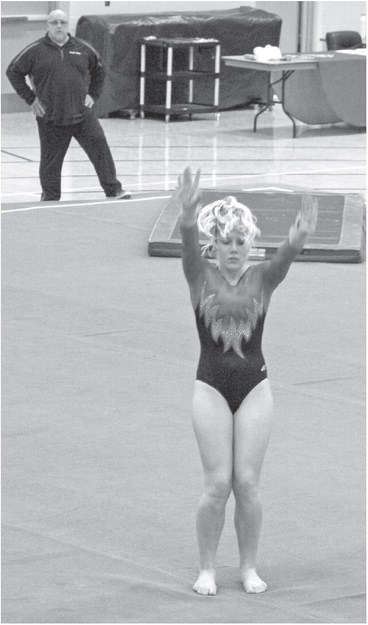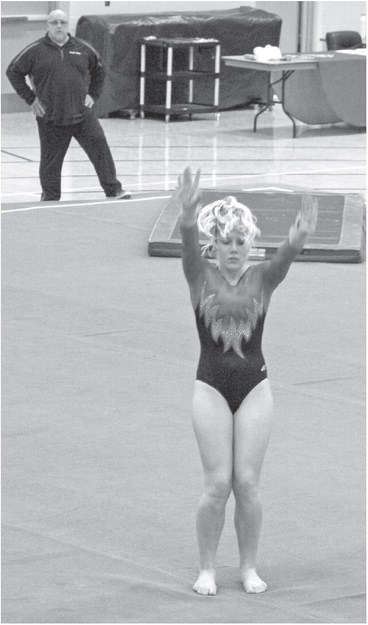 With all hands on deck, Raiders expect better state experience
Early in the 2019-20 season, all of the small individual goals for the Medford Co-op gymnastics team started feeding into one singular team goal.
On Friday night, that goal was achieved.
The Raiders not only are headed back to the team portion of the WIAA Division 2 state meet this weekend in Wisconsin Rapids, they're doing it as sectional champions. Medford won Friday's sectional meet in Antigo with 134.175 points, breaking their own school record of 132.475, which they had set Feb. 1, also in Antigo.
The sectional championship is the first in program history. The Ashland-Mellen co-op was a distant second at Friday's meet with 128.05 points and will join the Raiders in Friday's team competition in Rapids.
The Oredockers, who have qualified for state with top-two team finishes at sectionals every year but one since 2008, actually were partially responsible for
providing Medford with the motivation that has driven the Raiders through their record-breaking season.
"I think it started at the Rhinelander meet (Dec. 14) when we beat Ashland," said freshman Anna Wanke, who led the Raiders Friday with 33.875 all-around points and is one of three Raiders who will compete as all-around in Saturday's individual portion of the state meet. "Then we made it our goal to just keep beating them."
"When they've gone to state, what is it their 14th year in a row or something like that and they win sectionals that many times –– and they were really good sports about it. We were taking pictures with them and everything was good. But when you're getting so close to someone that's been undefeated for how long, it's hard not to make that a goal," sophomore Brooklyn Bilz said. "You want to have that highlighted."
While there were a few personal records set in Friday's meet, it wasn't an overwhelming amount of them that made another school-record score possible. Friday's meet was simply another example of how consistently well the team is currently scoring up and down the lineup.
"A lot of the girls at sectionals on Friday said that we've just been skyrocketing compared to years past," sophomore Makala Ulrich said. "Last year was a good year compared to past years and then this year we just shot up."
Head coach Steve Cain said there was little doubt the Raiders were going to get it done Friday.
"I really think if there were any adversities, any negativities that could've been floating around in the air or anything that would have tried to interrupt what they had their minds set on for that night, it wouldn't have fazed them a bit," Cain said. "I saw game faces before they even got off the bus. They had their minds made up of what they needed to do, what they wanted to do and how they were going to do it."
As confident as they felt going in, the Raiders said they were still surprised when the final results were announced as Medford posted season-best team scores in all four events.
"I thought it went better than I expected, especially with breaking the school record again," junior Megan Wanke said.
The highest of those team event scores came in the floor exercise with 34.4 points, beating a mark of 33.95 that had stood since the opening meet in Medford Dec. 7.
Anna Wanke earned an 8.85 to take third, just 0.05 points off her personal best, while Megan Wanke was fifth and got the last individual state-qualifying spot with a personal-best 8.65. Bilz was right behind her in sixth place at 8.65, while Ulrich and freshman Kate Malchow tied for 10th out of 34 gymnasts with scores 0f 8.3. Washburn's Lakyn Sonday (9.3) and Ashland's Catie McPherson (9.05) were the top two finishers and Antigo's Claire Musolff (8.775) qualified for state by taking fourth.
"I was really excited because I finally beat a PR that I set freshman year on floor," Megan Wanke said. "I was excited enough by just beating that, then to have qualified in that individually, that made me really happy. That was the highlight for me and just being able to be part of breaking that school record again and winning sectional. It was just overall an awesome meet. There was never a part where anyone was really frustrated. We worked well together."
The Raiders earned 34.025 points on the vault, squeaking past the 34 points they scored at Rhinelander Dec. 14. The highlights were a third-place score of 8.725 earned by Ulrich, who pulled out her tsuk vault for the first time this year, and a fifth-place tie for Bilz and Anna Wanke at 8.5, meaning they individually qualified for state.
"I don't think me and Brooklyn really expected to qualify on vault," Anna Wanke said. "When they called a tie at 8.5, we just looked at each other and we were really excited."
Ulrich had held back from doing the tsuk during her comeback from a knee injury she suffered in sectional week a year ago and while fighting some leg pain at times this season. Friday became the day to bring it back and it couldn't have worked out better.
"I was a little leery because she hadn't practiced it a lot up to this point," Cain said. "So I was reluctant as a coach. My biggest concern was safety. I was concerned for in comparison to her quarter, three-quarter vault what that would've done point wise if she didn't do something right with her tsuk. But she made the right decision when she set out to do it. She did some at the gym the night before and they looked good. I said, 'I think she can do this.' Then when she warmed up at the meet and she nailed them, it was like, 'wow, she's ready.'" "It was better than I expected," Ulrich said. "In my first warm-up I stuck it. I had to get over being a baby and just go for it. It just felt like it did last year. It didn't feel like it was happening. It kinda felt like it wasn't supposed to be happening."
"If you know Makala, she is determined," Cain said. "When she sets her mind to do something, she's going to do it."
Malchow added an 8.3 for Medford and placed eighth, while freshman Kennedy Bilz tied for ninth with her 8.25 in her only event of the night, which was just two tenths off her personal best. Sonday (9.175) won it, McPherson (8.925) was second and Musolff (8.6) was fourth.
"I've been working really hard on my vault and trying to fix every little thing that I can," Kennedy Bilz said. "I really wanted to PR. I didn't but it's fine."
One fall by Medford's entire group led to a score of 33.7 on the balance beam, which beat the 33.45 the Raiders earned in Antigo Feb. 1. Malchow individually qualified for state with her third-place score of 8.575 and Anna Wanke set a personal- best with her qualifying fifth-place score of 8.525. Ulrich was seventh at 8.45, Brooklyn Bilz placed eighth with an 8.15 and Megan Wanke was 11th at 7.35.
Sonday (9.15) and Ashland's Sofia Zambori (8.825) got the top two qualifying spots, while McPherson tied Malchow for third.
The Raiders finished the meet on the uneven bars and scored 32.05 team points, well ahead of their previous best of 31.475 set in the Antigo Invite.
Bilz qualified for state for the second year in a row with her third-place score of 8.2, while Malchow and Anna Wanke qualified by tying for fourth at 8.0. Wanke's score was a personal-best and finished her personal-best all-around day. Sonday (8.9) and McPherson (8.225) were the top two finishers.
Ulrich came up one spot short of the top five with her score of 7.85 and freshman Avery Purdy placed 11th with a 7.525 in her only event of the night, just 0.15 points behind her personal best.
"I completed my switch kip, which I'm getting a lot better at," Purdy said. "I was glad I was able to complete that. I'm really just trying to clean everything up and making sure everything goes well. I was just excited to be a part of the record even though I only competed on one event, it's still nice to be able to contribute to it."
Anna Wanke led four Raiders who scored at least 33 all-around points. After her third-place and personal-best score of 33.875, Brooklyn Bilz (33.45) and Ulrich (33.325) qualified as state all-arounds and Malchow just missed with 33.175 points. Ulrich's total was a personal best.
"My bars was a little better, my low bar especially." Bilz said. "I had a decent floor routine. I fixed my vault a lot. That got better. Nothing really stood out but it was all really consistent."
"I felt the same way as Brooklyn," Malchow said. "Nothing really stood out that much but it was consistent with my last meets."
On to state
As they prepared for the state meet this week, the pressure now is off somewhat for the Raiders who have set a new goal that they'll have a good chance of reaching.
"Our next goal is to not get last at state like we did last year," Ulrich said.
Last year's team finished 10th with 93.7667 points as a rash of late-season injuries limited them to just three gymnasts per event in the team meet. Brooklyn Bilz, Megan Wanke and current senior Kara Hudak were among the team's state competitors, along with then-senior Maddy Wanke.
Although that situation was nothing more than bad luck, it still clearly frustrates the Raiders, who are ready to show the state what they are truly capable of.
"That is the goal," Megan Wanke said. "I feel like going into this week we're all a little bit less stressed because we know we've already made it there. But yet we know we still have to work pretty hard just to get that goal. I think we're just hoping for no injuries. Fingers crossed, no injuries."
Cain said the Raiders are certainly capable of achieving more than just "not finishing last." Medford's sectional score ranks eighth out of the 10 qualifying teams, but it was less than a point behind Waupun (134.425) and Sparta (134.525) and 1.3 behind River Falls (135.475).
Four-time defending state champion Whitefish Bay and Mount Horeb lead the way, having both scored 143.45 points to win their respective sectionals.
Individually a year ago, Bilz finished 11th on the uneven bars with an 8.333 and was 14th in the all-around standings with 34.567 points. Megan Wanke was 20th on the balance beam with an 8.217.
"For state, I talked a little bit with them about a goal," Cain said. "I think for them, the big thing is we could end up in the middle very easily. We probably won't beat Mount Horeb and Whitefish Bay. They're scoring 140 something. Of course, never say never. It's pretty exciting."
Friday's team session starts at 1 p.m., while Saturday's individual session gets underway at 10:30 a.m. Both sessions are at Wisconsin Rapids Lincoln High School.