Posted on
Raiders get past first step; gets much tougher now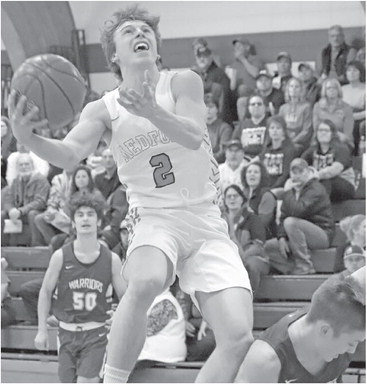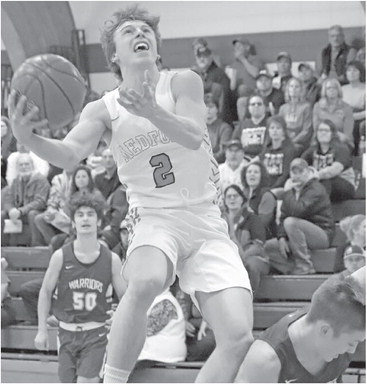 WIAA DIV. 2 BOYS BASKETBALL
S The Medford Raiders couldn't solve the lid on the basket when they took shots in the paint but seven 3-point makes, including four from Logan Baumgartner, made up for it Tuesday in the team's 53-35 win over Rice Lake in a WIAA Division 2 regional opener.
Baumgartner scored 12 of his 14 points on 3-point makes, including three in the first half that helped open up a lead the sixth-seeded Raiders never relinquished while improving to 19-4.
The win sends Medford to regional semifinal contest at third-seeded New Richmond (19-3) on Friday at 7 p.m. The winner of that game likely gets the challenge of facing second-seeded and fourthranked La Crosse Central (17-5) in the regional final Saturday. Central hosts seventh-seeded Menomonie (10-13) in Friday's semifinal round.
The Raiders started the post-season by frustrating another opponent defensively. They forced 23 turnovers, including 17 in the first half alone, limited the Warriors to 33.3% shooting from the field and held them to two fewer points than they did in the teams' Jan. 14 meeting, which Medford won 58-37.
"I liked our pressure," Medford head coach Ryan Brown said. "We did a good job switching when they got the ball in the corner and the sides. We tried to keep it to one side of the floor and got our hands on a lot of basketballs and that helped us turn the ball over."
"We're definitely getting more comfortable on the defensive end, communicating, getting through those screens because we're doing it every day in practice," senior Justin Sullivan said.
Offensively, the outing featured its highs and lows. The high was the way the Raiders took apart the 2-3 zone Rice Lake started the game in. Medford got Rice Lake out of that with two 11-0 runs in the first half. The first one turned a 5-5 tie into a 16-5 lead and featured two 3s by Baumgartner. The second one extended a 16-11 lead to 27-11 with five minutes left in the first half as Medford took advantage of turnovers, free throws and another Baumgartner 3-pointer.
"I thought we did a good job," Brown said of Medford's success against the zone. "Guys were patient. We were skipping the ball, looking short corner and high post. There were a couple of nice passes from Onyi (Ekwueme out of the high post) when Doug (Way) dove from the short corner. We were just really good breaking the zone and getting wideopen shots. We forced them to do exactly what we wanted them to do, which was get them in man-to-man because we always feel confident running our offense versus man-to-man."
The Raiders led 31-16 at halftime and felt they should have been up by more, but the inability to finish at the rim, particularly in fast-break opportunities off turnovers or after getting offensive rebounds kept the game somewhat close.
It got even closer when Medford went scoreless for more than five minutes to start the second half and Rice Lake pulled within 31-22. Sullivan ended the drought by sinking a right-wing 3-pointer behind a Ty Baker screen and then Baker was left open at the top of the key and he drilled a triple to push the lead back to 13. Peyton Kuhn's trifecta at the 8:10 mark put Medford up 40-24 and Baumgartner's final trey made it 44-27 with 6:20 to go and put it out of reach for the 2-21 and 11th-seeded Warriors.
Kuhn hit eight of 10 free throws and led Medford with 17 points and the 14 points from Baumgartner, a freshman, were key. Baumgartner also had seven rebounds and three steals. Kuhn had four steals.
"It was really exciting," Baumgartner said of his first WIAA tournament basketball game. "It was definitely a different atmosphere in the gym. The crowd was way more into it. It was just really fun to play."
"You could see they were really keyed in on Peyton and really tried to chase him," Brown said. "We've had different guys step up every game. Tonight it was Logan. He did a good job coming off some screens and hitting open shots. He's got the confidence to knock them down."
Sullivan, back after a one-game absence while resting a sore back, had six points, including a backcourt steal that led to a pretty reverse layup early in the game. He got the crowd to its feet in the first half, coming out of nowhere to block what looked to be an easy breakaway layup for the Warriors.
"They shouldn't even be in the fast break because that means we're getting beat on defense right there," Sullivan said. "That shouldn't happen, but it's nice to be able to stop them in the fast break and not give them easy points."
Baker finished with five points as did Way, who scored Medford's first five points and had chances for more that just wouldn't fall. He was active on the glass with six rebounds, four on the offensive end.
"Early on he was a factor," Brown said. "If it was getting an offensive rebound or getting good post position he did a good job."
John McMurry, Mason Rudolph and Brady Hupf added two points apiece. Rudolph had five rebounds and four steals.
Nolan Rowe led Rice Lake with nine points and Nick Schlampp added eight.
In New Richmond Friday, the Raiders will face a team that shared the Middle Border Conference title with a 13-1 league record and presents plenty of challenges.
"They push the ball really well in transition," Brown said. "They like to get up and go. They have a really good point guard, Joey Kidder, who makes really good decisions. He's a good passer. He's a good shooter. He's an all-around really good player. Then they have a sophomore (CJ Campbell) that can really shoot it from deep. He's their leading scorer. Then they have a bunch of just strong physical kids.
"Defensively they're primarily manto- man," Brown added. "They run a little bit of 1-3-1 zone. They're physical and they rebound hard. We really have to do a good job of transition defense first off and offensively we just need to be a little bit more solid than (Tuesday), screening bodies and running our offensive until we get a shot. We need to make sure they work on the defensive end to wear them out a little bit on the offensive end. We need to really do a good job of rebounding and contesting their shooters. When they do get it into the post they do a good job of cutting backside guys, so we'll need to be in a good position of seeing man and ball at all times."
Medford 72, Lakeland 47
The Lakeland Thunderbirds gave Medford fits well into the second half in Thursday's regular-season finale, but when the Raiders delivered the knockout punch, it was quick and decisive in a 72-47 home win that concluded a perfect 12-0 season in Great Northern Conference play.
The Raiders trailed 5-0 in the opening moments, then went on an 11-0 run that included 3-pointers from Rudolph and Kuhn. They never trailed again, but Lakeland stayed close throughout the first half, which ended with Medford leading 27-23.
Lakeland sandwiched a basket in the post from Michael Ouimette and a 3-pointer by Alex Fortier around a Mc-Murry 3 to pull within 30-28 early in the second half before the Raiders went on a 12-0 run to start the process of pulling away. Kuhn hit a long 3-pointer and had a three-point play in the run and Rudolph added four points.
Lakeland cut a 15-point deficit to 48-39 with just under 10 minutes left when Medford finally lowered the boom.
Baumgartner started it with a leftwing 3-pointer, then Kuhn drilled a 3-ball off an Ekwueme kickout. Baumgartner buried another 3-pointer, this time from the right side, Kuhn got a steal and reverse layup and then swished another triple from the right corner. Just like that it was 62-39 and the perfect league season was secured.
Despite the slow start, Medford wound up shooting a respectable 47.2% from the field (25 of 53), including eight of 25 from 3-point range. Lakeland finished 17 of 50 (34%) overall and turned the basketball over 20 times with 13 of those miscues coming in the second half. The Raiders turned it over 15 times themselves, slightly above their season average of 13.2 coming into the game.
Kuhn hit nine of 12 shots from the field, including four of six 3-pointers to finish with a game-high 23 points. He also led the Raiders with four steals.
Rudolph and Baker also hit double figures with 12 and 10 points respectively. Rudolph had three steals, three rebounds and hit five of 10 shots from the field. Baker was a perfect three for three from the field and four for four from the free throw line. He had seven rebounds and two steals.
From there, scoring contributions came from several sources. Baumgartner had nine points, team highs of five blocked shots and five assists as well as four rebounds and two steals. McMurry started and scored five points and had two steals. Ekwueme had five secondhalf points, four assists and a couple of boards.
Hupf had three points, five rebounds and three blocked shots. Way had a bucket, Dylan Wickersheim made a late free throw and Austin Schultz closed the regular season with a bucket at the buzzer.
Fortier sank five 3-pointers to lead Lakeland with 15 points, while Ouimette added 14 points, six rebounds, four assists and three steals. Lakeland finished 4-8 in league play and wound up 8-15 overall after losing 61-59 to Antigo in its playoff opener Tuesday.