Posted on
Pirates get to first final in 14 years, but that's where it ends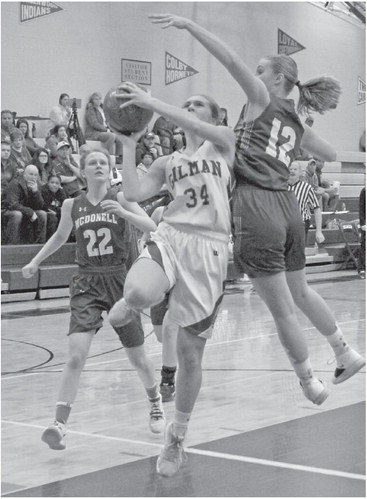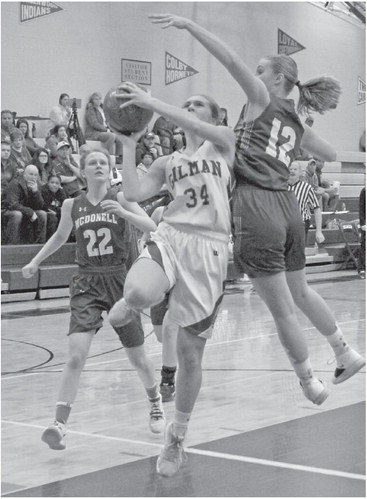 WIAA DIV. 5 GIRLS BASKETBALL
The Gilman Pirates put an end to their school's drought of girls basketball regional final appearances that dated back to 2006 on Saturday night. Unfortunately, Gilman's sectional drought, which dates back to 1999, will extend another year.
Just like the volleyball team in late October, the fourth-seeded Pirates ran into the sectional favorites from Clear Lake on regional final Saturday and the Warriors couldn't be stopped in their 72-46 win that kept them undefeated for the season at 24-0.
The Warriors advanced to face Gilman's Eastern Cloverbelt Conference rival Loyal (21-4) in a WIAA Division 5 sectional semifinal tonight, Thursday, in Colfax. The third-seeded Greyhounds were 70-55 winners over second-seeded Prairie Farm (18-4) in their regional final.
Gilman's season ended at 18-7, which marked the program's highest win total since the 2000-01 Pirates went 17-6.
"It's bittersweet," head coach Tammy Weir said. "The season is over. I would love to still be in the gym with these young ladies preparing for the next round, but unfortunately the ball just didn't fall in our court."
Many of the same players responsible for Clear Lake's 38-0 state-championship volleyball season are also leading the way for the school's undefeated basketball season. Among those familiar faces that stung Gilman for the second time this school year included senior guard Madison Zimmer, who scored 18 points and dished out nine assists; senior Maggie Rosen, who poured in 18 points and had seven rebounds; 6-foot senior Julianna Rosen, who had a 12-point, 11-rebound double-double, and 6-foot sophomore Maddie Rosen, who had 11 points and five rebounds before fouling out.
Clear Lake zipped out to a 40-15 halftime lead before the Pirates played a nearly dead even second half with the Warriors.
"The Clear Lake girls were strong, fast and you could see their confidence and experience out on the court," Weir said. "They are a great team and honestly, as a coach, I learned a lot from watching them play. Our girls played until the end, never gave up and fought hard for 36 minutes."
The Pirates got strong closing efforts from their senior leaders Emma Warner and Grace Grunseth in the loss.
Warner had 15 points, seven rebounds and a steal, while Grunseth put in 14 points, dished out three assists and had two rebounds and a steal.
Sophomores Aubrey Syryczuk and Emma Grunseth scored seven points apiece. Syryczuk had four rebounds, four steals and an assist. Grunseth had five rebounds, three assists and a steal.
Sophomore Madisyn James had a bucket, a steal, an assist and a rebound. Senior Mikayla Waichulis had a point and a rebound.
Freshman Tatum Weir didn't score but had an outstanding defensive game with five blocked shots and six defensive rebounds. She added three offensive rebounds for a total of nine boards. Senior Lydia Syryczuk had an assist in her final game with the Pirates.
Clear Lake made 32 of 67 shots from the field overall (47.8%), including six of 11 3-point shots. The Warriors were just two of four at the free throw line. Gilman was 18 of 50 overall from the field (36%) and made eight of 15 free throws. Gilman turned the ball over 16 times while Clear Lake gave up the ball just nine times. The Pirates met their rebounding match in this one as the Warriors 31-29 edge.
"We had a great season finishing 18-7 and this was the first time little Gilman has made it to the regional final in years," Tammy Weir said. "I am so proud of how far these girls have come. We have some strong players returning. I have extremely high expectations for them over the next two years. Stay tuned. It's going to be a fun ride."
Gilman 59, McDonell 50
The Pirates got to Saturday's final with an exciting 59-50 win over Cloverbelt Conference rival McDonell Central in a five-versus-four WIAA Division 5 regional semifinal matchup Friday in Gilman.
The matchup brought together teams that finished third this season on each side of the conference. With the loss, the Macks ended their year at 15-9.
"They were tough, but the girls fought through quite a few tough times," Weir said. "We were up, down and tied throughout the whole game. It was a nail biter. In the end we were on top with a great win."
The Pirates jumped ahead 14-6 in the first six minutes and were able to hold on to the lead through halftime. The Macks pulled within 20-16 at one point, but the Pirates stretched the lead out to 27-19 at the break.
Grace Grunseth got off to a fast start with 12 first-half points and Aubrey Syryczuk and James both hit 3-point baskets to help maintain the lead.
The Macks bottled up Grunseth in the second half, but that allowed Werner to get on track. She made six shots from the field and scored 15 of her 18 points in the half. McDonell got four 3-pointers from Anna Geissler in the half, three of which came early to pull the Macks within 36-32 with 12:37 left. McDonell was within 50-48 but Gilman was clutch from the free throw line, making nine in the last 2:06 to put it away.
For the game, Gilman made 18 of 28 free throws, including 13 of 16 in the second half.
Warner and Grace Grunseth both recorded double-doubles. Warner had 18 points and 12 rebounds. She split her re- bounds evenly between the offensive and defensive ends, was seven of 18 overall from the field and made four of six free throws.
Grace Grunseth had 17 points and 10 rebounds with eight of those rebounds coming on the defensive end. She blocked two shots, had two steals and dished out three assists. She was a solid six of 13 from the field and made five of seven free throws.
Aubrey Syryczuk had a strong allaround outing with eight points, five rebounds, five assists, two steals and a blocked shot. Emma Grunseth scored five points and pulled down eight rebounds as the Pirates had a 46-25 edge on the boards. James had five points, a steal, an assist and a rebound.
Weir scored four points and had nine rebounds. She blocked one McDonell shot. Lydia Syryczuk chipped in with two points and a rebound.
All 12 of Geissler's points for McDonell came on her second-half 3-pointers and she grabbed 11 rebounds. Destiny Baughman added 12 points as well.