Posted on
Regis shooters pelt Greenwood in C-belt third-place game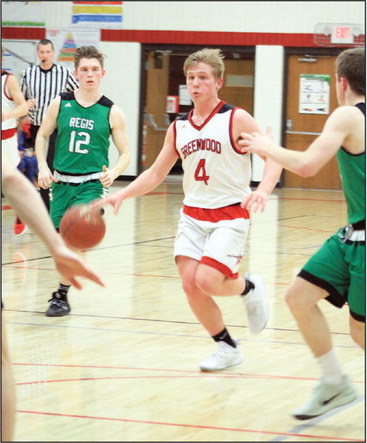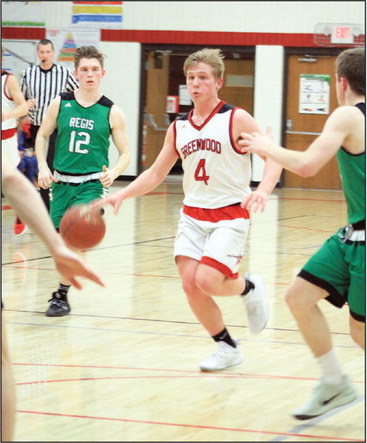 The Greenwood boys basketball team had managed to stay close to Eau Claire Regis well into the second half of their Feb. 27 Cloverbelt Conference third-place crossover game in Greenwood. Then Branton Paulsrud got hot.
The Rambler senior guard canned three 3-pointers in a span of 2:37 midway through the half to lead a 15-4 Regis surge that carried it on to the eventual 63-49 win. A late Indian spurt fueled by back-to-back 3-pointers from Nathan Revier and Westen Schmitz did cut the lead to eight points with 2:51 left on the clock, but Greenwood could get it no closer. The loss left the Indians with a 13-9 overall record heading into their WIAA Division 5 regional quarterfinal home game against Bruce on March 3.
Greenwood fell behind Regis 22-13 midway through the first half, but found a way to get back into it. Quintin Myers started a 7-0 Greenwood run with a score on the offensive glass. Revier followed with a 3-pointer from the top of the key and Cooper Bredlau scored from the low block to cut the lead back to 22-20.
Paulsrud put Regis back ahead 27-20 with the second of what would be his five 3-pointers on the night. A short Bredlau jump shot closed the first half scoring with the Indians trailing 29-22.
Still down by nine about five minutes into the second half, Greenwood cut the lead down to a single possession on a pullup jumper from Schmitz and then his two free throws on the Indians' next possession, and then Bredlau's mid-range jumper at the 12:12 mark.
The game's next few minutes were owned by Regis. Paulsrud nailed 3-pointers on back-to-back Rambler possessions to swell the lead to 11 points and it grew to 14 when he hit yet another from behind the arc with 8:41 to go. Bredlau ended the 15-4 run by scoring off Revier's steal, only to see Abe Rocksvold pop another long-range shot to make it a 55-38 game with 6:30 left.
Greenwood pieced together an 11-2 run from there to cut the score to 57-49 with 2:51 left.
Regis spread the floor from there to cut time, and with only four team fouls, Greenwood had to chase the Ramblers down to stop the clock. Regis scored the game's last six points to ice it.
Bredlau's 17 points led Greenwood, while Schmitz scored 12 and Revier added 10.
Paulsrud led Regis with 21 points and Rocksvold scored 18. Regis hit a total of seven 3-pointers in the game.
Greenwood had a strong night at the line, hitting seven of eight free-throw attempts. Regis was 4-6.
In other cross-over games, Neillsville beat Altoona 85-80 on Feb. 29 in Altoona to claim the overall Cloverbelt championship for the season. In the second-place crossover game also played at Altoona, Thorp downed Spencer 64-51.
In the fourth-place game, Marshfield Columbus downed Chippewa Falls McDonell 69-57, while Fall Creek outscored Colby 89-73 in the fifth-place matchup. Stanley-Boyd topped Loyal 57-47 for sixth, Osseo-Fairchild routed Gilman 87-47 for seventh, and Cadott topped Owen-Withee 64-52 for eighth.
DEAN LESAR/STAFF PHOTO