Posted on
NGL's Hoffmann grabs sixth place in 220-pound state field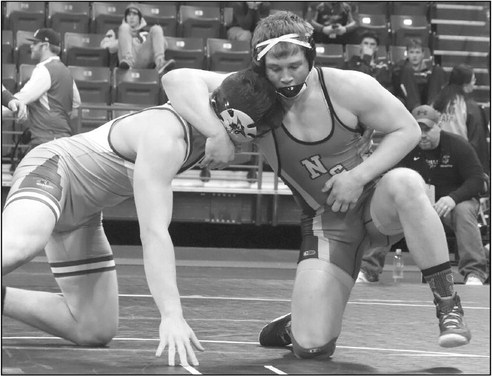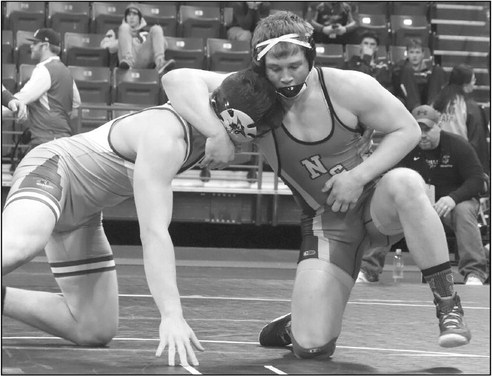 High school freshmen wrestlers don't usually make their livings in the rugged 220-pound weight class, but Neillsville-Greenwood-Loyal's Gunner Hoffmann proved this year that it can be done. The only freshman in the 12man weight class at the Feb. 27-29 WIAA Division 2 state individual tournament, Hoffmann posted a 2-3 record on the Kohl Center mats to take home a sixth-place finish in his first year of high school action.
Hoffmann sported a 37-2 season record heading into Madison, with two of his wins coming over defending state champion Jake Rau of Medford. It was Rau who tagged Hoffmann with one of his two losses, on a 4-3 decision in the Feb. 22 Osceola sectional championship match.
Hoffmann proved quickly that he belonged on the state mats, as he pinned Kiel junior Jason Klauck (22-8)in 1:38 in his quarterfinal match. That sent him against Antigo senior Nick Roller (45-6), and the upperclassmen got the best of it with a fall in 5:16.
In the consolation bracket, Hoffmann pinned Prairie du Chien senior Colten Wall (17-6) in 2:07. That advanced him to a match against Fond du Lac/St. Mary's Springs senior Marcus Orlandoni, who lost a 5-3 decision to Rau in the semifinals. Orlandoni scored a 5-2 decision over Hoffmann as he went on to take third place in the bracket with a 41-3 season record.
In the fifth-place match, Hoffman lost a 4-1 decision to Omro junior Kyle Dietzen (38-11).
Rau went on to win his second state title with a pin over Roller in 5:38. Rau's only two losses this year came against Hoffmann.
MATT FREY/ MEDFORD STAR NEWS PHOTOS