Posted on
Season ends at Northland after team gets a win over Falcons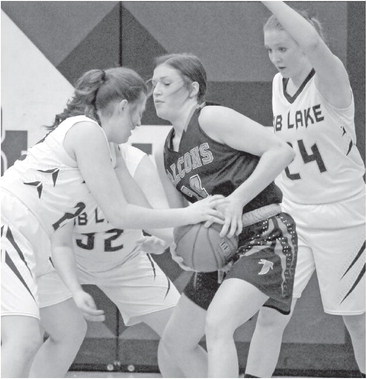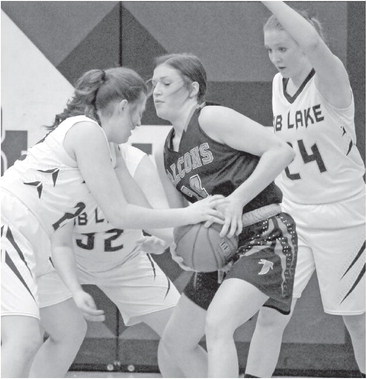 WIAA DIV. 5 GIRLS BASKETBALL
AND SAM WEBER
STAR NEWS REPORTER
Junior Brooke Newman outscored the entire Rib Lake team by scoring 20 points and led fifth-seeded Northland Lutheran to a 51-19 win over the Lady Redmen in a WIAA Division 5 regional quarterfinal Tuesday night.
The Wildcats, who were co-champions of the Central Wisconsin North Conference this season, forced 26 turnovers in their win and took command by outscoring the Lady Redmen 32-12 in the first half. Rib Lake, the 12th seed in sectional half-bracket was unable to get anything going offensively in the second half and saw its season end with a 3-20 record.
Northland Lutheran has won 10 of its last 11 games and improved to 17-3. The Wildcats will travel to fourth-seeded Prentice (16-7) to play a regional semifinal game on Friday.
Rib Lake was held to just 33 field-goal attempts and made seven. Senior Mackenzie Weinzatl closed her prep basketball career by scoring a team-high six points and adding four rebounds and two steals. She made three of her four shots from the field.
Nellie Hopkins added five points, six rebounds and two steals. She made Rib Lake's only 3-pointer of the night. Senior Savana Radtke ended a solid season and career with four points and six rebounds.
Reagan Reinhardt added three points and Emily Rodman tacked on a free throw for the Redmen. Sophomore Molly Heiser also grabbed six rebounds and had an assist. Rebekah Strobach had three rebounds and two assists. Senior Senja Koch had an assist and a rebound. A fourth senior, Taylor Meier, also saw action in her final basketball game with the Redmen.
Northland Lutheran got help from a trio of players who hail from Taylor County in its win. Senior Kari Kreklau of Stetsonville had 10 points, five rebounds, four steals and three assists, while sophomore sister Kelsie Kreklau added six points and five rebounds. Clare Edelburg, a senior from Rib Lake, chipped in with six points, four rebounds, two blocked shots and an assist.
Newman added eight rebounds to her game-high scoring total.
Rib Lake 44, Abbotsford 42
The Lady Redmen achieved a razorthin but hard-fought 44-42 victory over the visiting Abbotsford Falcons on Thursday.
The Redmen started off with an early lead and managed to maintain a lead for the majority of the game, but the Falcons kept them on their toes, landing four three-point shots in the first half.
Hopkins was a force to be reckoned with from start to finish, scoring three two-point shots and one 3-point shot in the first half. Radtke likewise scored three field goals, and Weinzatl hit two, fortifying their lead.
With two minutes left in the first half, Rib Lake was up six points, but Abbotsford shortened the lead to just three at 24-21 by halftime.
Unfazed, the Redmen stormed back into the second half bringing their lead up to 33-24 with over 14 minutes left on the clock. However, the lead was cut down to size, notably by the Falcons' Catie Clement's two 3-pointers.
Brissa Diaz-Miranda of the Falcons often acted as a tough defender, forcing the ball to keep moving between the Redmen's shooters, but Rib Lake extended its lead to 38-31, with baskets from Hopkins, Radtke, and Reagan Reinhardt.
Hopkins was just as good in the second half as she was in the first, hitting four two-pointers and another 3-point to finish with 20 out of the Redmen's 44 points.
The Redmen maintained leads of 40-35 at the two-minute mark, and 42-37 at the one-minute mark. Two more points for each team brought the score to 44-39 with just 30 seconds to go, after which the Falcons got another Clement 3-pointer to get within two, but that was as close as they would get.
Radtke had 12 points, five rebounds and two blocked shots for Rib Lake. Reinhardt had seven points and Weinzatl finished with five. Weinzatl grabbed a teamhigh 11 rebounds and had three steals, two assists and a blocked shot. Hopkins added six rebounds and two steals.
Clement led Abbotsford with 17 points, while Alea Graff added 11.
With this win Rib Lake improved to 2-14 in the Marawood North, tying the Redmen for fourth place with Abbotsford and Chequamegon.
L. Holcombe 51, Rib Lake 29
Rib Lake played well enough to hang in the game into the second half during its Feb. 17 trip to Lake Holcombe, but the Chieftains pulled away in the second half, outscoring the Lady Redmen 29-15 to earn a 51-29 non-conference win.
The Redmen got solid nights out of Hopkins and Reinhardt, who scored 11 and eight points respectively. But Lake Holcombe's Brooke Lechleitner offset them with her 17-point night, which included 11 points in the first half.
Even with Lechleitner's fast start, the Redmen were only down 22-14 at the break. Reinhardt had six points in the half and Hopkins had four.
Hopkins hit Rib Lake's lone 3-pointer of the night and scored seven points in the second half. But Lake Holcombe extended its lead behind nine second-half points from Allison Golat-Hattamer and six apiece from Lechleitner and Karly Kirkman and Rib Lake's 29 turnovers took their toll.
Weinzatl scored four points for Rib Lake, while Radtke, Heiser and Rodman added two apiece.
The Redmen made 10 of 36 two-point shots and were one for five from long range. They hit six of seven free throws, which was their best percentage of the season (85.7%).
Hopkins and Radtke pulled down six rebounds each and Hopkins had three steals. Strobach led the team with two as- sists. Radtke and Heiser each blocked a shot.
Stratford 56, Rib Lake 21
Breanna Ackley went off for 15 firsthalf, including a trio of 3-pointers, and her teammates added three more longrange bombs as the Stratford Tigers roared out to a 34-9 halftime lead and cruised to a 56-21 win over the host Redmen on Feb. 14.
Ackley finished with 23 points after she added eight more second-half points.
While Rib Lake cut down its turnovers, losing just 15, the Redmen couldn't overcome some shooting woes as they made seven of 33 total field-goal attempts and six of 12 free throws. They were one of six from 3-point range and were outscored 18-3 from behind the arc.
Reinhardt had three of Rib Lake's made shots from the field and led her team with seven points. Hopkins added four, Jolee Gehrke and Radtke scored three points apiece and Weinzatl made two of four free throws.
Gehrke's 3-pointer was her first made triple of the season.
Radtke was Rib Lake's rebounding leader with seven, while Weinzatl had four. Hopkins had two steals and Reinhardt had an assist. Radtke added a block shot.