Posted on
Gilman stuns Greenwood and avenges 42-point loss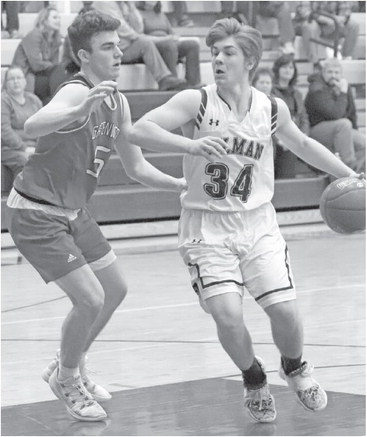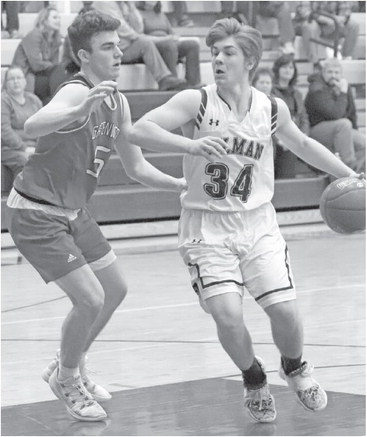 GILMAN BOYS BASKETBALL
The Gilman Pirates' improved play in February continued Monday when they built a 10-point halftime lead and held off every charge Greenwood made at them in the second half to secure a satisfying 58-49 win that completed Eastern Cloverbelt Conference play for the season.
Andrew Hecker dominated with his ability to drive to the basket and rebound while scoring a game-high 33 points, and the Pirates' team defense and rebounding continued to improve in the upset of the league's third-place finisher.
Gilman boosted its record to 5-11 in conference play and 6-15 overall with its third win in four outings, while the Indians dropped to 11-5 in the league and 13-8 overall.
Gilman will close the regular season tonight, Thursday, by hosting Osseo-Fairchild (3-11, 7-14) in the seventh-place game of the Cloverbelt Conference crossovers.
Head coach Wade Hendricks pointed to defense as the main reason for the team's recent surge. It certainly was key in Monday's first half when the Pirates held Greenwood without a field goal in the last 3:30 and went on a game-turning 13-1 run that put them ahead at halftime 28-18.
In the teams' first meeting on Jan. 21, Greenwood tore out to a 50-21 halftime lead and won 87-45.
"Early in the year we tried man-toman, but we just didn't have the effort on defense," Hendricks said. "So we went to a lot of zone throughout the middle of the year. Granton (Feb. 11) was the first time we really went all man and tried to pressure more. Against Columbus (Feb. 13) it helped out."
Individually, Hendricks mentioned senior Blake Wisocky, who had the main defensive assignment against Greenwood's Westen Schmitz, who scored 38 points in the first meeting.
"Blake's been playing well defensively," Hendricks said. "The first time we played them Schmitz had 38. Today he had 10. He had nothing in the first half. The defense was pretty good."
Hecker's free throws with 2:50 left started the big run to end the first half. They tied the game at 17-17. Wisocky hit a 3-pointer that was countered by an Austen Hemke free throw for Greenwood. Hecker tipped a defensive rebound to Wisocky, who sprinted to the other end for a layup, Hecker scored inside, Ethan Grunseth scored on a tough drive through a couple of defenders and Hecker sank two free throws with 1.7 seconds left to push the lead to 10.
Greenwood closed within 37-31 on a Schmitz steal and score, but Grunseth came back with a tough scoop shot with 8:30 left. The Indians clawed within 39-35 on a Cooper Bredlau free throw with 7:04 left, but Hecker went on a personal 7-2 run, capped by a 3-pointer from the top of the key that put the Pirates back up by nine at 46-37 with 4:35 left. Those seven points started a run where Hecker scored 17 of Gilman's last 19 points.
A Bredlau steal again got Greenwood within four at 46-42, but Hecker scored twice inside to make it 50-42. When Greenwood pulled within 50-46 on a Schmitz bank shot with 1:46 to go, Grunseth got a huge putback off an Isaac Wininger miss on a press break. Hecker aggressively took the ball to the rim for a 54-47 lead with 1:05 left and he scored off a long inbound pass from Wisocky to make it 56-49 with 50 seconds and basically seal it.
Hecker scored 23 second-half points and, in Hendricks' eyes, dominated in rebounding. Grunseth got his fourth foul with 8:29 left but, after a short break, never got his fifth and played a key role in the win with 15 points and solid ball handling when the Pirates needed it. Wisocky hit two big 3s and finished with eight points. Zack Marion hit an early jumper from the free throw line.
Bredlau's 23 points led Greenwood, who made 13 of 20 free throws.
"We had a lot of fouls," Hendricks said. "It was feeling like our first two games with Colby and Loyal where they shot about 30 free throws. We were lucky Ethan didn't foul out."
Gilman hopes the momentum carries through the Osseo-Fairchild game and into Tuesday's WIAA Division 5 regional opener at fourth-seeded Turtle Lake (16-4). The Pirates drew the 13th seed at Sunday's coaches seeding meeting, which didn't sit well with Gilman especially considering it had a better league and overall record than 12th-seeded Owen-Withee, who it split with during the regular season.
Tuesday's winner will advance to a March 6 regional semifinal against either Owen-Withee or fifth-seeded Eau Claire Immanuel Lutheran (15-4).
"I'm happy with our team and its effort," Hendricks said. "After we lost a couple of people, we just started to find ourselves against Granton and Columbus. Even against Colby (Feb. 4) we led the whole first half and then we gave up the lead in the second half. We're finally starting to play full games. Columbus and this game were full games. Too bad we couldn't get that Owen one (a 47-32 loss Feb. 18). Hopefully we can build and play up to the point where we can go to Turtle Lake and steal one."