Posted on
Rockets trip Colby to clinch share of ECC season title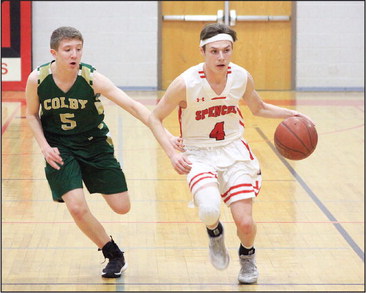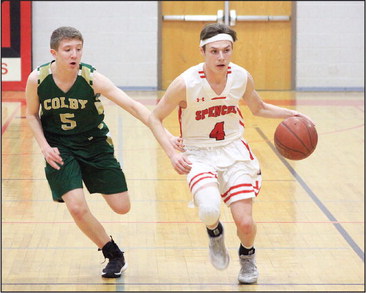 After a dramatic upset of Neillsville on Feb. 18 to lay possible claim to a share of the Eastern Cloverbelt Conference 2019-20 season title, the Spencer boys basketball team had just one more obstacle. It was a green one, and it was not about to get out of the way without a battle.
Colby came in to Spencer on Feb. 21 on a mission to salvage its season by knocking the Rockets out of the league title picture. The Hornets fell behind early, but regrouped in time to lead by halftime and maintain a slight edge well into the second half. Only with about two minutes left was Spencer able to take a breath as it pulled out the 61-51 win to push its final ECC mark to 15-1.
Neillsville also won that night against Granton, and scored a final win of its own on Monday at Marshfield Columbus to match Spencer's season mark. In a tiebreaker based on halves won during conference play over the season, the Warriors get the edge and will play in the Cloverbelt Conference first-place crossover against Altoona, at 2:30 p.m. on Feb. 29, at Altoona.
Spencer gets the second-place game against Thorp at 1 p.m.that day at Altoona.
Spencer bolted to a 15-5 lead over Colby as Eric Ehlert opened the game with a 3-point barrage. He hit three early ones and Brett Kasch added another to stake Spencer to the early double-digit lead, but Colby wasn't about to go away. Following another Kasch triple that put Spencer up 27-20 with 4:14 to go in the half, the Hornets finished with an 11-2 run to take a 31-29 lead at the break. Spencer missed five open 3-pointers in the last few minutes of the half.
The early part of the second half was tight, as Colby fed big man Connor Jeske in the paint for several scores and free-throw opportunities. Jeske's power score from the low block with 7:22 left in the game gave the Hornets a 46-43 lead.
Ehlert ignited the large Spencer crowd with a corner 3-pointer at the 5:26 mark to put Spencer back ahead at 48-47.
That lead vanished quickly when the Spencer defense was caught napping on an in-bounds play, leading to a Brent Jeske bucket. Spencer then regained the lead at 50-49 with 4:27 to go on two Kasch bonus free throws, and this time they wouldn't let it slip. Following a Colby 3-second lane violation, Kasch nailed a long 3-pointer from the wing on an in-bounds play, and Hayden Bauman followed by stealing the ball as Colby in-bounded for a score and a 55-49 lead. Harley Schmelzer got two back on a score on the offensive glass. Spencer then turned the ball over, but Bauman knocked away a pass to get possession back. Austin Bacon then hit two free throws at the 2:34 mark for a 57-51 lead. Bauman's defense came up big again on the next Colby possession as he jumped a pass for a steal. That led to an Ehlert score as Bacon drove to the lane, drew defenders to him, and dished to Ehlert.
Now down by eight, Colby missed a 3-pointer with 1:30 to go and was forced to foul after that. The Rockets hit only two of eight free throws in crunch time, but it was enough to seal the deal.
Ehlert led Spencer with 21 points as he buried four shots from 3-point range. Kasch scored 15 points and was 4-4 from the line. Bacon added 11 points and Zach Vircks put up seven.
Connor Jeske led Colby with 17 points.
DEAN LESAR/STAFF PHOTO
DEAN LESAR/STAFF PHOTO