Posted on
Falcon girls' season finishes in Necedah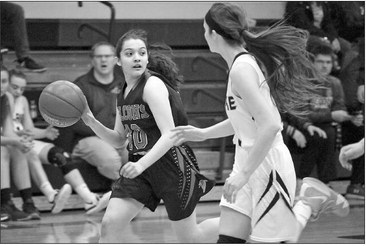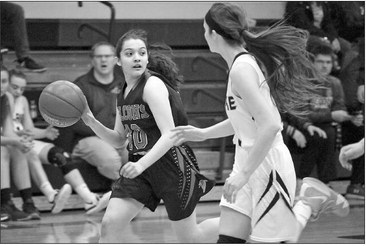 The Abbotsford Falcons girls basketball team wrapped up the 2019-20 season with a pair of road losses, one against Rib Lake on Thursday, and then on Tuesday in the first round of WIAA D-4 playoffs against Necedah.
Rib Lake, 44-42
Despite unloading a barrage of triples on their Marawood - North rivals, Abby fell just short of the victory on Feb. 20.
It didn't help that the Falcons came into the game missing several players.
"Our issue involved injuries and illnesses," Abby head coach Ally Mersole said. "Four of our varsity girls were out - Mya-ankle, Ciomara-ill, Marisol-ill and Bridgett went down for an ankle during the first half."
As in their first meeting, a 39-36 loss at home in the final moments, a similar pattern played out on Thursday, with the game decided by a single possession.
Due to the depleted bench, Meserole was forced to thrust several players into new roles.
"The girls were put into new positions and had to be flexible to fill the voids of injured or ill players."
The Falcons buried multiple three pointers in the first half, with Catie Clement knocking down two, and Alea Graff and Adriana Fuentes canning one each.
"Catie Clement stepped up . . . She drew three displacement fouls on outside shots," Meserole said. "Jayden Falteisek attacked the basket often, causing Rib Lake to collapse, and kicked it out to Clement, resulting in multiple scores and assists."
Abby's offense was clicking, but their defense struggled stop the Redmen's dangerous duo of Savana Radtke and Nellie Hopkins.
Radtke and Hopkins combined for 17 of Rib Lake's 24 points in the first half, and Abby went into the break down 24-21.
The Falcons continued to fire from Down Town, with Clement filling the hoop with three more triples. Jayden Falteisek and Graff kept the Falcons' upset hopes alive with multiple buckets, and Abby's defense shut Radtke down, holding her to four points in the final frame.
But while the Falcons cooled down Radtke and her teammates, they could not stop Hopkins, who burned the Falcons' defense multiple times as she finished with a game high 20 points, 11 of which came in the second half.
The Falcons out-scored Rib Lake 21-20 in the second half, and they had a chance to tie things up at the last minute, but a basket by Falteisek refused to fall.
Clement led Abby with 17 points, and Graff finished in double figures with 11 points. Falteisek scored seven points and Fuentes added three. Vanessa Maganda and Brissa Diaz both contributedwith two points apiece.
Mersole had high praise for those JV players who came to play, citing their efforts on defense, "Brissa Diaz and Adriana Fuentes pressured the ball and forced multiple turnovers."
Necedah, 57-14
The Falcons saw their season come to a close with a first round loss in the WIAA D -4 regionals on Tuesday.
Abby entered the playoffs as a fourth seed, and was forced to travel to Necedah to take on the Cardinals. Necedah came in having won four of their last five games. They also boast an experienced roster with seven seniors.
The Cardinals wasted no time in jumping out in front, taking a 37-2 lead into the locker room, with Marisol Garcia the lone Falcon to score.
Abby's offense found a spark in the second half and senior Jayden Faltiesek and junior Catie Clement each buried a three. The Falcons held Necedah to 20 points in the first half while scoring 12.
Falteisek led Abby with six points, Clement and Alea Graff had three apiece followed by Garcia with two points.
The Falcons finish the 2019-20 season with a 3-20 record, but with nearly every player coming back, Meserole is excited for next year's potential.
"We have a young team, and the girls are stepping up every day," Meserole said. "I am sure the current 9th and 10th graders will be offensive and defensive threats next year. Our juniors are going to be great leaders because of their dedication to the sport."