Posted on
Raiders topped by tough competition at state tourney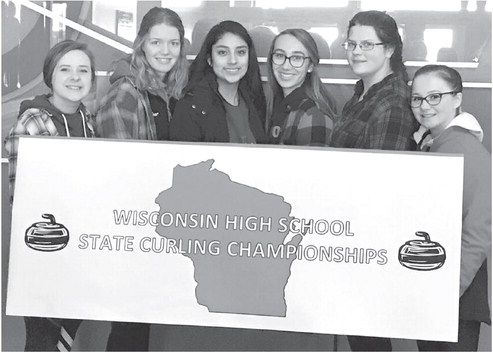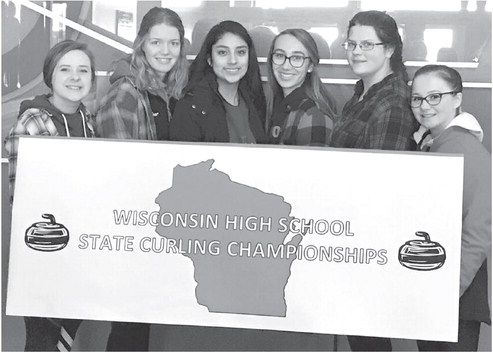 STATE CURLING CHAMPIONSHIPS
A season of learning and improvement ended for Medford's curling program with three losses for the girls team at the Wisconsin High School Curling Championships held Friday and Saturday at the Wausau Curling Center.
The Raiders' six-member girls team was its only representative at this year's state meet. Skipped by senior Karina Herrada, the team finished its season 3-15-1 overall with its losses to second-seeded and eventual state runner-up Poynette I, Lodi and and Wausau East I.
Herrada, Karlee Westrich, Lyza Brandner and Anya Apfelbeck had some very early success against Poynette on Friday morning. After giving up three in the first end, the Raiders got clutch shots from Westrich and Herrada to put three scoring rocks in the house and tie the game at 3-3 in the second end.
The match swung to Poynette's favor in the third end. Herrada nearly put her first shot right on the button, but Poynette skip Abbey Marquardt knocked that one out, leading to an eventual five-spot for her team in that end and an 8-3 lead. The Pumas went on from there to secure a 14-3 win in six ends.
Herrada, Westrich, Jill Mahner and Sarah Dake filled out Medford's lineup in the afternoon draw against eighth-seeded Lodi. The Raiders had no luck against the Blue Devils, falling 10-0.
Head coach Stu Amundson went back to the Herrada, Westrich, Brandner and Apfelbeck combination on Saturday morning against Wausau East. The Lumberjacks beat Medford for the third time this season by a score of 10-2.
Poynette went 3-0 in pool play and eventually advanced to the championship, which it lost 9-2 to the topseeded Portage I team, skipped by junior Anna Tamboli.
Poynette's boys team won the state championship with a 9-3 win over Kettle Moraine in Saturday's title game. The Pumas beat Stevens Point 6-5 in the semifinals after going 3-0 in pool play.
Medford was unable to enter a boys team this year because only three of its four season-long members were in grades 9-12.