Posted on
Raiders end season on a high note in 9th-place sectional finish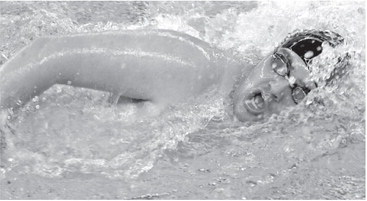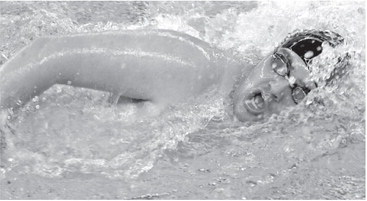 WIAA DIV. 2 BOYS SWIMMING
They'd spent an entire season whittling down their times seemingly in every meet.
So the Medford Raiders figured there was no reason to change that trend at Saturday's WIAA Division 2 Wisconsin Rapids sectional.
The Raiders nearly set personal-best times across the board in Saturday's meet and earned a ninth-place team finish, the school's highest placement since they were eighth in 2010. Their 85 points beat Great Northern Conference rivals Antigo (63) and Shawano (60).
The success started immediately when the team of Ethan Kraemer, Jacob Mitchell, Abe Miller and Blaze Kesan set Medford's best time of the year in the 200yard individual medley at 2:01.87, cutting 2.42 seconds of the foursome's time at the Feb. 7 conference meet in Rhinelander. They finished eighth out of 11 teams, which wound up being the Raiders' highest placement of the day.
Juniors Isaac Dittrich and Nathan Sislo were next, with each dropping about three seconds in the 200-yard freestyle. Dittrich took 13th in 2:22.68 and Sislo was 15th in 2:27.73.
Senior Jack Griesbach followed with a remarkable race, dropping almost five seconds while posting a time of 2:34.34 in his final 200-yard individual medley. That was good for ninth place out of 12 entrants.
Tahtankka Damm and Kesan were next on Medford's assault of personal- best times. Damm, a junior, placed 25th out of 37 entrants in the 50-yard freestyle with a new best time of 27.18 seconds, while Kesan was 27th in his new best time of 27.45 seconds. Senior exchange student Christian Di Benedetto of Italy came in 32nd at 30.03 seconds.
In the 100-yard butterfly, Miller's abbreviated season ended with a new personal-best time of 1:10.28, more than a second better than any time he had posted this year or last, and placed 13th out of 16 swimmers. Ethan Kraemer, who just started butterflying this year, ended with a personal-best time of 1:12.1, good for 15th place, 3.8 seconds ahead of Wausau East's Owen Beasley.
Head coach Shari Bergman placed four swimmers in the 100-yard freestyle. Griesbach led the crew, breaking the minute barrier for the first time with a 19th-place time of 59.37 seconds. Mitchell, a freshman, shaved 0.51 seconds from his first 100-yard freestyle a week earlier and took 22nd out of 31 swimmers in 1:01.59. Damm was 24th in 1:03.28, dropping a half-second from his previous best. Di Benedetto just missed a new personal record, taking 25th in 1:06.44. His best is 1:06.2.
Dittrich was back in the pool for the 500-yard freestyle and he finished his year on a high note with a time of 6:12.09, which put him in 12th place out of 18 swimmers. In his last two meets, Dittrich dropped his time 27 seconds. He cut 50 seconds from his first meet of the season to his last. Kesan was 16th in 7:00.02 and freshman Dylan Kraemer, who saved all of his energy for this race, cut an incredible 23.42 seconds to finish just behind Kesan at 7:00.33.
Ethan Kraemer set another personal best in the 100-yard backstroke with his 12th-place time of 1:10.97, 1.33 seconds better than the previous meet. Mitchell was 15th out of 21 swimmers in the 100yard breaststroke at 1:15.08 while Sislo set another personal record while taking 16th in 1:18.81. He dropped 3.72 more seconds.
The 200-yard freestyle relay team of Griesbach, Ethan Kraemer, Dittrich and Damm placed 10th in 1:54.5, missing Medford's best time of the season by 0.09 seconds. The 400-yard freestyle team of Griesbach, Damm, Kesan and Mitchell was 10th in 4:16.78, coming up 0.3 seconds shy of the team's best mark of the season.
For the second straight year, the Great Northern Conference had a strong impact on the sectional meet. Rhinelander repeated as sectional champions with 336 points, won two events and qualified nine entries for Friday's WIAA Division 2 state swim meet in Madison. Tomahawk edged Menomonie 278-276 for second place and will send four entries to Madison. Hatchet Travis Phillips won the 50-yard freestyle and 100-yard butterfly. Lakeland placed fourth with 247.5 points and qualified eight entries for the state meet. The T-Birds' Liam Hogan won the 100-yard freestyle. Antigo's Brett Farmer qualified in the 100-yard butterfly and 100-yard backstroke.
Medford says goodbye to four seniors –– Griesbach, Kesan, Di Benedetto and the injured Matt Buchan –– but could bring back a nice core group of at least five seniors next year in Ethan Kraemer, Miller, Dittrich, Sislo and Damm. Mitchell and Dylan Kraemer should return as sophomores. The Raiders will hope to fill spots from there with new additions.