Posted on
Lake Holcombe sees tough home stand before playoffs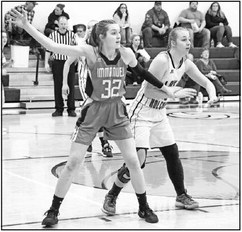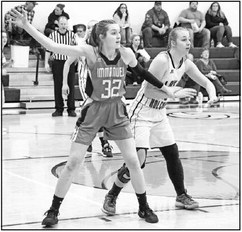 The Lake Holcombe Chieftain Girls Basketball team had a long week, facing off against three non-conference opponents, in an extended home stand.
Feb. 11 vs. South Shore non-conference (L 61-51)
It was a close game at the half, with Lake Holcombe only down by two to the visiting South Shore. The score remained close in the second half, but with foul trouble for junior Allison Golat-Hattamer and sophomore Brooke Lechleitner, South Shore squeaked out a 61-51 victory.
"It's always nice to play another conference team," said coach Jennifer Lechleitner. "Holcombe is a young group and [I] am really excited to see what we can do next time we met up with them."
B. Lechleitner was the leading scorer for Lake Holcombe, with 28 points. Ending with 4 points each, were senior Megan Lechleitner, Hattamer, sophomore Josi Elmberg, and freshmen Karly Kirkman and Justine Kane.
Nailing a three-point shot, was senior Hannah Winchel.
Feb. 13 vs. E.C. Immanuel non-conference (L 70-48)
Two days later, E.C. Immanuel came to call, in a non-conference match-up. The Chieftains fell behind early, going down by 20 points at halftime.
"I know my girls try their best every time they set foot on the court, whether in practice or during a game," said J. Lechleitner. "Tonight, against E.C. Immanuel, we didn't put out our best performance."
M. Lechleitner's fouls piled up, picking up three with less than two minutes to go in the first half. The foul trouble con- tinued, and, with 12 minutes left in the game, M. Lechleitner had to return to sit on the bench, picking up her fifth, and final, foul.
"E.C. was in foul trouble early in the game and I wanted my team to monopolize on that by driving the lane," said J. Lechleitner. "However, they were nervous about getting offensive fouls themselves, so we didn't use that option to our advantage."
Immanuel then walked away with a 70-48 victory.
"Free throw percents also continue to be an issue for our team," said J. Lechleitne. "We had one game, against South Shore, where we hit 75 percent; typically, we run in the 34 percent per game. That really hurts us."
Hattamer led with 16 points, while B. Lechleitner was right behind with 13. Kane followed that closely with 12 and M. Lechleitner ended with 5 points. Rounding things out, Kirkman chipped in with 2 points.
Feb. 17 vs. Rib Lake non-conference (W 51-29)
Coming off the weekend, Lake Holcombe picked up momentum, as they handed visiting Rib Lake a non-conference loss.
"Missed bunny shots and charity line (1 for 8) really did our numbers in, in the first half," said J. Lechleitner. "After our halftime discussion, the girls picked up better defense and pulled 29 points out of the second half."
Lake Holcombe limited Rib Lake to just 14 points in the first half and 15 in the second, sealing the home victory, 51-29.
"We need to enhance much of our offense before playoffs against E.C. Immanuel next Tuesday," said J. Lechleitner.
B. Lechleitner led on the score sheet, with 17 points, with Hattamer finishing with 11, including a three-point shot. Kirkman ended with 8 points, while Elmberg recorded 7 points, six of those from long range.
M. Lechleitner added 4 points, and Kane and Winchel each finished with 2.