Posted on
Kinney hits 1,000, as team drops bout with Lancers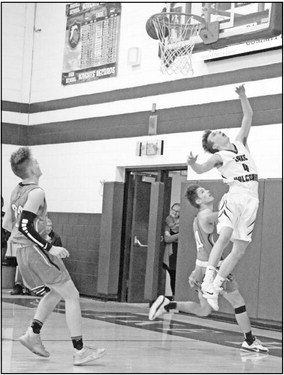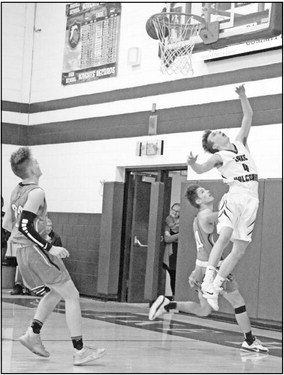 Stepping out of the conference, Lake Holcombe boys basketball saw E.C. Immanuel come to town Feb. 13. The game was a close one, with Lake Holcombe only down by four points at halftime.
In the second half, shots wouldn't fall for the Chieftains.
"We did have trouble on the boards, as we only pulled down three offensive rebounds," said coach Joy Webster.
Junior Brock Flater came out on fire, scoring 20 of his season high 28 points in the first half.
"He also hit six, threes to keep the game close," said Webster. "Josh Jones played great team defense, holding E.C. leading scorer Ryan Zimmerman to zero points in the first half. He also led the team with seven assists."
Immanuel pulled away in the last few minutes to take away an 81-68 victory.
"The varsity boys fought hard last night, coming up a few points short against E.C.," said Webster.
Despite the senior night loss, the Chieftains had reason to celebrate, as, with 1:25 left on the clock, senior Kaden Kinney achieved something few players dream of.
"Kaden Kinney hit a milestone of 1,000 career points," said Webster. "Congratulations to him."
He also led the team with 6 rebounds and 4 steals, finishing with 10 points, three of those points coming from beyond the arc. Junior Kaden Crank ended with 14 points, while the senior Jones had 9 points, including a three.
Senior Jarred Jiskra also nailed a three-pointer, finishing with 5 points and junior Will Kliegle got on the board with 2 points.