Posted on
Improved GNC season ends with 1-0 loss; WIAA play starts today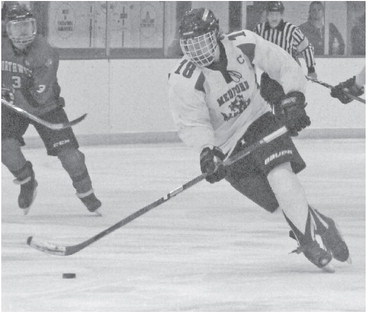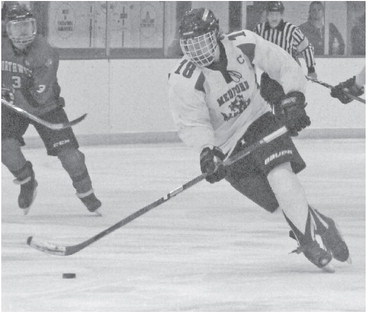 MEDFORD HOCKEY
There have been seasons where Medford hockey teams might not have been able to hold the Antigo Red Robins to three goals in a five-minute span.
The fact the Raiders held them to a total of three goals in two games this season offers strong evidence that Medford finished the 2019-20 Great Northern Conference season as the league's most improved team this winter.
Unfortunately the Raiders won neither of those games. Antigo won the regular-season meeting 2-1 on Dec. 17 and the Red Robins got the rematch in Saturday's GNC tournament sixth-place game 1-0 on Chris Krueger's goal with 27 seconds left in the second period.
The Raiders were only able to put nine shots on Antigo goalie Broden Bunnell, who stopped them all and finished the regular season 13-9-1.
Antigo put 31 shots on Medford goal tender AJ Adleman, who added 30 more saves to his season total and came up one save shy of shutout number six.
While the Raiders finished just 2-7-1 in 10 conference games, they made a dramatic improvement defensively from a year ago when they were 0-10 in conference games. This year, Medford allowed 41 goals (4.1 per game) in round-robin and tournament games compared to 72 (7.2 per game) last year and 15 of the goals surrendered this year came in one game at league-champion Northland Pines. In the other nine games, Medford's defensive numbers dropped to 26 goals and just under three allowed per game.
The Raiders allowed seven goals to Rhinelander in a 7-3 loss in their GNC opener on Dec. 10 and then beat the Hodags 5-4 and 2-0 in their subsequent meetings this year, though the 5-4 win was a non-conference game. After the loss to Pines in their second GNC game, the Raiders held five GNC opponents to two goals or less and to four goals while going 1-2 in the other three games.
Medford's 13 wins is the most the program has had since the 2004-05 team went 13-9 and made it to the sectional semifinals. The 2003-04 team was 13-8.
Northland Pines completed a perfect 10-0 through the league season Saturday night with a dominant 6-0 win over third-seeded Mosinee in the GNC championship game. Second-seeded Lakeland tipped fourth-seeded Waupaca 3-2 in overtime in the third-place game and sixth-seeded Rhinelander took care of eighth-seeded Tomahawk 6-0 in the seventh- place game.
In the final GNC standings, Medford and Rhinelander finished with five placement points apiece and tied for sixth place. Lakeland and Mosinee had 13 points apiece and tied for second overall behind Pines (16). Waupaca was fourth with 10 points and Antigo was fifth with eight points.
Medford now moves on to WIAA tournament play which, for the first time ever, includes divisional play. The sixthseeded Raiders will play at third-seeded Superior (8-15-1) tonight, Thursday, in a 7 p.m. Division 2 regional final. The winner will play in the sectional semifinals Tuesday against the winner of tonight's game between seventh-seeded Chequamegon (5-15-1) and second-seeded Hayward (18-5-1). The higher seed will host. The sectional final is Feb. 28 in Superior.
Medford 3, Icemen 1
In their home finale Thursday, the Raiders shook off a slow start and, despite limited offensive chances, found a way to beat the Barron-based Northwest Icemen 3-1 in non-conference play.
Austin Waldhart scored the game-tying goal 1:31 into the second period with an assist from Miles Searles and Carter Pernsteiner got the unassisted go-ahead goal at the 9:19 mark of the second period.
It stayed 2-1 in a defensive-minded third period until just 1:12 remained in the game. That's when Colton Gowey found an empty net with an assist from Pernsteiner to clinch it.
The Raiders only put 15 shots on net, 12 of which were saved by the Icemen's Connor Morrison. He only had to make three saves in the first period, five in the second and four in the third.
Adleman had 26 saves, 10 of which came in the first period, seven in the second and nine in the third as he prevented the Icemen from tying the game back up.
Medford held off three power plays and was unsuccessful on its two chances.
The Icemen finished the regular season 10-13. Their co-op is large enough that it falls in Division 1. They lost 6-2 at D.C. Everest Tuesday in their WIAA opener.