Posted on
Defense digs in early; GNC title gets clinched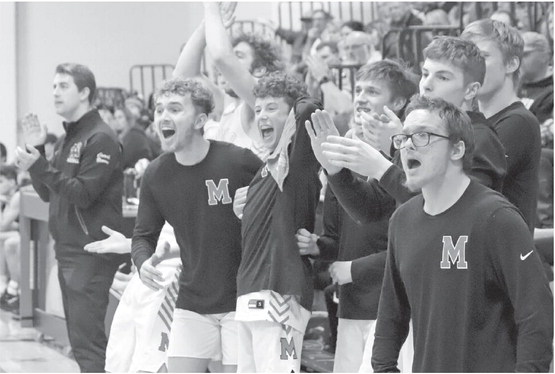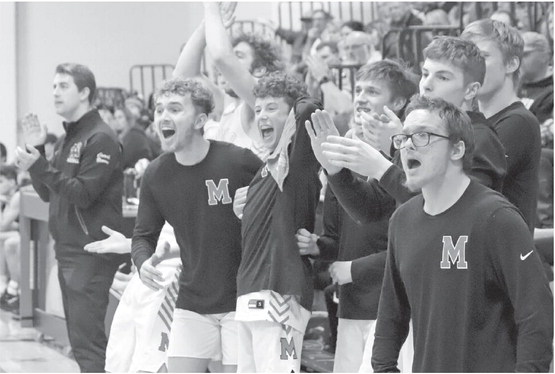 MEDFORD BOYS BASKETBALL
Giving up six points on steals in a game's first four minutes isn't the recommended way to clinch a conference basketball championship.
But, most everything else about the way the Medford Raiders took care of business Friday in a 67-49 win over Mosinee told the story of the 2019-20 Great Northern Conference boys champions.
Down 8-4 thanks mainly to those turnovers turned into points, the Raiders dug in defensively and made it very difficult for another GNC opponent to score in the first half. They used their experience and veteran knowledge to adjust to Mosinee's defensive tendencies and found ways to exploit them as the game progressed.
And, as often been the case, it was a win that had many contributors as the Raiders had too much depth for the Indians who, after winning last year's GNC title, will settle for second place this year.
Medford sits at 11-0 in the GNC and 17-3 overall with two regular-season games remaining.
"These guys deserve it," Medford head coach Ryan Brown said after the team clinched the program's second GNC title in four seasons. "They've worked hard. They set goals for what they wanted to accomplish this year. I just give them credit. They went out and did it. We don't win games without really d-ing up and that's the effort and attitude they bring every game. Not every kid buys into that. They've bought in to that defensive mentality."
Some of the seniors admitted buying in to playing hard defensively all the time isn't always easy, but the benefits have been obvious. The Raiders easily lead the GNC in allowing 48.9 points per league game and 52.6 points per game overall. At home in five GNC games, the Raiders have allowed just 13.6 first-half points per game and have held an average halftime lead of 18 points. In all 11 GNC games, they've allowed 18.2 firsthalf points per game and led by an average of 13.3 points at half.
"We knew that our deciding factor was our defense," Onyi Ekwueme said. "We don't have as many athletes as other teams or are as tall as they are. So we knew our defense had to be really strong."
"All you see is good offenses going and winning all these games and we're over here playing as hard defensively as we can," Doug Way said.
"It especially shows in a game like tonight when Mosinee is scoring, coach said, like 70 points a game," Justin Sullivan said. "We know we're playing pretty good defense if we can hold them to 49 points. We just keep doing what we're doing and get better every day in practice."
Friday's game turned heavily in Medford's favor when Mosinee lost reigning GNC Player of the Year Luke Spink, who went to the bench with his third foul with 7:50 still left in the first half. At the time Medford led 14-10. But Sullivan scored off a backdoor cut and an assist from Brady Hupf, Peyton Kuhn scored off an inbound turnover by Mosinee and Mason Rudolph scored off a steal to make it 20-10. Mosinee got a bucket by Brayden Hoen and had a chance to get within six with 38.7 seconds left in the half, but 6-5 forward Jake Placek missed two free throws, Kuhn got a layup for Medford off a Baumgartner steal and a blocked shot by Hupf just before the buzzer resulted on Ekwueme getting the loose ball and drawing a foul with 0.4 seconds left. His free throws pushed Medford's halftime lead to 24-12.
"We needed to go on a run," Ekwueme said of Sprink's foul trouble. "We knew we had to score when he was out because when he came back in he was going to attack. So we needed a lead."
Medford scored the first four points of the second half and never trailed by less than 12 again, scoring mainly on aggressive drives to the basket, a couple of crushing 3-pointers from Baumgartner and a handful of the "energy plays" that have set this team apart this season. It all added up to a half for all to relish.
"When you see it come together that's one of the best parts about coaching," Brown said. "I love the game of basketball. I love the strategies and tactics, but it's about the relationships you build and seeing kids go and put something on the floor that you've worked on and to see them execute and do what we talk about. We practice and we rep and we work hard at these things every day. To see that transfer into the game is one of the coolest feelings as a coach and it's very rewarding when they accomplish those goals they set out to reach."
The last championship in the 2016-17 is still fresh in the minds of many players, but particularly to Sullivan and Ekwueme, whose older brothers were seniors on that team that went 10-2 in the GNC, 20-5 overall and came within two points of playing for a sectional championship.
"We knew that we could be good this year," Sullivan said. "It would always come back to the 2016-17 team because of our brothers. We're always talking about it. So the whole season we just wanted to be better and accomplish what they did."
"We all just started to go with it and started to fall in love with it," Way said. "We enjoyed winning so much that we don't want to stop."
The second-half highlights got rolling with about 12:30 left when Ty Baker won a race to a loose ball and in one motion batted the ball 30 feet upcourt to Kuhn for a wide-open layup that made it 38-22. Baumgartner hit his second 3 of the half seconds later to bump the lead to 19. After Kuhn hit a triple and the defense got a stop, Sullivan wowed the crowd with a nasty crossover dribble near midcourt in transition and found Baumgartner, who sank a triple from the left corner for a 47-26 lead. Not long after that, Kuhn hustled to save a ball that appeared to be going out of bounds and somehow got it to a cutting Sullivan, who scored for a 52-34 lead. Sullivan's aggressive drives led to 12 points in the half and 17 for the game. Baker attacked the rack and got six in the half to finish with eight for the game. Kuhn had 16 points and Baumgartner had 13.
"I was more of a fan than anything else at the time," Brown said of the second half. "I was just screaming and yelling and jumping up and down at the time. I got Cooper (Wild) and Johnny (McMurry) and all these (bench) guys around me. It was just kinda that reward for that relentless mindset and attitude of 'I'm going to get a deflection and I'm going to get that ball no matter what it takes' and creating those little energy plays. They make such a difference. It seemed like every time Mosinee started to go on a run, we had one of those energy plays.
"(Mosinee is) not necessarily a denial team but they were staying glued to us, so we had to adjust," Brown said. "Once we started to get the ball moving, we didn't get as many outside shots off our screens as we usually do because they were all over us. But what it led to was our slips and then our drives because there was no help. The help was late or when it did finally start to come, we did such a good job sharing the ball tonight. I thought that's another good sign of a veteran team. They adjusted to how they guarded us and took what they gave us."
Way scored five points, Hupf had four and Rudolph and Ekwueme finished with two each. Sullivan had seven assists and Baker had three. Baker had a team-high five rebounds. Kuhn had a team-high three steals.
Placek led Mosinee with 17 points, while Spink was held to 11.
With WIAA Division 2 tournament time coming quick, there's no better time for the Raiders to get a major test. They'll get it tonight, Thursday, when they visit 14-4 Chippewa Falls for a 7:15 p.m. tip. The Cardinals have won eight of their last nine to shoot into the Big Rivers Conference lead at 9-1. They're led by athletic 6-6 wing Peyton Rogers-Schmidt, who has been on a tear during Chi-Hi's hot streak. He averages 17 points and nine rebounds per game. Senior Joe Reuter, a 6-4 junior guard, averages 17 points, 5.5 rebounds and 4.9 assists.
While the Cardinals are a Division 1 team, they've played many comparable sectional opponents to Medford and a win would help the Raiders greatly in this weekend's seeding meeting.
"Chippewa Falls is really good," Brown said. "What they don't have is a lot of depth so hopefully our depth can maybe wear on them a little bit. "
Medford closes the regular season Feb. 27 by hosting Lakeland.
"We're looking forward to getting a good seed so we can get a home playoff game," Sullivan said.