Posted on
Seniors lead the way in easy win; turnovers costly in loss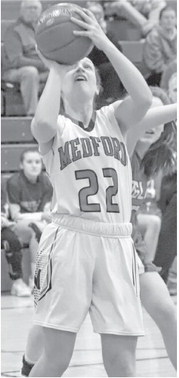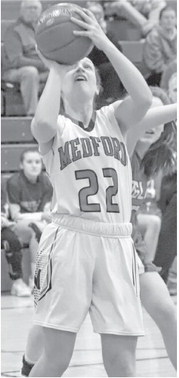 MEDFORD GIRLS BASKETBALL
Sierra Hanson and Brynn Rau shared the spotlight on Senior Night Tuesday, leading the Medford Raiders with 28 and 14 points respectively in a 73-21 blowout win over Northland Pines at Raider Hall.
Hanson set a career high with her 28 points, accomplished on 21 of 55 shooting from the field with 10 of the made field goals being 3-pointers. Rau's 14 points were one off her season high. She had three first-half 3-pointers and added a three-point play as the Raiders put this one away quickly, jumping out to a 36-4 lead before settling for a 42-9 halftime advantage.
"I came into this game thinking, wow, it's actually Senior Night already," Hanson said. "I just wanted to make the most of it and have fun."
"It was a lot of fun actually even though the game wasn't close," Rau said.
"They had a really nice night," head coach Jessica Faude said after the Raiders improved to 15-5 overall and 7-4 in the Great Northern Conference. "You could see that they were just taking it all in and they were playing relaxed. Their shots fell early, which helped give them a little confidence. It was fun to see that. Fun to see them both have a nice game."
Shots fell for just about everybody wearing the white uniforms in the early going. Medford made 12 of its first 18 shots from the field, including its first five 3-pointers.
Hanson hit two straight for an 8-0 lead and Marissa Fronk added one to make it 11-0 and force a quick timeout from the Eagles just 3:37 into the game. Rau's three-point play in the lane made it 20-0 and Autumn Krause made a driving, left-handed shot for a 22-0 lead before the Eagles finally got on the board with a Hadley Olivotti 3-pointer with 11:01 left in the half.
Rau answered Olivotti's 3-pointer with one of her own, then she scored off a well-executed back cut and pass from Rynn Ruesch. Rau's second triple made it 30-3. Hanson hit three of four free throws, took the ball to the rack and scored and Fronk hit one of two free throws for the 36-4 lead. Rau's last 3 closed the scoring in the half.
"I was pretty relaxed and I was energized because it was Senior Night," Rau said. "It felt fun out there. It was different."
"We couldn't miss," Hanson said. "It was me and then Brynn and then Marissa kept making them. It was cool."
"We work a lot on shooting," Faude said. "It's just something how when you're relaxed and feel a little bit more composed how things just fall into place. I think we had good intensity on defense too and that always helps our offense. It makes our offense work. I think we did a really nice job of playing at our level and not going down to the level of who we were playing."
Hanson scored 15 of Medford's 31 second- half points by hitting six of seven free throws, another 3-pointer and getting out in transition. Fronk hit one more 3-pointer to finish with 11 points. Ruesch and Laurissa Klapatauskas added five points each. Lydia Pernsteiner hit a 3-pointer and finished with four late points. Martha Miller sank a triple for Medford's last field goal of the night and Krause scored three as well.
"We had a goal to have 10 or less turnovers," Faude said. "I think we had less than 10. We had eight. We took care of the ball well, ran our offense well."
Theresa Kopanski led Northland Pines (3-7, 3-17) with six points.
Medford will finish its Great Northern Conference schedule Friday at Mosinee, who sits at 7-3 in league play and 14-4 overall. The Raiders got one of their biggest wins of the season against the Indians, 64-49, back on Jan. 10. A win would still give Medford a shot at a potential tie for second in the conference. Lakeland (7-3) hosts Mosinee next Friday.
Rhinelander beat Lakeland 66-55 on Tuesday to clinch its second straight GNC championship.
Medford will learn its post-season path this weekend and then close out the regular season Tuesday by hosting Merrill at 7:15 p.m. in the make-up date of a Feb. 3 postponement.
"I just want to make it as far as we can and play hard every game and make the most of it," Hanson said.
Hodags 61, Raiders 46
It's expected that Kenedy Van Zile, Rhinelander's all-time leading scorers, is going to be a handful whenever Medford faces the Hodags. On Friday, Van Zile got lots of help from Cynthia Beavers, Rebecca Lawrence and 28 Medford turnovers as Rhinelander moved closer to a repeat Great Northern Conference championship with a 61-46 home win.
Beavers scored a game-high 18 points for Rhinelander on eight-of-14 shooting from the field, while Lawrence got off to a fast start and finished with 17 points on eight-of-12 shooting. Van Zile did some damage as well, scoring 17 points.
But from Medford's point of view, its problems were mostly self-inflicted with turnovers against Rhinelander's press, which for the second time this season, got Medford to start playing too fast as the game progressed. Once that happened, the Raiders lost the offensive momentum they had in the first six minutes and never got it back.
"The girls played really well to start off," Faude said. "It's like the turnovers started, then they got down mentally and then they think things aren't working and then we're trying to get them out of that and get them to trust in what they're doing and the skills they have."
Rhinelander scored 24 points off turnovers and 22 points in transition. The Hodags shot 51% from the field overall, including seven of 21 from 3-point range and 19 of 30 on twos. Medford only hit 35.9% of its field-goal attempts (14 of 39), including just 12 of 29 on twos and two of 10 on 3s.
Medford led by as many as three on three occasions in the first six minutes. Hanson opened the game with a 3, Ruesch converted a three-point play for a 6-3 lead and Fronk got a three-point play off a press break for a 14-11 lead.
Ruesch picked up her second foul at the 12:08 mark on a Van Zile three-point play that tied it. After that, Medford was outscored 24-13 over the remainder of the half. Lawrence had 13 first-half pioints, Beavers had nine and Van Zile had 10.
Fronk's hustle diving after a loose ball got Ruesch a hoop to start the second half to make it 38-29, but that was the last time the Raiders were within double digits. Beavers hit a 3, got a steal and scored and then passed to Lawrence in transition to make it 45-29. Hanson and Ruesch scored to make it 45-33, then the Hodags went on an 11-0 run, highlighted by two steals and scores by Beavers, to go up 54-33 and put it away with 8:23 left. The lead got as high as 26 before Medford finished the game on an 11-0 run.
Despite the early foul trouble, Ruesch led Medford with 13 points. Fronk scored 11, Hanson had eight and Autumn Krause had five. Rau, Katie Brehm and Klapatauskas scored three points each. Klapatauskas led Medford with five rebounds, while Ruesch, Krause, Rau and Fronk had four apiece. Krause, Rau and Fronk had two assists apiece and Hanson, Ruesch and Krause had three steals each.
Medford forced 21 turnovers by the Hodags and outrebounded them 28-26.