Posted on
Raiders win twice, look to clinch title outright Friday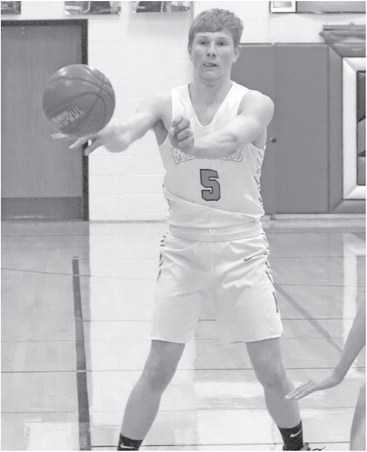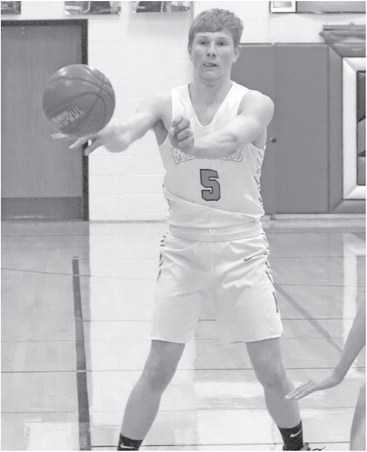 MEDFORD BOYS BASKETBALL
The Medford Raiders will be putting some Great Northern Conference hardware into their trophy case. Now it's just a matter of making sure they don't share that boys basketball championship.
The Raiders improved to 10-0 in league play Tuesday with a 71-54 win at Northland Pines, assuring they will at least tie for this year's conference title. They can win it outright Friday at Raider Hall by beating Mosinee (7-2), the only team that can still catch them.
Tip time is 7:15 p.m. Friday. Medford (16-3) won the teams' first meeting in Mosinee 68-53 back on Jan. 10, going on a 14-1 run in the last three minutes to break open what had been a tight game throughout. Mosinee, the defending GNC champion is 13-5 overall after routing Wittenberg-Birnamwood Tuesday in non-conference play 85-62.
In Eagle River Tuesday, Medford broke things open with a 24-5 run to close the first half, which ended with the Raiders leading 35-15.
Leading 11-10, Medford started its run with a three-point play from Logan Baumgartner with 9:01 left in the half. Brady Hupf scored inside, Mason Rudolph sank a 3 and Ty Baker rebounded a John McMurry miss and put it in to stretch Medford's lead to 21-10.
Joe Misina hit a 3 for Pines, but Hupf again got good post position and scored. Baumgartner answered two Ryan Peterson free throws by sinking a trey, Rudolph got a steal and scored, then he turned another steal into a Hupf hoop. Rudolph buried a 3-pointer from the left corner and Hupf scored in the final second off a drive and dish from Onyi Ekwueme to cap the big run.
Hupf was a big factor for Medford in the low post for the second straight game. The junior finished with 11 points, six rebounds, two assists and two steals.
Buckets by Doug Way and Onyi Ekwueme and Baumgartner's second triple of the game gave Medford its biggest lead a 45-21 early in the second half.
The Eagles chipped away from there and got as close as 12 at 53-41 on a Ryan Peterson 3-pointer with 7:39 left. Doug Way got a shot in the lane to fall, Peyton Kuhn buried a 3-pointer and Way stuck back an offensive rebound to make it 6042 and put an end to the momentum the Eagles had.
It was a night of balanced scoring for the Raiders. Kuhn was quiet early with some foul trouble but he still wound up leading Medford with 13 points and he had five rebounds. Justin Sullivan had 12 points and six boards. Baumgartner tallied 11 points and had four rebounds and two assists. Rudolph scored eight of his nine points in the big first-half run and added two rebounds, two assists and two steals.
Way had eight points while making four of five shots from the field and grabbed three rebounds. Baker had four points, three rebounds and three assists. Ekwueme had a team-high five assists to go with two points and two rebounds. Owen Wipf made a late free throw.
Ryan Peterson led the Eagles with 23 points, while Nolan Lurvey added 15.
After Friday's showdown with Mosinee, Medford is off until Feb. 20 when it visits a very good Chippewa Falls team in the final non-conference game of the regular season.
Raiders 61, Hodags 48
At Raider Hall Friday, Medford led wire-to-wire but got pushed by a Rhinelander team the Raiders felt was better than their 5-10 record coming into the game showed. The Hodags proved worthy, battling back to within five and seven points in the second half before Medford won it 61-48 to complete a season sweep.
"I think they have been playing really good basketball," Medford head coach Ryan Brown said of the Hodags who have lost six games by six points or less. "They've lost a lot of close games against teams. They're a good team, they're young, they have good depth. They make shots. So we really wanted to set the defensive tone. Overall I thought that was kinda what won us the game –– what we did defensively."
Medford scored the game's first eight points and forced 11 first-half turnovers while keeping the Hodags at arm's length. The Hodags got within 10-6 on a Quinn Lamers 3. After Medford went on a 12-2 tear to build a 22-8 lead, the Hodags chipped away, getting within 26-17 at the half and 26-21 early in the second half.
But as they did all night long, the Raiders came up with big shots every time Rhinelander got close. Sullivan hit a pullup jumper and Baumgartner sank Medford's only 3-point make in 10 attempts to push the lead back to 10. Hupf scored off a Baumgartner assist and then threw a long pass to Sullivan off a turnover. Sullivan made the shot, got fouled and made the free throw for a 36-24 lead with 10:53 left.
Hupf scored moments later to make it 38-26. The junior post had six points in the win as Medford got more opportunities in this game to go to the low post and let their big men work.
"I thought Brady stepped up big," Brown said. "We noticed (on film) there were some opportunities, especially on rotations, where you might get (Drake) Martin on the weak side or Martin on the ball on the wing where we can try to get Brady and Doug the ball. It just happened tonight that Brady got a lot of deep post touches. I thought he was really patient with the ball and just made some nice finishes. That helped open up everything else too I thought."
The Hodags' next run got them within 46-39, but Kuhn hit a short floater and a layup off a long assist from Ekwueme to push the lead back to 11. Triples by Lamers and Peyton Erikson cut Medford's lead to 51-45 with three minutes to go, but Way hit two big bonus free throws with 2:20 to go. Sullivan got a big steal on the defensive and hit two free throws on the back end of the possession to make it 55-45. Lamers hit another 3, but Sullivan and Kuhn were able to score the final six points and put it away.
Sullivan finished with a game-high 20 points on seven- of-nine shooting from the field. Kuhn scored 18 while making eight of 13 shots. Ekwueme, Baker and Way scored four points each, Baumgartner had three and Rudolph finished with two.
Ekwueme led Medford with five assists. Baumgartner had three assists and Baker had seven rebounds as Medford had a 29-15 edge on the boards with 10 coming on the offensive end.
"Especially early we set the tone," Brown said of Medford's rebounding. "That was big. I thought Ty, Doug, Brady, all those guys got boards, got tips or whatever it was to keep the ball alive."
Ross Skeen hit three of six 3s and led Rhinelander with 19 points. Erikson was three for four from long range and had 11.
While Medford was just one for 10 on 3s, the Raiders were 23 of 34 from twopoint range and shot 54.5% overall.
"I think they really wanted to stop us from shooting open 3s and so we (looked inside)," Brown said. "We did a good job of taking advantage of it by moving the ball. Overall we were pretty patient."