Posted on
Pirates win twice, could finish as high as third in conference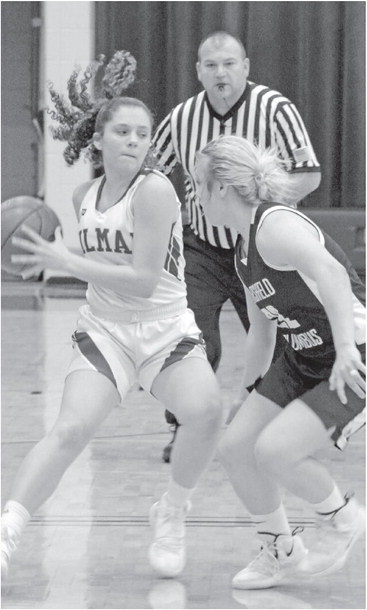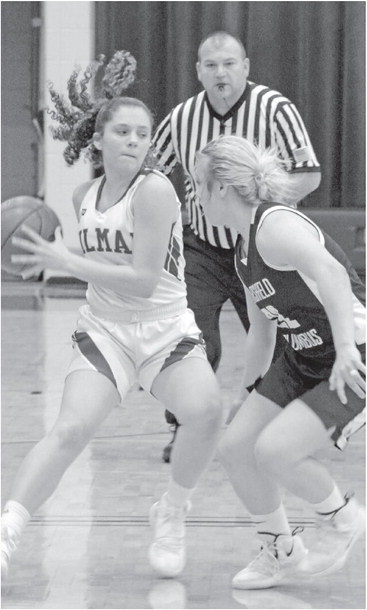 GILMAN GIRLS BASKETBALL
Emma Warner and Grace Grunseth scored 14 points apiece and a big scoring advantage at the free throw line pushed the Gilman girls basketball team to a 5242 win at Owen-Withee Tuesday night.
The Pirates' fifth straight win put them at 10-5 in the Eastern Cloverbelt Conference and 14-5 overall. With a win at home against Greenwood on Monday, Gilman would finish in at least a tie for third place in the nine-team conference. Colby sits a half-game behind the Pirates at 9-6.
Grunseth had 14 points, seven rebounds, six steals and three assists in Tuesday's win, while Warner had 14 points and seven rebounds.
Aubrey Syryczuk had 10 points, six boards and three assists.
Syryczuk and Warner both went four for four at the free throw line and Emma Grunseth went four for five. Gilman was 18 of 25 at the line, while Owen-Withee was just three for five. That 15-point margin was key.
"We were slow starters (Tuesday) night, but finished strong," head coach Tammy Weir said. "We didn't crash the boards like we have been and that hurt on the defensive end, because Owen got a lot of putbacks. But, we played smart and played well."
Gilman wound up with a 39-30 rebounding advantage, but 14 of the Blackhawks' rebounds came on the offensive end. Gilman had 15 turnovers, while Owen- Withee (6-8, 9-10) had 17.
Emma Grunseth finished with six points and six rebounds in the win. Tatum Weir had four points, six rebounds and three steals. Madisyn James had just two points, but she had seven rebounds, five steals and two assists to make a large contribution to the win. Mikayla Waichulis had a bucket.
Brianna Simington led Owen-Withee with 18 points. Hailey Geldernick added nine.
Before wrapping up conference play Monday against Greenwood, Gilman will host Flambeau Friday in a nonconference game at 7:15 p.m. The regular season will conclude Feb. 20 with a Cloverbelt Conference crossover game. The West site hosts this year's games.
Gilman 60, Columbus 44
The Pirates created some distance between themselves and Columbus Catholic and pulled into a third-place tie in the league standings with a 60-44 home win over the Lady Dons on Thursday night.
At the time, the win put Gilman at 9-5 in the league standings and pulled the Pirates even with Colby, who lost that night at league-leading Neillsville.
Gilman only scored 43 points in the season's first meeting with Columbus Catholic, a 60-43 loss, but the Pirates came fairly close to matching that in a half Thursday when they tore out to a 3421 halftime lead.
The Pirates were their usual strong selves on the boards, outrebounding Columbus Catholic 43-22 and had a solid night shooting the ball, hitting 24 of 47 two-point shots (51.1%) and two of eight 3-pointers for an overall 47.3% success rate. The Dons were just 13 of 41 inside the arc and three of 15 beyond it to finish at 28.6%.
"We took care of the ball," coach Weir said. "We just had a short two-minute stretch in the second half where we turned the ball over a few times and let them get on a little run. But, then we went back to our control and attacked."
Warner and Emma Grunseth both re- corded double-doubles in the win.
Warner poured in 22 points, grabbed 13 rebounds and added four assists and two steals. Grunseth had 14 points and 14 rebounds while hitting six of 10 shots.
Grace Grunseth continued her recent run of solid all-around play by contributing eight points, five assists, three rebounds, two steals and blocked two shots. Tatum Weir scored eight points while making four of six shots, grabbed three rebounds and had two assists.
Syryczuk had five points, five rethe bounds and three assists. James had three points, three rebounds and two assists. Syryczuk and James both made a 3-point shot.
The Dons (7-6, 8-10) played their third straight game –– all losses –– without leading scorer and UW-Platteville commit Addison Baierl, who averages nearly 19 points per game. Annika Brown led them with 12 points. Emmalee Jicinsky and Meghan Kibbel scored nine apiece.
"Unfortunately, Columbus was short one of their best players," coach Weir said. "But, they still fought hard and made us work for it."
The game ended a stretch of five games in eight days for Gilman, where it went 4-1.