Posted on
Distance times shattered; PRs continue to fall at GNC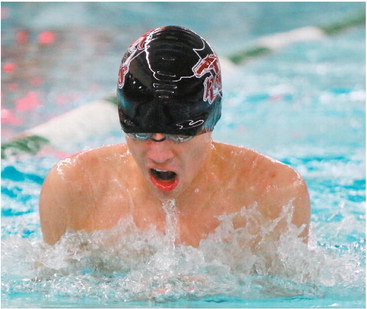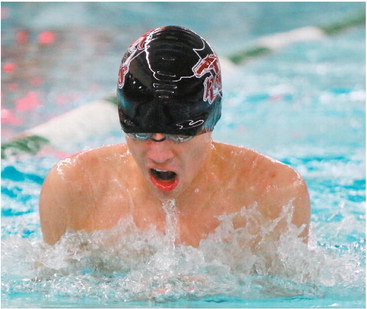 GNC BOYS SWIM CHAMPIONSHIPS
The Medford Raiders' assault on personal- best times continued Friday during a fifth-place team finish at the Great Northern Conference's boys swim championships hosted by Rhinelander.
The Raiders scored 107 points to beat Antigo by 11 for fifth in the six-team meet. As expected, Rhinelander easily defended its 2018-19 GNC title by scoring a meet-record 417 points. Tomahawk was a distant second with 285 points, followed by Lakeland (243) and Shawano (131).
The most noticeable time drops came in the distance events, where the Raiders did some major chopping.
In the 500-yard freestyle, junior Isaac Dittrich cut nearly 21 seconds off his personal best and placed seventh out of 14 swimmers in 6:18.71. Senior Blaze Kesan took nearly 25 seconds off his time from eight days earlier in Tomahawk and took 10th in 6:55.58. Freshman Dylan Kraemer cut 6.66 seconds and placed 12th in a time of 7:23.75.
Lakeland's Liam Hogan won the GNC title in 5:03.1.
Earlier in the meet, in the 200-yard freestyle, Dittrich crept below his previous personal-best time of 2:27.08 with his ninth-place time of 2:25.88. Sislo cut 2.38 seconds to take 10th and Dylan Kraemer was just 0.09 shy of his personal-best time and finished 12th in 2:45.38. Lakeland's Brandon Boh won the race in 1:55.01.
Freshman Jacob Mitchell earned Medford's highest individual placement with his fifth-place time of 1:14.36 in the 100-yard breaststroke. He lowered his personal record by 2.95 seconds in race won by Rhinelander's Thaddeus Heck in a GNC-record 1:03.56. Sislo lowered his time by 3.02 seconds and earned three points by taking 10th in 1:22.53.
Senior Jack Griesbach earned a sixthplace finish in the 200-yard individual medley with his time of 2:41.8. That race was won by Tomahawk's Travis Phillips in a GNC-record 2:01.08. Griesbach added a 12th-place time of 1:00.62 in the 100-yard freestyle, which was a personal best by 0.53 seconds. Mitchell was 15th in 1:02.1 and Abe Miller was 16th for Medford in 1:08.21. Rhinelander's Devon Gaber won it in 50.96 seconds.
Ethan Kraemer, a junior, lowered his time to 1:12.3 and placed eighth out of 15 swimmers in the 100-yard backstroke. He cut 0.98 seconds to score five points in a race won by Lakeland freshman Avery Tucker in 57.59 seconds.
Miller (1:13.02), Ethan Kraemer (1:15.45) and Damm (1:20.25) were 12th, 13th and 14th in the 100-yard butterfly with Damm setting a new best time by 0.05 seconds. Phillips set his second GNC record of the night with a winning time of 53.41 seconds.
Damm led the Raiders in the 50-yard freestyle by placing 12th in 28.04 seconds, while Kesan was 13th in 28.24 seconds and Di Benedetto was 17th in 30.6 seconds. Hogan set another GNC record, winning this race in 21.97 seconds.
Medford's top relay combinations posted the team's fastest times of the year in the 200-yard medley and 400-yard freestyle races.
The team of Ethan Kraemer, Mitchell, Miller and Kesan turned in Medford's best time in the 200-yard individual medley, 2:04.29, which was good for seventh place and 14 team points. Dittrich, Sislo, Di Benedetto and Dylan Kraemer earned 10th place and six points with their time of 2:27.14 in their first time together in this race.
Rhinelander won in 1:43.25.
Griesbach, Miller, Kesan and Damm finished seventh in the 400-yard freestyle race at 4:16.48, over two seconds faster than any Raider team had done this winter. Di Benedetto, Sislo, Dylan Kraemer and Mitchell added 10 points by taking eighth in 4:33.04. Lakeland won the relay title in 3:26.11.
The 200-yard freestyle relay team of Damm, Ethan Kraemer, Dittrich and Griesbach wasn't far off a new seasonbest time for Medford. They took seventh out of 10 entries in 1:54.41. Rhinelander won the race in 1:31.96.
The Raiders will wrap up their 2019-20 campaign Saturday at the WIAA Division 2 Wisconsin Rapids sectional, which starts at 1 p.m. This will be Medford's first time at the Rapids facility for a boys meet. Almost all other sectionals in recent memory were held at UW-Stevens Point.
Medford will be one of 11 teams in the sectional field, including all six GNC squads. Berlin-Green Lake, Menomonie, Rice Lake, River Falls and Wausau East are the others. Rhinelander is the defending sectional champion.
The winner of each race automatically qualifies for the Feb. 21 state meet in Madison as do the top 12 non-winning times statewide in each event.