Posted on
Chieftains soar over to wins over the Warriors, Falcons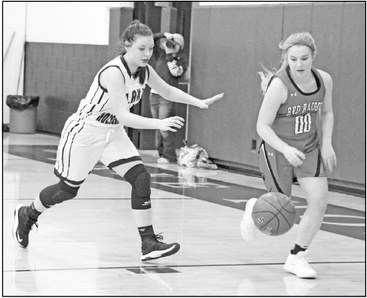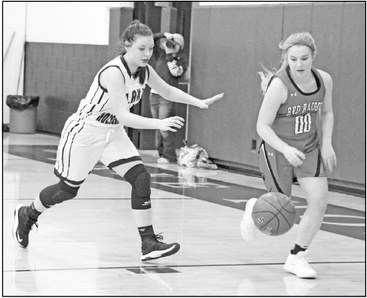 Lake Holcombe's girls basketball squad celebrated success over the week, taking on first Winter, then Flambeau, in conference match-ups.
Feb. 4 vs. Winter conference (W 63-44)
Making the trek to Winter, Lake Holcombe went into the half up 38-30. Tightening their defensive belts, the Chieftains allowed Winter to only score 14 points in the second half, as Lake Holcombe went away with a 63-44 victory.
Sophomore Brooke Lechleitner led the pack, with 29 points, followed by junior Allison Golat-Hattamer with 20, six of those coming from three-point shots. Senior Hannah Winchel came next, with 5 points, with senior Megan Lechleitner right behind with 4.
Freshman Karly Kirkman also nailed a three-pointer to help her team.
Feb. 6 vs. Flambeau conference (W 52-40) Lake Holcombe then took on Flambeau, who was second in the conference.
The Chieftains picked up where they left off, scoring 29 points in the first half to lead Flambeau. The second half saw Flambeau score just 18 points, while Lake Holcombe racked up 23.
The home team came away with the victory, 52-40, handing Flambeau their first conference loss of the year.
"Lake Holcombe girls played well as a team tonight," said coach Jennifer Lechleitner.
B. Lechleitner again led with 14 points, with M. Lechleitner right behind with 13. Freshman Justine Kane and sophomore Josi Elmberg each added 7, while Hattamer ended with 5.
Winchel chipped in with 4 points and Kirkman had 2.
The victories put Lake Holcombe at 8-8 on the year, and 6-5 in the East Lakeland Conference.
"It feels good to be the first team in conference to win against Flambeau," said J. Lechleitner. "Hats off to Flambeau and their good sportsmanship."