Posted on
Ackmans grab C-Belt titles; NGL has three champs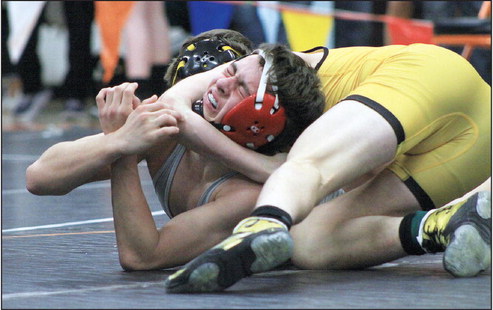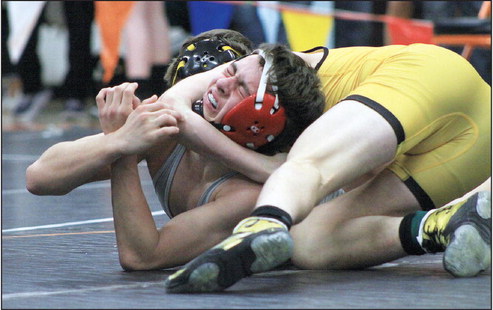 Spencer-Columbus' lightweight Ackman brothers pulled off a double Cloverbelt Conference championship while Neillsville-Greenwood-Loyal got titles from a freshman, a junior and a senior on its way to third place at the annual conference meet held on Feb. 8 at Stanley-Boyd. Cadott strolled away with the team championship and took home six individual weight class titles.
Spencer-Columbus senior Ashton Ackman copped his fourth consecutive Cloverbelt title, winning this year at 113 pounds to push his overall season record to 31-3. At 120 pounds, his sophomore brother Treyton won his second Cloverbelt crown. The Ackmans switched weights this season, with Treyton winning a league title at 113 pounds in 2019 while Ashton won at 120.
For Neillsville-Greenwood-Loyal, senior Nathan Buchanan won a conference title at 182 pounds, junior Tommy Friemoth grabbed gold at 160, and freshman Gunnar Hoffman continued his dominant first varsity season with a league title at 220 pounds.
As it was during the league dual meet season, Cadott was heads-and-tails above the competition at the league tourney. It walked to first place with 264 points and was followed by Stanley-Boyd/Owen Withee at 186, NGL at 183.5, Abbotsford-Colby at 134.5, Osseo-Fairchild/Augusta/ Fall Creek at 98.5, Regis/Altoona at 90.5, Spencer-Columbus at 71.5, and Thorp at 5.
Ashton Ackman had to win twice to get his fourth league title. After a bye, he scored a 16-0 technical fall over Cadott sophomore Logan Harel (25-15) and in the finals took down NGL sophomore Jarick Young (21-10) on a 9-4 decision.
With only three wrestlers this year at 120 pounds, Treyton had to only wrestle once. That was in the finals, where he dominated Cadott sophomore Kaleb Sonnentag (28-10) for a 19-6 decision. Treyton is now 33-3 as the season heads to WIAA Division 2 regional meet at Eau Claire Regis on Feb. 15.
For NGL, its first title of the league tourney did not come until 160 pounds, when Friemoth improved his season mark to 24-10 with an 8-0 decision over SB-OW senior Preston Potaczek (18-5) in the finals. Friemoth pinned Cadott junior Michael Pecha (14-16) in 4:19 to reach the finals.
At 182 pounds, Buchanan (26-6) took care of Cadott senior Steven Pfeiffer (21-7) in 1:35 in the semi-finals to set up a clash with 2019 state qualifier Bret Kostka of OF-A-FC. In the most dramatic match of the finals, Buchanan overcame a 5-1 deficit in the third period to force overtime. Buchanan scored the tying points in regulation with two back points as time expired. In the extra 1-minute session, Buchanan threw Kostka to his back for the fall in 6:29.
Hoffman ran his season mark to 30-1 by easing through the 220-pound bracket. After a bye, he pinned OF-A-FC junior Bo Prudlick (17-15) in 1:24, and went on to beat Cadott senior Ethan Tegels (26-10) on a 9-3 decision in the finals.
NGL also had three second-place finishes.
At 106 pounds, freshman Luke Dux got a pair of first-period pins to reach the finals. He first took care of Abby-Colby freshman Grady Steinman (7-19) in 1:54, then got a fall in 1:16 over SB-OW freshman Justin McManus (22-11) in 1:16.
In the finals, Dux ran into Cadott freshman Brayden Sonnentag, who's 29-1 on the year and the top-ranked wrestler in Division 3 at 106. Sonnentag scored a 6-3 decision to leave Dux with a 28-4 mark heading into regionals.
NGL also got a second-place finish from Young at 113 pounds. He pinned OF-A-FC sophomore Sullivan Haskins (8-17) in 54 seconds, then earned a spot in the finals with an 8-1 decision over SB-OW sophomore Alexander Nitz (21-9). Young is 21-10 after the loss to Ashton Ackman in the finals.
Freshman Keeghan Anding landed another second place for NGL, at 132 pounds. After a first-round bye, he scored a 20-4 technical fall over SB-OW senior Dustin Bergman (23-11) in the semi-finals. He was then defeated 10-2 by Cadott freshman Tristan Drier (30-9) in the championship match. Anding is 23-11 on the season.
Taking third place for NGL were freshman Garret Learman (12-19) at 138 pounds and freshman Carter Schoengarth (12-7) at 152.
2020 Cloverbelt Conference champions 106: Braydon Sonnentag, 9, Cadott (29-1) 113: Ashton Ackman, 12, Spencer-Columbus (31-3) 120: Treyton Ackman, 10, Spencer-Columbus (33-3) 126: Blaine Brenner, 11, SB-OW (35-0) 132: Tristan Drier, 9, Cadott (30-9) 138: Cole Pfeiffer, 9, Cadott (25-14) 145: Dawson Webster, 9, Cadott (30-8) 152: Payton Kostka, 11, Regis-Altoona (32-2) 160: Tommy Friemoth, 11, NGL (24-10) 170: Brady Spaeth, 12, Cadott (36-0) 182: Nathan Buchanan, 12, NGL (26-6) 195: Gavin Tegels, 10, Cadott (32-5) 220: Gunnar Hoffman, 9, (NGL (30-1) 285: Tyler Krizan, 11, SB-OW (26-10) Neillsville-Greenwood-Loyal and Spencer-Columbus will both be at Eau Claire Regis on Feb. 15 for a Division 2 regional, with the top two finishers at each weight advancing to the sectional meet on Feb. 22 in Osceola. Other teams at the regional will be Stanley-Boyd/Owen-Withee, Abby-Colby, Regis/Altoona, and Medford.
Cadott will be hosting a WIAA Division 3 regional tournament on Feb. 15
DEAN LESAR/STAFF PHOTO