Posted on
T-Birds tip Raiders again; Medford gets by Chequamegon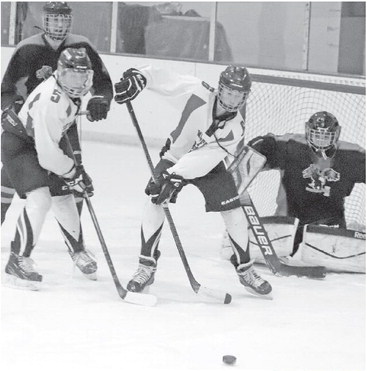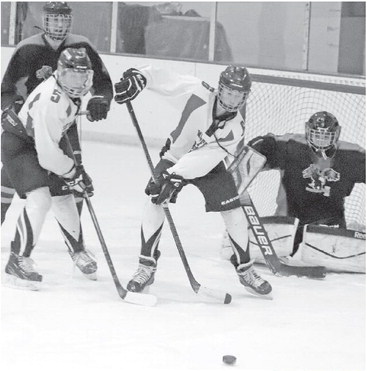 MEDFORD HOCKEY
Defense has been the name of the game both times Medford's hockey team has played Lakeland this season.
Both times, Lakeland's defense was just a little bit better.
In their second game at the Lakeland Hawks Ice Arena in 15 days, the Raiders and Thunderbirds were locked up in a 1-0 battle in Tuesday's first-round game of the Great Northern Conference when Lakeland finally wore down the visitors and scored three goals in a span of 2:38 to seal a 4-1 victory.
Medford avoided its second shutout loss to the T-Birds when Connor Gowey beat Lakeland goal tender Collin Guelcher 2:59 into the third period with an assist from Colton Gowey. But that wasn't nearly enough to offset the threegoal run Lakeland had just completed.
The result sends seventh-seeded Medford to a consolation semifinal game at sixth-seeded Rhinelander Tuesday night at 7 p.m. The Hodags lost their firstround game 7-5 at third-seeded Mosinee.
This will be the third meeting of the year between the Raiders and Hodags. Rhinelander won the GNC game 7-3 in Medford back on Dec. 10, while the Raiders rallied to beat Rhinelander 5-4 on Jan. 18 in the championship game of the East-Merrill United tournament.
Win or lose, Medford will play its final GNC tournament and regular-season game at Northland Pines on Saturday, Feb. 15 at a time to be determined.
Medford (11-8-1) was able to burn off two first-period penalties and keep second-seeded Lakeland (14-3-1) off the scoreboard despite getting outshot 17-4 in the period. The T-Birds, who beat Medford 2-0 on Jan. 20, finally broke the scoreless tie 3:13 into the second period with Max Toijala beating Medford goalie AJ Adleman with assists from Joe Beda and Victor Masayesva.
Lakeland tacked on a pivotal goal with just 1:38 left in the period when Tyler Gillich scored off a Masayesva assist.
The T-Birds struck quickly after intermission to put it away. Kyle Schaub scored off assists from Toijala and Cody Olson just 35 seconds in. Masayesva scored with help from Toijala 25 seconds after that.
Adleman collected 46 saves while Guelcher had 22. It was a cleanly-played game with Medford staying out of the box the rest of the way after its two early penalties and Lakeland serving just one second-period minor.
Elsewhere in Tuesday's first round, top-seeded Northland Pines crushed eighth-seeded Tomahawk 15-0 and fourthseeded Waupaca edged fifth-seeded Antigo 3-2, setting up a semifinal matchup between the Eagles and Comets in round two. Mosinee will visit Lakeland in the other semifinal, while Tomahawk will head to Antigo for the other consolation semifinal. Medford will play either Tomahawk or Antigo in its Feb. 15 game.
In between tournament games, Medford's home finale for the 2019-20 is scheduled for Feb. 13 when the Raiders will host the Barron based co-op known as the Northwest Icemen. Face-off is set for 7 p.m.
Medford 5, Chequamegon 3
The Raiders again didn't have the easiest time solving goal tender Chris Vittone, who shut them out with 51 saves on Jan. 23, but they did get five out of 53 shots by him Friday and got their revenge with a 5-3 victory over the Chequamegon Co- op at the Simek Recreation Center.
The Raiders got two first-period goals and never trailed, though Team SEaL got two goals in a 10-second span to pull within one in the second period. Goals by Carter Pernsteiner late in the second and Dalton Hraby late in the third iced Medford's 11th win of the season.
While Vittone finished with 48 saves, Adleman, who battled illness during the week, came up with 16 saves to pick up the win, including a bigtime save in the first period on a breakaway chance by Chequamegon's Brendan BeBeau when it was still a 1-0 game. BeBeau also hit a post with another shot later in the period.
The Raiders got their first goal just 3:06 in when Blaine Seidl skated up the right side and centered to a wide open Miles Searles, who buried his shot from the point. They took a 2-0 lead with just 45 seconds left in the period while shorthanded following their only penalty of the night. Hraby intercepted the puck and blistered a shot from the right side that Vittone stopped. But it was a rare occasion where he let a rebound leak out and Connor Gowey knocked it home.
"Dalton made a nice read," Medford head coach Galen Searles said. "He came up and intercepted it. He had a really good game. He was our top defenseman in this one."
Gowey gave Medford a 3-0 lead 4:48 into the second period, scoring off a Pernsteiner assist. Team SEaL's flurry started just 21 seconds later with back-to-back goals from Grant Kief, who got an assist from BeBeau at 5:09 and assists from Be-Beau and Mason Freiburger at 5:19.
"The first period was solid. We played well in that one," Galen Searles said. "In the second, they scored a goal where we had a mental lapse and nobody was covering anybody in front of the net. AJ, like he always does, said, 'that was my fault I kicked out the rebound.' Well you need help there, it's not just you in front of the net. The second one was a goofy goal, but they happen. All of a sudden it's 3-2 and it's a close game."
Pernsteiner, though, gave the Raiders some breathing room with his goal at the 15:02 mark, assisted by Logan Searles.
Hraby's blast with 44 seconds left in the game with Medford on the power play, trickled through Vittone to seal it.
Kief capped his hat trick by scoring for Chequamegon on an unassisted breakaway with 1.1 seconds left. The Screaming Eagles came into the game missing five players due to illness and other reasons.
"To their credit they didn't give up," Searles said.