Posted on
RECORD IS FINALLY BROKEN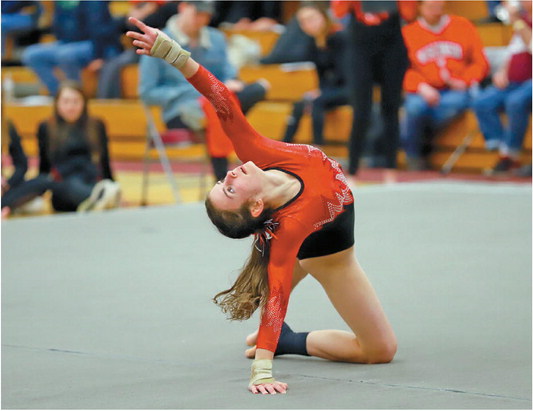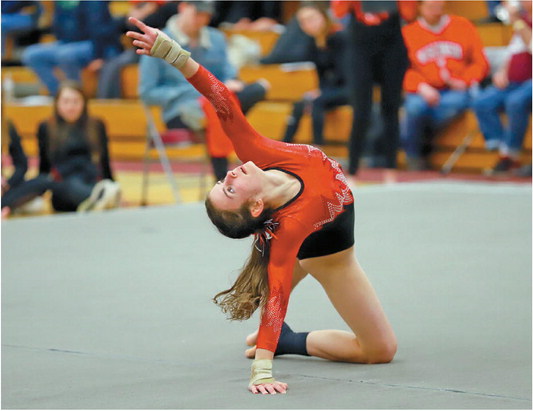 Raiders soar past 2004 score, take 2nd in meet
Individually Saturday, only two members of Medford's gymnastics team set or tied personal bests scores at the Antigo Invitational.
But collectively, they hit a score no Medford team has ever hit.
A multi-year chase for this core group of Raiders finally reached its goal when they accumulated a team score of 132.475 and placed second in higher level Maroon Division of the 14-team meet. They didn't just squeak by the old record of 130.35, they blew by it by 2.125 points.
Fittingly, the new record was punctuated by Kate Malchow. In the team's last routine of the day, the freshman capped a day where she set or tied personal records in each event by earning an 8.7 to tie teammate Brooklyn Bilz for eighth place in that event and finish with 33.825 all-around points, a 1.425-point improvement from her previous best score.
"We got really close last year toward the end of the season," junior Megan Wanke said of the team record. "It was exciting, it's definitely been one of the big priorities of this season."
"Once Kate started crying, I feel like everyone just started crying," freshman Anna Wanke said.
"We all started crying because we were happy we got it," freshman Avery Purdy said.
"I asked the girls before the meet began, 'what's your goal today?'" head coach Steve Cain said. "Of course the first thing was beat the school record for team score. I said, 'OK, you can do it. You know you can do it.'" Right away, the Raiders got the sense this might be their day. Their first event was the vault.
Medford earned 33.75 points, just off their seasonhigh of 34 they got at Rhinelander on Dec. 14. Brooklyn Bilz, Kennedy Bilz and Ulrich all tied for 18th with 8.45s, Malchow tied for 21st at 8.4 and Kara Hudak tied her best score of this season with a 7.8. Cain noted the Bilz sisters have identical average scores of 8.158 at this point in the season.
"To show our consistency, three of the girls got 8.45s and one of them got 8.4," Cain said. "They all do the same vault. They all do the quarter, three-quarter vault. They're all executing and completing their vault pretty similar to each other as far as what they need to have done for that. Kennedy keeps progressing. She increased her PR considerably by 0.3. Kate is so consistent. She tied her PR."
"It's getting better," Kennedy Bilz said. "I just try to listen to whatever Steve says to do to fix it and everything and try my best at it."
"Right after vault, Avery walked up to me and she's like, 'I think we have a chance to beat the record,'" Anna Wanke said.
"Everyone on vault got 8.4s except for Kara and she scored really high and I looked at everyone and said 'today's the day. It's going to happen,'" Purdy said. "I had a really good feeling about that."
The Raiders then set season high team scores on what often is their toughest events, the uneven bars and balance beam.
They earned 31.475 points on the bars, led by a fourth-place score of 8.125 by Kate Malchow, who beat her previous best of 8.0. Brooklyn Bilz was right behind her with an 8.1 that was her best score of this season. Makala Ulrich tied for 13th out of 31 gymnasts with her 7.7 and Megan Wanke nudged up from a 7.325 at Valders Jan. 25 to a 7.55 that tied for 16th. Avery Purdy tied her personal best with a 7.4 that placed 21st.
Marshfield's Gracie Holland won the event with a 9.15, while Caroline Rammi of Manitowoc (8.7) and Lakyn Sonday of Washburn (8.2) were second and third.
The Raiders then had the no-fall day they've been looking for on the balance beam and it resulted in a team score of 33.45, 0.9 points better than their previous best that was hit in the opening meet of the season.
Bilz tied Rammi for third with her 8.75 and Malchow took fifth by upping her score a half-point to 8.6. Megan Wanke inched up to an 8.1 and placed 10th out of 31 gymnasts, Ulrich was 11th at 8.0 and Anna Wanke returned to the lineup after a missing the last couple of weeks and posted a 7.65 that was good for 15th. Holland (9.45) and Jade Scholl of Marshfield (8.85) were the top two beam scorers.
"It never happens, so it was good," Megan Wanke said of the team having no falls. "It's been a long time since I've been in a meet where there were no falls on beam."
Heading into the floor exercise, the Raiders knew the record, which has stood since 2004, was ready to be broken. They figured their top four scorers had to average 7.9s to get it.
"After each event we'd be tallying up our scores," Hudak said.
"I think it was Anna who told me we're going to beat it because we always score better than (7.9s), so we're going to beat it today," Megan Wanke said.
Medford's 33.8 points on the floor just missed the team's season-best of 33.95 achieved on Dec. 7.
The 8.7s from Malchow and Bilz led the way. Malchow's previous best was 8.45 in Valders. Megan Wanke moved up to an 8.4 an tied for 17th. Ulrich tied for 23rd at 8.0 and Purdy was 26th with a 7.5. Holland (9.55) and Sonday (9.3) were the top two gymnasts in the event.
"When Kate got done with her routine, she was the last one, she was so excited," Cain said. "The excitement for a club kid to get to high school, where it's a whole different ball game. She was just overjoyed. She was so excited about that."
"It was pretty good, my best one for the year," Malchow said.
Brooklyn Bilz placed fourth out of 17 all-around gymnasts in the Maroon Division with 34 total points, her second-best mark of the season. Malchow's was fifth with her 33.825 points and Ulrich was ninth with 32.15 total points.
"Mak was sick," Cain said. "She felt she couldn't perform 100%. I was like, if that's the way she was feeling and she did what she did, OK, well I can't wait until you're back to 100%."
Now that the record is finally theirs, the Raiders' mission now is to keep pushing because they feel there's more to achieve in this final month of the season.
"I feel like it's good when we all come together to achieve a goal that we've all been wanting, for the freshmen, since the beginning of the season and for (the older girls) a long time," Anna Wanke said.
"It's nice because you feel like everybody gets to be a part of it and everyone can be happy about it," Megan Wanke said. "Because even all the girls that maybe didn't compete this weekend, they are still so much a part of it because they push all of us in practice so much harder. There is so much healthy competition between all of us for the spots that it pushes everyone to do better."
"These girls are very competitive against each other but in a positive way," Cain said. "Everyone is just pushing everyone to be better. There's no animosity about it."
The home stretch starts with tonight's home finale with Lakeland and Tuesday's dual at Rhinelander which will wrap up the dual-meet portion of their Great Northern Conference schedule. Both meets have 5:45 p.m. start times.
"The ultimate goal is state," Megan Wanke said. "Actually the ultimate goal is sectional champs and beating Ashland (who has won eight of the last nine sectional titles)."