Posted on
Raiders coast to wins over Lumberjacks, Hatchets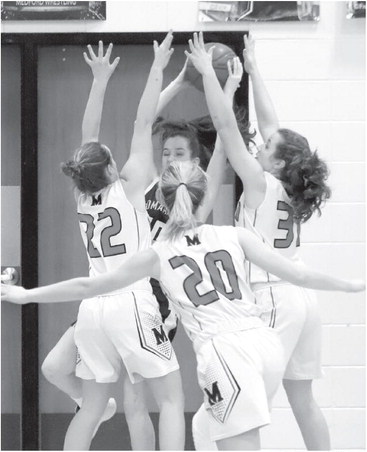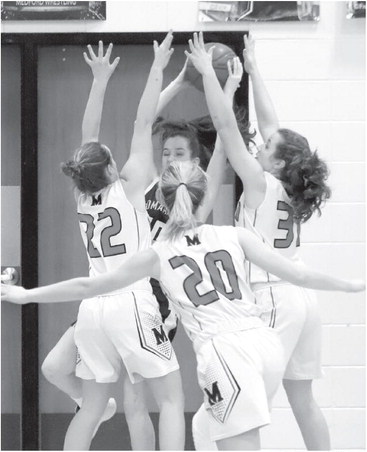 MEDFORD GIRLS BASKETBALL
Wausau East had no answers for Medford guard Marissa Fronk or the Raiders inside game Tuesday as the Raiders led wire to wire and improved to 14-4 with a 61-38 non-conference win.
No matter which zone defense the host Lumberjacks tried, Fronk and the Raiders found their way to the basket, making 21 of 31 two-point shots and collecting 38 points in the paint compared to East's 18. Fronk scored a game-high 19 points and collected a game-high three steals, scoring off all of them.
The Raiders had 16 assists on 26 made field goals and scored 13 points off turnovers in one of their most efficient offensive nights of the season. Medford's 1.13 points per possession was its secondhighest mark of the season behind the 1.33 points per possession the Raiders got four nights earlier against Tomahawk.
The loss dropped Wausau East to 4-14.
The Raiders scored the game's first seven points on a Brynn Rau 3-pointer, an Autumn Krause score off a Rau assist and Fronk's free throws following an East turnover. East closed within 9-5, but Medford countered with a 15-4 run that gave the Raiders a double-digit lead they never relinquished.
Rynn Ruesch got the first two hoops of that run, scoring at point-blank range off assists by Krause and Sierra Hanson. After East's Abby Thompson scored twice to make it 16-9, Fronk, who played much of the first half with two fouls, grabbed a shot by Krause that was partially blocked by Thompson and put it in. She then got two consecutive fast-break layups off steals and Ruesch was rewarded for her backdoor cut with an assist from Krause to make it 24-9 with just over three minutes left in the half. Fronk got another steal and score and Katie Brehm assisted Laurissa Klapatauskas on a late score to give the Raiders a 28-14 halftime lead.
East tried some full-court pressure in the second half, but the Raiders were able to break that down and extended the lead to 44-22 on Hanson's coast-to-coast score. The lead got as high as 27 at 53-26 when Fronk assisted Klapatauskas on a tough three-point play in transition with 5:53 left.
Ruesch and Krause both hit double digits with 10 points. Krause had a teamhigh five assists and had two steals and two rebounds. Ruesch grabbed three rebounds and had two assists.
Hanson finished with six points while making three of four shots. Lydia Pernsteiner knocked down a pair of late 3-pointers from the right side to finish with a season-high six points. Klapatauskas had five points, four rebounds and two steals. Rau didn't score after her opening 3-pointer, but she contributed three assists, two rebounds and five defensive deflections. Brehm had a bucket, five rebounds, two assists and two blocked shots.
The Raiders shot 54.2% overall from the field (26 of 48), compared to just 39% for East (16 of 41). The Lumberjacks missed all nine of their 3-point tries, turned the ball over 17 times and were outrebounded by the Raiders 27-21. Medford had just 10 turnovers.
Elizabeth Boulanger led East with nine points, while Kit Kronberger had eight and Thompson added seven.
Medford's home game with Merrill was postponed due the Blue Jays being hit by a rash of illness and injuries and has been rescheduled for Feb. 18. Playing some of their best basketball of the season, the Raiders may be picking the perfect time to go to Great Northern Conference leader Rhinelander Friday night for a 7:15 p.m. tip. At 8-0 in the GNC, 12-4 overall and holding a two-game lead over Lakeland, the Hodags are closing in on their second straight unbeaten run through the conference. Medford hosts Northland Pines Tuesday at 7:15 p.m.
Medford 83, Tomahawk 18
It's been 20 years since a Medford girls basketball team has lost to Tomahawk and that trend easily continued Friday in an 83-18 blowout win in front of a sizable Youth Night crowd at Raider Hall.
The Raiders blitzed the now 1-15 Hatchets with a 25-1 run to start the game and a 27-2 run to end the half to built a 60-8 halftime lead.
From there, Medford's reserves took care of most of the second-half minutes as the Raiders improved to 6-3 in the Great Northern Conference.
While there was never a question of whether the Raiders would win, there was the question of how they would win and head coach Jessica Faude was happy with the how part of it.
"We played really solid, just good basketball," she said. "We kept our intensity on defense and did a really nice job of stopping them. They didn't have a lot of baskets. We said that we want a stop on every possession. We wanted to work our offense and get nice looks on offense, not forcing anything, not turning it over because you can get sloppy when you play teams like this. I think we played at a good high level in this game. It was good."
The 25-1 run to start the game was accomplished in just six minutes. Krause had an early three-point play. Two Fronk steals led a bucket of her own and one by Rau. Fronk assisted on a three-point play by Ruesch, Brehm hit a jumper from the elbow, Fronk had another steal and assist to Rau and Hanson had five quick points in the run.
Tomahawk hit just one field goal in the half. After that score by Gracie Barnett made it 33-6, Hanson got on a roll with three easy layups and a 3-pointer. Krause hit a couple of 3s to make it 52-6. Ruesch scored twice and, after Hatchet Ella Genelin hit a pair of free throws with two seconds left, Krause ended the half by firing a long pass to Klapatauskas, who took a dribble and banked in an 18-foot shot to beat the buzzer.
Medford shot 64.7% from the field (22 of 34) in the first half and finished at 56.9% (33 of 58). Hanson led all scorers with 18 points and made all eight of her field goal attempts. Fronk had 16 points, while Brehm had an eight-point second half and finished with a season-high 13 points. Krause hit double figures with 11, all in the first half.
Rau added seven points, Klapatauskas and Ruesch finished with six points each, Pernsteiner hit a second-half 3-pointer, Martha Miller had a second-half hoop and Bryn Fronk finished with one point.
Hanson and Klapatauskas had four assists each. Marissa Fronk had eight steals, while Bryn Fronk had four. Klapatauskas led Medford with 10 rebounds, including eight on the offensive end.
"We got to switch up our players and our roles a little bit," Faude said. "We had our guards play in the post and we had our posts in the guard spots. It's good because we have such a small team and you never know when they're going to get put in that other role. It's a good way to practice that."
Tomahawk got four points apiece from Emily Maki, Tiana Gerstenberger and Barnett. The Hatchets turned the ball over 40 times and made five of 25 shots from the field and eight of 15 free throws.