Posted on
Hornets grind out losses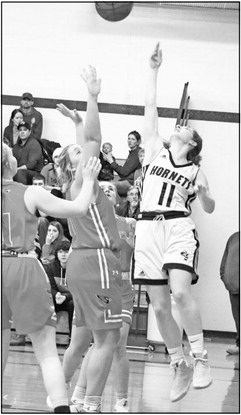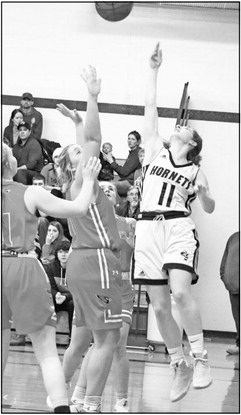 It was a tough week for the Cadott girls basketball program, as they dropped two conference games.
Jan. 28 vs. Osseo-Fairchild conference (L 61-40)
With a few sick players, including an absence from senior Abby Eiler, the Hornets got into a big hole in the first, something they couldn't dig out of in the second. Cadott ended the away match with a 61-40 loss.
"We improved from the first time we played them…we were in the game most of the way," said coach Dave Hazuga. "The girls showed a good competitive spirit to try to do better than the first meeting. I thought that was the positive from the game."
Junior Meadow Barone led on the scoreboard, with 9 points, followed closely by junior Jada Kowalczyk, with 8 and freshman Elly Eiler, with 7. Senior Autumn Bremness came next, with 6 points.
Seniors Paisley Kane and Jennifer Sonnentag, and freshman Lauryn Goettl each had 2 points. While she didn't score any points, Hazuga says junior McKenzie Prokupek did a good job starting for A. Eiler.
"We had balanced scoring, just not enough shots overall," said Hazuga. "We still had a few too many turnovers."
Jan. 31 vs. Thorp conference (L 41-36)
Cadott played host three days later, to conference foe Thorp. The Hornets went into halftime down by six, but came out in the second to outscore their opponents. It wouldn't be enough, as Cadott dropped the game, 41-36.
"We played a good defensive game," said Hazuga. "We were physical and battled hard. We had a tough time making some shots, but the effort was there. We saw some ability to do some new things, so I feel very positive about that."
Kowalczyk led scorers with 13 points, while Goettl was next with 8. E. Eiler and Barone each recorded 6 points, and junior Hailey Wellner ended with 2.
Kane rounded things out with 1 point.
Cadott's record moves to 9-8 on the season and 4-7 in the West Cloverbelt Conference.
"We just try to grind out every game like we did last night," said Hazuga. "We just came up a little on the short end."