Posted on
Colby pulls away in second half; first half hurts in two other losses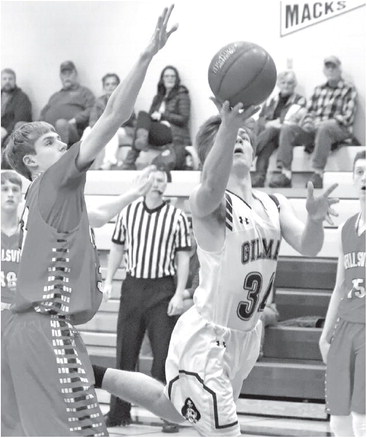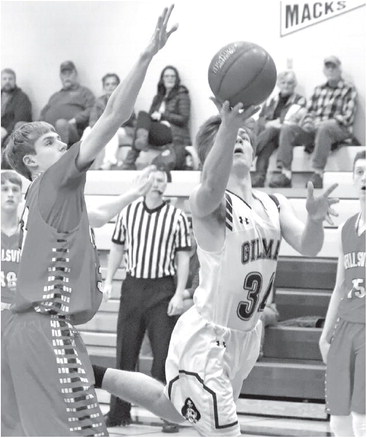 GILMAN BOYS BASKETBALL
Much like the first time the two teams met this season, it took a late run by the Colby Hornets to finally pull away from Gilman and earn an Eastern Cloverbelt Conference victory.
Tuesday's rematch took place in Colby, where the Hornets finally won it 67-48 behind a second-half shooting spree from Brent Jeske and turnovers that helped them gain extra possessions and scoring opportunities.
The loss was the sixth in a row for the Pirates, who fell to 2-9 in conference play and 3-13 overall. Colby improved to 6-5, 7-7. The Hornets won the first matchup between the teams 61-49 back on Dec. 12.
This time, Gilman was right there, trailing just 32-28 at halftime. Andrew Hecker had nine first-half points and he was one of four Pirates, including Blake Wisocky, Jordan Goebel and Isaac Wininger, to knock down 3s in the half to help keep it close.
It was still 36-32 early in the second half when Colby started to open up its lead. Jeske hit three 3-pointers and scored 10 of his 11 points in the half. The Hornets got six second-half points from Noah Robida and were able to score inside consistently down the stretch.
Hecker finished with 17 points for Gilman, while Ethan Grunseth hit five shots from the field, including a 3-pointer, as well as four of seven free throws to score a season-high 15 points. Wininger wound up with six points, Wisocky scored five, Goebel finished with three and Zack Marion added a hoop in the second half.
Richard Streveler led Colby with 12 points and Roman Schmitt hit double figures with 10. Colby hit seven 3-point shots in the win.
Gilman is back on the road Friday, visiting Spencer who currently sits in second place in the conference at 9-1 and is 10-4 overall. The Pirates will have a great chance at success on Tuesday when they host Granton. They'll get Columbus Catholic at home Feb. 13. All three conference games start at 7:15 p.m.
Chieftains 91, Pirates 53
Lake Holcombe didn't waste time putting Monday's non-conference game into the win column, building a 49-14 halftime lead while cruising to a 91-53 win on Gilman's home floor.
The Chieftains got big scoring nights from Brock Flater (28 points), Kaden Crank (24 points) and Kaden Kinney (18 points) while improving to 11-5 in the make-up date of a Jan. 17 postponement.
Flater made six shots from the field in the first half while scoring 15 of his points and Kinney scored 13 of his before halftime for the Chieftains, who bounced back from an 87-52 pounding they took from Rib Lake on Friday. Flater and Kinney both hit two 3-point shots in the half. Crank added 11 points.
Lake Holcombe didn't stop running and scoring in the second half either. Flater knocked down three more 3s while scoring 13 more points and Crank hit six field goals to put up 13 more points.
Gilman put up some big offensive numbers in the second half too, scoring 39 points. Hecker hit four of his five 3-pointers and scored 21 of his 25 points after halftime. Goebel drilled three 3-point shots and finished with nine 10 points, all in the second half.
Wininger and Wisocky scored six points apiece with Wisocky hitting two first-half 3s to account for nearly half of Gilman's first-half output. Grunseth added four points and Grant McFadden scored a second-half bucket.
Gilman actually hit one more 3-pointer than Lake Holcombe, 10-9, but the Chieftains got the rim with great success scoring 54 points on 27 shots made inside the arc.
Neillsville 91, Gilman 49
The Pirates knew they probably would have a hard time sticking with conference-leading Neillsville Thursday and a 16-0 run by the Warriors to start the game verified that.
But, from then on the Pirates competed hard and made some plays, particularly on the offensive end in a 91-49 defeat.
Hecker battled to a season-high 28 points, Wisocky knocked down a trio of 3-pointers for nine points and Grunseth added eight in the loss.
"I thought we fought throughout and kept pushing," head coach Wade Hendricks said.
The Warriors hit 12 3-pointers, got out and ran whenever they could, especially in the first half and displayed the offensive firepower that has them sitting atop the conference without a league loss as February begins.
"They're not afraid to shoot," Hendricks said. "They're going to shoot well and they're pretty deep and young."
Neillsville's opening run featured a steal and slam dunk by All-ECC performer Alex King and a couple of 3s from another All-ECC guard Braden Trunkel. The left-handed shooter hit four 3s in the first half alone and five overall while scoring 21 points for the Warriors.
Hecker's baseline move put Gilman on the board and Grunseth put one in off a nice up-and-under move to make it 16-4. The lead stayed in the teens until Neillsville went on a 3-point spree with Andrew Brown and Isaac Weiers each hitting one and Trunkel swishing two to push the lead to 44-21. It was 51-23 at halftime.
Hecker had 11 in the half and Wisocky hit two of his 3s in the first 18 minutes.
Wininger was credited with the last of his two buckets on the night on a goal- tending call to start the second half and Wisocky sank his last 3-pointer to make it 54-28. Hecker added hoop and harm, though he missed the free throw, to cut it to 55-30 with 13:50 left.
"Blake's come around the last few games," Hendricks said of Wisocky, a senior. "We need that."
But from there, the Warriors got hot again from the outside with Weiers, Monte Diestler and Brown knocking down triples to widen the lead to 70-34.
King and Brown, a senior and a freshman, both scored 12 points for Neillsville. Santana Subke had 11, as did Mason Roenz, a reserve sophomore big man who showed a nice shooting touch in the paint.