Posted on
Chieftains dash by Cats, concede match to Bucs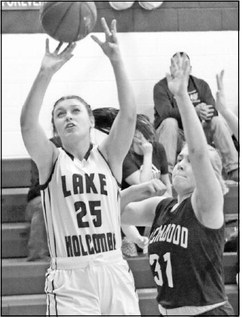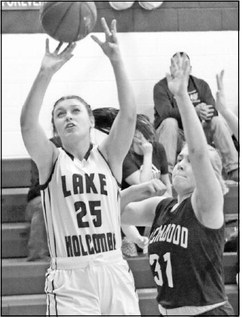 The Lake Holcombe Chieftains Girls Basketball team split a pair of games over the week, taking on Birchwood, before stepping out of the conference to face Prentice.
Jan. 28 vs. Birchwood conference (W 63-20)
It was all Lake Holcombe, all the way, in their home game against Birchwood, as the Chieftains took a large lead into halftime. Lake Holcombe allowed Birchwood to only break double-digits in the first half and held them to that same amount of points in the second.
The Chieftains didn't score as much during the second half of the game, but they didn't need to, as their 35-point first half lead put them over the top. Allowing only three Birchwood players to score, the home teamed cruised to a 63-20 victory.
"It was really nice to see my players who rarely get a chance to play a lot of minutes, in the game," said coach Jennifer Lechleitner. "Also, the teamwork they showed getting the ball to those that haven't scored, a chance to put stats in the book. Proud of them."
Sophomore Brooke Lechleitner led the scoreboard with 19 points, followed by freshman Karly Kirkman, with 11. Senior Megan Lechleitner was right behind, with 9 points, and junior Allison Golat-Hattamer and freshman Hannah Wincek ended with 8 each.
Freshman Justine Jane recorded 4 points, while senior Hannah Winchel and freshman Belle Jones each added 2.
Feb. 3 vs. Prentice non-conference (L 53-49)
After almost a week off, Lake Holcombe faced off against Prentice, but despite home court advantage, the Chieftains came up just short in the non-conference bout.
"Lake Holcombe girls had a very nice game, only losing by free throws at the end," said J. Lechleitner. "We were down by two and missed a shot with 35 seconds left. Had to foul, putting a great free throw team to the charity line."
Leading the way for Lake Holcombe, were B. Lechleitner, with 20 points and Hattamer, with 14 points. M. Lechleitner ended with 7 points, while Kane added 3 and sophomore Carly Vavra had 2.
Sophomore Josi Elmberg and Kirkman each chipped in 1 point.
The Chieftains now stand at 6-8 on the season and 4-5 in the East Lakeland Conference. J. Lechleitner says it will be a long week ahead for Lake Holcombe, as they go up against Winter and Flambeau.
"I'm impressed with how our team played defense and rebounded," said J. Lechleitner. "That's what we were missing in our last few games."