Posted on
Chiefs face losses to Trojans, Lancers, take out Bobcats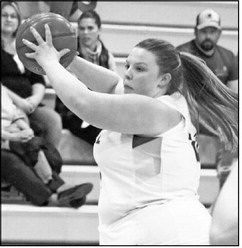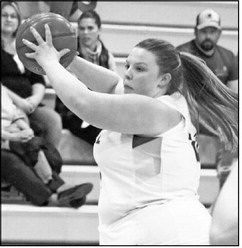 The Cornell girls saw plenty of action over the week, playing in three basketball games.
Jan. 28 vs. New Auburn conference (L 46-40)
The Chiefs saw visiting New Auburn take a close game on Cornell's court, after the Chiefs battled back from eight points down at halftime. Cornell outscored their opponents, 21-19 in the second half, but it wasn't enough, as New Auburn squeaked by with a 46-40 victory.
"We did not move our feet well enough on defense, allowing New Auburn to get to the free throw line," said coach Dave Elliott.
Senior Erin Crowell had a high scoring night, with 22 points. Fellow senior Bryanna Bonander had 8 points on the night, while junior Michaiah Galster ended with 4 points.
Junior Alyssa Helland 3 points, senior Kaylie Walters finished with 2 points and freshman Kelsea Popp rounded things out with 1 point.
Jan. 30 vs. E.C. Immanuel non-conference (L 52-35)
Two days later, it was E.C. Immanuel's turn to visit the Chiefs. Cornell couldn't get anything going in the first half, down 31-13. The Chiefs straightened their shoulders and shot better in the second half, limiting Immanuel to 21 points, opposed to Cornell's 22.
However, the damage had been done on the scoreboard and the non-conference match-up went to the visitors, 52-35.
This time, Bonander led with 12 points, while Crowell recorded 10 and Helland added 4. Walters finished with 3 points, Galster and junior Braya Duffy had 2 points each, and junior Katie Herr chipped in with 2.
"I played both varsity and JV players in this game," said Elliott. "We had several JV games canceled on us, including tonight. I made sure everyone saw some playing time."
Jan. 31 vs. Birchwood conference (W 60-23)
The next night, Cornell was on the road to Birchwood, picking up a conference win. The Chiefs came out hot, scoring 23 points to Birchwood's 12 in the first half.
The scoring onslaught continued in the second, with Cornell dominating over Birchwood, 37-11. The Chiefs finished strong and brought home the victory, 60-23.
Crowell led with 13 points, followed closely by Bonander with 11. Senior Charity Hessler had 9 points, including two, three-point baskets.
Popp ended with 7 points, Galster recorded 6 and Helland finished with 5 points. Walters chipped in with 4 points, while junior Michya Flood added 3 and junior Izzy Clark notched 2 points.
Cornell now sits at 5-11 on the season and 2-6 in the East Lakeland Conference.