Posted on
Cadott crowned dual meet conference champs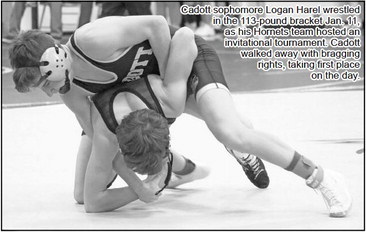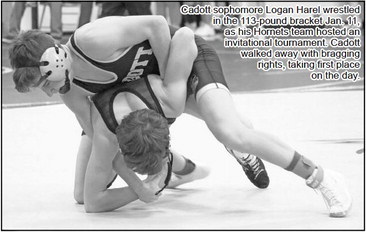 The Cadott Hornets Wrestling program saw continued success, as they not only won the dual meet conference championship in Neillsville, but also earned a landslide victory over Abbotsford-Colby, in what was their last home dual of the year.
Hosting their last home meet, Cadott ended the dual in fine style, earning a 72-6 victory over the co-oped Abby-Colby team.
"We honored our seniors last evening… Brant Bowe, Josh Briggs, Steven Pfeiffer, Brady Spaeth and Ethan Tegels…they wrestled their last dual in our gym last night," said coach Josh Spaeth. "The coaching staff is very honored to have had the opportunity to coach these awesome student athletes. I know without a doubt that these young men will be successful in life."
The seniors have a good start on success already, as B. Spaeth (182-pounds) took down Andrew Jeske in just 50 seconds, while Pfeiffer (170) earned a 13-1 major decision over Brandon Vicente. Tegels (220) ended the night in .25, over Levi Dommer.
Taking Best Effort, was sophomore Gavin Tegels (195), with a 4-3 decision over Carter Grewe.
"Gavin defeated an opponent he lost to in the past," said J. Spaeth. "He defeated the 220-pound folkstyle 16U national champion, 4-3. Great job, Gavin."
Freshman Brayden Sonnentag (106) continued his winning ways, getting a 44 second fall over Grady Steinman. Sophomore Logan Harel (113) also got the win over Lucas Baumann in 2:52. Freshman Tristan Drier (132) got his fall in 2:42 over Jose Rodriguez.
Freshman Dawson Webster (145) received a 16-0 technical fall over Talon Severson. Junior Nelson Wahl (152) earned the win over Xavier Digman in 2:59 and junior Michael Pecha (160) got a 3:16 fall over David Vicente.
Receiving forfeit wins, were senior Josh Briggs (285), sophomore Kaleb Sonnentag (120) and freshman Cole Pfeiffer (138).
The Hornets are currently 13-2 in dual meets, with their only losses coming from top ranked Division 1 teams. Cadott is currently ranked fourth in the latest Division 3 team rankings.
"Overall, our wrestlers wrestled great," said J. Spaeth. "They wrestled hard, scored points and consistently worked for the pin."
Jan. 31 vs. Neillsville-Greenwood-Loyal Dual Championship (W 53-20) Cadott came home with the Cloverbelt Conference Dual Championship under their belt, after taking on Neillsville-Greenwood-Loyal in an away match. The Hornets finished the night with a 53-20 win.
"The boys wrestled great," said J. Spaeth.
"Every wrestler gave their best effort. I really was happy with our ability to pin our opponents."
K. Sonnentag got his win in 4:40, over Jarick Young, while Drier earned a 15-0 technical fall win over Keeghan Anding. C. Pfeiffer also got the win in 1:46, over Garrett Learman.
Webster chipped in with a 2:34 fall over Tucker Bethea and Wahl came away with a 1:40 win over Carter Schoengarth. S. Pfeiffer got the fall over Dan Polzin in .57.
B. Spaeth continued his winning ways, with a 3:01 victory over Nathan Buchanan and G. Tegels got the 1:12 fall over Joe Polzin.
S. Sonnentag and Briggs received forfeit wins on the night.
Falling in their matches, were Harel to Luke Dux in a 10-1 major decision, sophomore Ethan Duck (126) to Gage Ludovic in 3:16, Pecha to Tommy Friemoth in 3:39 and E. Tegels to Gunner Hoffman in a 10-1 major decision.
Although they came home with the dual title, the Hornets know there is still work to be done to attain the goal of reaching team State competition.
"We will go right back to work and prepare for the upcoming Cloverbelt Conference Tournament this coming Saturday," said J. Spaeth.