Posted on
Neillsville snuffs out Loyal's run at first-place tie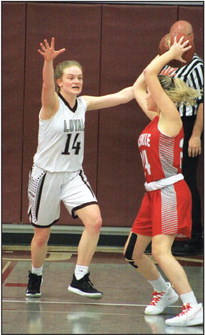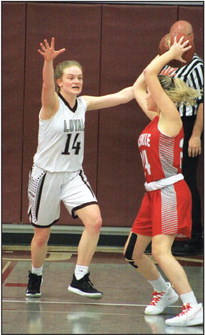 With an aggressive half-court trapping defense that frustrated Loyal and created numerous turnovers, the Neillsville girls basketball team reasserted its control over the Eastern Cloverbelt Conference by beating the Greyhounds 48-33 on Jan. 31 in Loyal. Loyal has been able to take down all other ECC opponents so far this season, but last week's loss, coupled with a 58-39 setback against the Warriors in the league opener in November, leaves it needing help from somebody else in the league to have a shot at first place.
Neillsville's shifting, pinching defense stifled Loyal's offense almost from the start and the Warriors bolted to a 15-2 lead in the first 10 minutes of the game. Loyal threw the ball away multiple times trying to pass through double teams, while Neillsville's quick guard combination of senior Alli Schoengarth and junior Bella Opelt were getting good looks on the other end of the court. The pair scored 12 of Neillsville's 15 points in the game's opening run. Loyal's strategy against Neillsville's defense was to lob long cross-court passes to open teammates when the Warriors would sag defenders to the ball. It may have worked, but the Greyhounds were unable to knock down open perimeter shots early on. Neillsville was, and Jaden Barth's back-to-back 3-pointers extended the Warrior lead to 21-4 with 4:57 left in the first half.
Senior Remi Geiger ignited an 11-0 Loyal run from there to get the Greyhounds back in the game. Geiger hit 3-pointers on consecutive Loyal possessions, and Savannah Schley followed with a 3-pointer of her own as Katlyn Lindner drew defenders to her inside and kicked the ball back out. Schley then picked up a loose ball after a scramble and laid it in with 2:27 to go in the half to cut the lead to 21-15. Opelt split two Loyal defenders for a score to close out the half with an 8-point Warrior lead.
Opelt scored twice more early in the second half -- including a 3-pointer -- to extend the lead to 32-18. Schley countered with a 3-pointer that started a 12-4 Loyal surge that would prove to be its last gasp.
After Amelia Trunkel scored for Neillsville to put the score at 36-25 with 9:49 to play, Natasha Tellock scored on a shot in the paint and Schley buried another 3-pointer to slash it back to 36-30.
Geiger forced a turnover on Neillsville's next possession, but the Greyhounds could not capitalize. Instead, Opelt hit two free throws and Barth followed with back-toback 3-pointers that put the game out of reach at 44-30 with 3:23 to go.
In part due to Neillsville's defense, Loyal was limited to 29 percent shooting on the night. The Greyhounds were 6-20 from 3-point range and 5-10 on free throws.
Neillsville had a 51 percent shooting night, and was 5-10 from long range and 3-5 at the line.
Geiger's 15 points led Loyal and Schley scored 12.
Opelt had a 19-point night and Barth added 12.
Loyal will be back in ECC action at home against Spencer on Feb. 6 and will then head to Granton for a Feb. 11 contest.
DEAN LESAR/STAFF PHOTO