Posted on
Loyal's Zupanc taking his ice skating to new levels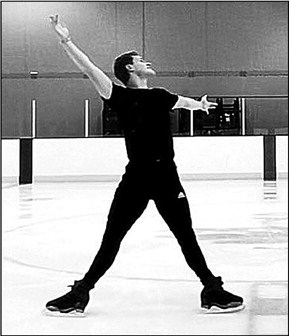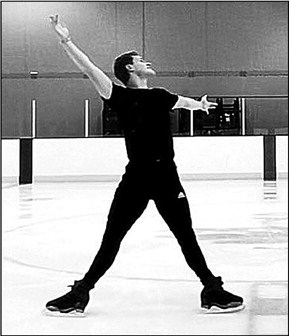 When it comes to skating, Timothy Zupanc is all about drive; the drive to improve, to excel and grow. Ever since he graduated from Loyal High School back in 2016, Zupanc has worked hard to become a better athlete in the art of figure skating. Now, close to reaching his full potential, he's looking toward the future where he can pass the knowledge he has learned on to others. Zupanc is currently a full-time student and athlete at UW-Eau Claire, competing on the Blugolds Synchronized Skating team and individually in the Blugolds Figure Skating Club. When he's not going to classes and studying for his communications degree, he's at the ice arena, practicing routines and learning new skills.
"It's definitely more rigorous, we have set practices on the ice," he said. "It's very hectic on time management. It takes a lot to manage my life when I'm a full-time athlete."
As both an individual and a team competitor, Zupanc said there are two different skating styles he has had the opportunity to improve during his time at UW-Eau Claire. When he first started skating at age eight and into his high school years, Zupanc got a taste of working both in a team environment and as an individual through the Marshfield Silver Laces Figure Skating Club, developing a fondness for the individual part of the sport. At the college level, he said his understanding of both aspects of the sport began to change and he is able to better appreciate both individual and synchronized skating.
"Well, it's pretty different (from high school). There's two types, solo and synchronized skating. I compete both individually and in synchronized skating," he said. "We have a group of six or 18 people on the ice doing patterns and movements at the same time as a college team. Individual is more freestyle with jumps and spins. As a team, you skate with friends, individual is lonely. On a team, you rely on other people, not just yourself. You're skating for your friends, your school. I like skating individually, but I now like synchronized skating."
Even though Zupanc has become better at both synchronized and individual skating, it's as an individual that he really gets a chance to shine.
"I work my way up, I feel that I'm a completely different skater (than before)," he said. "I'm much more attuned to the way I move and identify on the ice. I definitely got better. I went to Eau Claire where I worked with the coach one-onone with techniques. Because I was able to have access to ice time, my skills got better. I have more movement, more power." Back in October, Zupanc qualified for the U.S. Figure Skating Regionals held in St. Paul, Minn., placing within the top four and moving on to Sectional competition held in Dallas, Texas. Though he did not move on from there, he said the opportunity to compete at such a level was a wonderful experience. "They were very, very fun. I flew down to Texas for Sectionals, it's such a good time," he said. "I'm very grateful to have been able to experience that." At Sectionals, Zupanc said all the athletes competed at the novice level of figure skating, the third highest level in the sport. This was a very important achievement for him, as he has been working on advancing through all eight levels of figure skating and had only just begun to practice skills for the junior level. Through his drive and determination, he now has neared the end of the junior level and hopes to test for the senior, and final level before he graduates from college in May.
"There are eight levels of skating. You start at prepreliminary, preliminary, pre-juvenile, juvenile, intermediate, novice, junior and senior," he said. "They are disciplines, you have to test and be scored in order to be judged good enough to pass in the next level. As a senior, you can't go any higher. All seniors in the U.S. compete at the Olympics. I hope to pass the senior level."
Even though he expects to reach the senior level of the sport, Zupanc said something like the Olympics is not what he sees in his future. As he started figure skating when he was eight years old — old in the world of figure skating — his body is near the end of its competitive skating life. Completing his college education has also been important to him as he looks ahead to what's next.
"I'm not quite that good. I'm good for the collegiate level," he said. "I feel that if you do the Olympics, you won't be able to go to college, you won't be able to balance skating and college. I also love Wisconsin, I don't want to move to California or Colorado Springs to skate, it's not in my sights."
What is in his sights though, is a future in coaching figure skating. As a Blugold, Zupanc said he has been getting experience as a coach, working part-time with individuals in Eau Claire and Chippewa Falls. Falling back on both his new and old experiences, he said the skaters under his direction will be taught their techniques in a simple, straightforward way — something he learned to do himself as an older skater.
"I coach for Eau Claire and Chippewa Falls part time. I'm the Learn to Skate director at Chippewa Falls and I teach four or five private lessons on a one-on-one basis. My students range from age five to my oldest is 13," he said. "The techniques I teach, teach them to learn the right way. There's no such thing as an easy way out … my experience will help me in bringing knowledge to other skaters. I learned primary at an older age, I understand how to make things work. As I was older, I learned everything differently, it's not so much as natural for me. I can break it down for the kids to understand."
While Zupanc looks forward to the future, he also looks back to the past. He's come a long way since high school, he said, and he wants to continue to improve on those skills that he only dreamed about having as a child, and most importantly, share his love of the ice with others.
"I look back at pictures and stuff from high school and I see that I have become a completely different skater. I move better, am more powerful, I have learned four or five new jumps. I'm such a better skater. I have precision, speed and posture on the ice," he said. "I am grateful to my coaches, the ice time and room for improvement. I am a student of sports, I watch the Olympics and take what I learn from them and apply it to my skating. When I get off the ice, I'm still thinking of skating. It's improved day by day."
Loyal native Timmy Zupanc works on his figure skating techniques. He qualified last year for the U.S. Figure Skating sectional competition held in Texas.