Posted on
Schafer keeps finding back of the net in win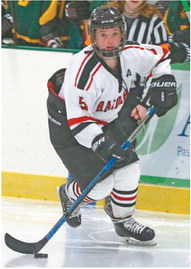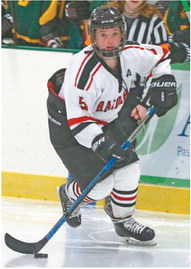 MEDFORD-RIB LAKE GIRLS HOCKEY
The incredible numbers keep piling up for Medford girls hockey senior Emily Schafer, who put her name to three more impressive figures in the team's 8-4 win over the Beaver Dam Co-op Saturday afternoon.
In the Raiders' second game of the day in Beaver Dam, Schafer scored all eight goals, surpassing her previous high mark of six she scored in an 8-2 win over the 19U team from Marquette, Mich. on Jan. 4.
Those eight goals also pushed her over the 50-goal mark for the season and the 100goal mark for her career. At 51 goals for the year and 103 goals for her career with at least three games left to play this season, Schafer will leave school scoring records that don't figure to be broken for some time.
Schafer said Tuesday it's hard to pinpoint exactly the reason for her monster season, but some of the factors include the Raiders having a stronger team overall this season than they've had in her previous three seasons, being part of the most potent scoring line she's been on in four years and good luck.
"Before this year, I'd have a hard time getting 20 goals," Schafer said. "Maybe the puck's just bouncing my way. It's finding the back of the net."
It didn't take long for the puck to start bouncing Schafer's way against the Golden Beavers and their starting goalie Karlee Albert. Just 1:06 in, she got the game's first goal with an assist from Kiersten Crass. At 2:08, Alyssa Brandner assisted on the second goal. The Beavers got their first goal at the 7:13 mark from Dayna Jones, but Schafer used a Kyla Kennedy assist to score at 13:33 and Delaney Hraby got the assist on a powerplay goal at 15:29 that made it 4-1 before the first intermission.
In the second two periods, the Beavers had normal starter Abby Okon in net, which Schafer said may have fired her up.
"I know one of their goalies was from Team Wisconsin so that kinda pushed me a little harder than normal I think just to see what I could actually do against a decent goalie," Schafer said.
Skylier Krueger and Kristen Brandner set up Schafer's fifth goal 4:50 into the second period and Crass got the assist on number six at 8:10. Kristen Brandner assisted on the next one at 9:43 to make it 7-1 heading into the third period.
Jones scored three times in the third period to make it 7-4 before Schafer scored an unassisted goal at 8:33, just six seconds after Jones' fourth goal.
So, amazingly, in a game with 12 goals only two girls scored them.
Freshman Saige Duesing completed her second full game in goal for the Raiders and collected 24 saves on 28 shots faced. She had 12 of those saves in the first period and eight in the third. Albert stopped eight of 12 shots for the Beaver Dam Co-op in the first period, while Okon stopped 33 of 37 shots after that. She had 20 saves in the second period alone.
Schafer continues to lead the state in goals scored by a wide margin, which is something she never saw coming at the start of the season, especially considering she was coming off an ACL tear suffered early in the 2019 softball season. At first, there were questions if she would be back for the hockey season and what her effectiveness would be. Instead, her rehab went so well, she was back playing volleyball by early September.
"Right away they told me six to nine months, no earlier," Schafer said. "I kept pushing and I was like, 'yeah, I'm coming back earlier.' I had a lot of statistics going against me saying I would re-tear it, if I didn't tear the other one. Even during volleyball I was like, 'I need to be more ready for hockey.' We do a lot of morning workouts so I think that helped build a lot of strength back too."
Raider coaches Jenna Wieting and Scott Brandner made a key move as the season began moving Kennedy from the defensive role she played last year to a forward. Teaming up Kennedy and Crass with Schafer on the top scoring certainly has worked as the Raiders have 79 goals in 18 games compared to the 41 they scored in 22 last year. Kennedy has 11 goals and 16 assists, while Crass has six goals and 16 assists.
"Everyone has off games, but when one person has one, the other person steps up," Schafer said of her line mates. "It's nice because, especially this year, I feel like we can handle criticism from each other pretty well. If we're messing up constantly on one thing I feel like it's easy to talk to each other about that which I don't think we've had in previous years. I think they've done a lot better, which has helped everything a lot."
It's not only the offensive end where Schafer said the team is better.
"We have a solid defense this year too," she said. "They're holding the blue line. I feel like we have more freedom coming back up the ice. We don't have to be so much on guard. We can actually try to work our offense this year instead of always working on our defense."
Schafer is planning on attending UWStout after graduation.
"I've had a couple offers (to play collegiately), quite a few, but none of the schools have engineering," she said. "You have to focus on your education first. I'm probably going to play club hockey. I don't want too big of a commitment after high school because even high school is quite a bit."
Lightning 9, Raiders 3
In their first game Saturday at Beaver Dam, the Raiders fell behind 6-1, put together a mini rally to get within three, but then the Baraboo-based Badger Lightning struck for three late goals to pull away for a 9-3 win. It was the Lightning's second win over Medford this year with the first being a 7-5 win back on Nov. 30.
Despite being outshot 17-2, the Raiders got out of the first period only trailing 1-0. Bella Bowden got the Lightning's goal with just 26 seconds left in the period.
Quick strikes to start the second period, however, put the Lightning up 3-0. Kaylee Engel scored off a Lily McPherson assist 35 seconds in and Kayla Capener got an unassisted goal just 32 seconds later.
Schafer got Medford on the board with an unassisted goal at the 1:52 mark. The Raiders burned off a five-minute major penalty, but that may have sapped some energy as the Lightning rattled off three straight goals. Capener scored at 10:15, Ellie Boethel got a short-handed goal off an Engel assist at 11:16 and Capener got her hat trick and made it 6-1 off an Eryn Benson assist at 13:08.
The high-scoring period continued with Medford getting its last two goals. Kyla Kennedy got an unassisted goal at 14:13, her 11th goal of the season, and Kiersten Crass followed with her unassisted goal at 15:07, her sixth of the year.
It stayed 6-3 until the 9:13 mark of the third. That's when Engel scored an unassisted goal. Bowden scored with a Capener assist at 10:27 and Boethel finished things at 14:37 with an Engel assist.
Duesing finished with 36 saves. The Lightning's Kaitlin Elder had 16 saves. The Raiders did not convert on four power plays, but killed off two.
Medford is back on the ice tonight, Thursday, against the Chippewa Falls-Menomonie Co-op. Game time is 6 p.m. in Chippewa Falls.
The Raiders host Northland Pines Monday at 6 p.m. in their home finale for 2019-20.
Raiders 7, Tigers 6
On Jan. 16, the Raiders took on the Black River Falls Tigers in what was considered a JV game and rallied for a 7-6 win. Medford battled back from a trio of three-goal deficits in the game.
Schafer scored at the 13:06 mark of the first period and Crass scored with assists from Schafer and Kennedy at 14:11 to pull the Raiders within 3-2. The Tigers scored two more goal midway through the second to go back up by three. Kennedy assisted on a Schafer goal at 10:39 to make it a 5-3 game.
The Tigers went up 6-3 at the 4:10 mark of the third thanks to a Brenna Roush goal, but then Medford's offense caught fire.
Kristen Brandner started the comeback, scoring off assists from Kennedy and Crass at 9:40. The Tigers, who did not commit a penalty in the first two periods, found themselves short-handed down the stretch and it cost them. A tripping call led to Schafer's goal with assists from Crass and Krueger at 11:18. Another tripping call helped Schafer score again off a Hraby assist at 13:16 that tied it.
After yet another tripping call, Crass got the game-winner with 2:29 left.
Alex Nicks had 16 saves for the Raiders, who put 31 shots on goal and committed just one penalty.