Posted on
Redmen got even with Prentice, lose big crossover with Apaches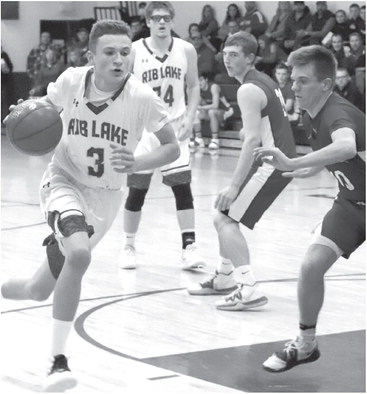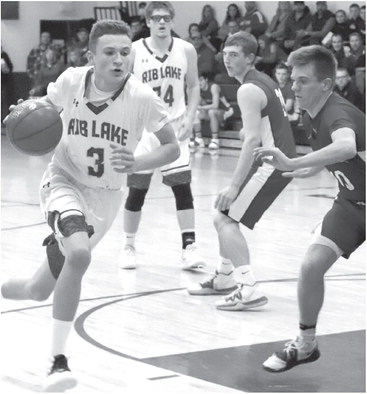 RIB LAKE BOYS BASKETBALL
The Rib Lake Redmen evened their season score with the Prentice Buccaneers Tuesday, building a double-digit first-half lead and holding on for a 55-47 win.
Levi Ewan, Nick Gerstberger and Steven Petkau all hit double digits with 15, 14 and 10 points respectively in the win, which kept the Redmen on top of the Marawood North standings as February quickly approaches.
At 8-2 in Marawood games, the Redmen hold a half-game lead over 8-3 Phillips, who got a big 64-60 win over Athens on Tuesday and completed a season sweep of the Blue Jays, who fell to 6-5 in league play.
At 12-2 overall, Rib Lake is ninth in this week's wissports.net Division 5 state rankings.
Haunted by a dreadful shooting night that led to Prentice's 64-54 upset win over the Redmen back on Dec. 13, Rib Lake set the tone early in Tuesday's home rematch. Petkau and Gerstberger scored eight points each in the first half and Ewan added seven. Ewan and Logan Blomberg each hit a 3-pointer in the half as Rib Lake jumped out to a commanding 28-13 lead.
Ewan got two more early buckets and was four for four from the free throw line midway through the second half. Gerstberger got three second-half hoops and Ryan Patrick scored all six of his points in the half as Rib Lake kept Prentice at arm's length despite big halves from Trent Heikkinen and Peyton Enders.
Heikkinen scored 15 of his game-high 22 points in the second half for Prentice and Enders went off for 15 of his 18 points in the half. Each sank a pair of 3s.
Logan Blomberg finished with six points for the Redmen and Devyn Vlach, who had five 3-pointers and 23 points in the first matchup between the teams, was held to four.
Rib Lake hits the road for its next three games, starting with a non-conference trip to Lake Holcombe Friday. The Chieftains are a solid 10-4.
The Redmen return to Marawood North play Tuesday with a pivotal rematch at Phillips. Rib Lake buried the Loggers 84-57 in the first meeting Dec. 17 and could take a big step toward winning the North by beating them again on Tuesday.
Rib Lake is at Newman Catholic and will play the 5:45 p.m. game of a varsity doubleheader that night.
Apaches 61, Redmen 47
After coasting, for the most part, through their previous four games, the Redmen got their toughest test of the season Thursday and didn't quite have enough to pass it in a 61-47 home loss to Auburndale.
With the win in this Marawood Conference crossover, the Apaches improved to 14-1 as they rarely made mistakes and hit clutch shots whenever the Redmen made runs at them.
Cooper Weinfurter, a senior guard and two-time All-Marawood South selection, hit most of those clutch shots, pouring in 26 points, including 18 in the second half.
"They're a good team and well coached," Rib Lake head coach Carrie Ewan said. "Just too many miscues on our part. You just can't have that many miscues when you play a team like Auburndale. They do make you pay. They're a great team. We held right with them for a while."
Levi Ewan hit a short jumper on Rib Lake's first possession, Gerstberger converted a three-point play for a 5-2 lead and Petkau scored for a 7-4 edge early. Auburndale, who jumped to ninth in this week's Division 4 state rankings, came back with an 8-0 run and never trailed again. Back-to-back 3s by Fletcher Raab pushed the Apaches' lead to 22-12. Petkau nailed a 3-pointer off a Gerstberger kickout, but that was answered by a tough shot in the lane by Hunter Wright and a Dylan Paun free throw to make it 25-15.
The Redmen then caught some momentum as Vlach sandwiched a pair of left-corner 3s around a Gerstberger hoop to cut the deficit to two. Patrick scored in the lane off an Ewan assist and Gerstberger scored along the baseline off another Ewan assist to tie the game at 27-27, but Auburndale ended the first half on a mini 5-0 run with a left-side drive from Weinfurter, a Paun free throw and a Schuyler Gilhausen hoop off a Weinfurter assist to take a 32-27 halftime lead.
After seeing the Apaches get to the rim too easily at times in the first half against their man-to-man defense, the Redmen tried a 1-3-1 zone in the second half and had some early success with it. That allowed them to tie it again at 37-37 with about 12 minutes left after Petkau scored four times in the paint and Ewan banked in a 6-foot shot.
But Wright stuck in his own missed shot and Weinfurter delivered back-toback 3-point daggers from the left corner to put the Apaches back up by eight at 4537. Gerstberger scored off an Ewan assist to make it 45-39 and Vlach later scored off a Petkau assist to cut it to 47-41. A Gerstberger 3-pointer made it 49-44, but Raab answered by hitting a huge 3-pointer with just over five minutes left and the Redmen never got any closer.
"We'd come close and they'd come back down and hit one," Carrie Ewan said. "We did change to the 1-3-1 for awhile. It was something where we wanted to give it a shot. We knew they were good outside shooters, but they were really having their way with us versus the man anyway. It worked a few times. We shut them down a few times, but all of a sudden once they figured it out, they figured it out."
Gerstberger led Rib Lake with 15 points, while Petkau had 13 and Vlach added 11. The Apaches held Levi Ewan, who came in averaging 17.6 points per game, to just six by giving him no open looks from 3-point range and making sure they helped whenever he tried to drive. Ewan had a game-high eight assists. Petkau pulled down eight rebounds. Patrick scored two points for the Redmen.
Carrie Ewan said the Apaches actually showed a lot of 2-3 zone on film, but they never went to it. Raab scored 14 points for Auburndale and Wright added 12. The Apaches hit 22 of 46 shots from the field, including seven of 21 3-pointers. Rib Lake was 20 of 40 from the field, including six of 19 from long range. Aubundale made 10 of 14 free throws, while Gerstberger made Rib Lake's only attempt.
"I told the guys they played as hard as they could, they left it all on the court," Carrie Ewan said. "It's not like they came out and played sloppy by any means. We'll shake this one off and get back to work (Friday) night. We have to gear up for Prentice and gotta get back on track."