Posted on
Rau, Bowe win weight classes, four more suffer tough title bout losses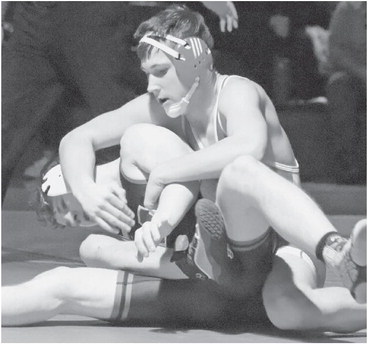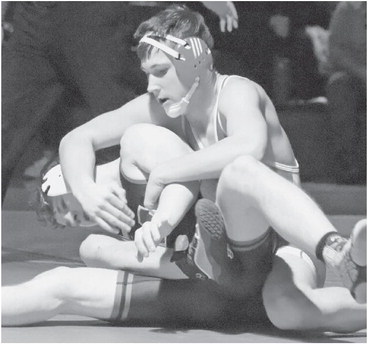 ARCADIA WRESTLING CHALLENGE
The Medford Raiders doubled their number of champions from one to two and impressively had seven more topfour finishers while repeating their third-place finish from a year ago at Saturday's 16-team Arcadia Challenge.
Jake Rau won the 220-pound championship for the second straight year, while Clay Bowe earned his first Arcadia title at 182 pounds after taking third a year ago.
Eric Rehbein, Dane Higgins, Zeke Sigmund and Emett Grunwald all lost in heartbreaking fashion in championship matches.
The Raiders scored 464 points to finish behind Cadott (541.5) and Gale-Ettrick-Trempealeau/Melrose-Mindoro (487), who came up short in its attempt as tournament champions. The Titans are a team Medford could see if the Raiders get back to the Division 2 team sectional in February, though G-E-T/M-M has to outscore Ellsworth in the regional to get there.
"We started out really strong, a lot of our guys got into the championship pools and we had seven in the finals," Medford head coach Brandon Marcis said. "The finals didn't go the way we wanted it, but we still got a couple champs out of it. Clay had a great tournament, Jake Rau had a great tournament. The rest of the guys in the finals, they were there. We just couldn't quite get that little extra bit. At the end of the day we took third. We felt really good about that. It's not like we maxed out. There's still things that we can work on to get us there. We were 20-30 points behind Melrose. That's one of the teams we're looking at."
Most brackets started with opening four-man pools. Records in those determined which placement pool wrestlers finished their day competing in.
Rau easily advanced to the 220-pound championship bracket with a bye and pins over Indepedence-Gilmanton's Jacobo Medina (1:22) and Eau Claire Memorial's Sam Pickett (2:48).
He needed just 23 seconds to pin 21-6 Jake Blum of Onalaska in the semifinals and then earned a big 3-1 decision over 25-3 Joe Schulte of Prescott, who won last year's Division 2 220-pound sectional title at Neillsville. Rau (24-1) and Schulte did not meet in the 2019 post-season but they could at this year's Osceola sectional.
They are ranked one and two in this week's Wisconsin Wrestling state rankings for the 220-pound Division 2 weight class, while the Neillsville Co-op's Gunner Hoffman, who beat Rau on Dec. 19, is ranked third.
Bowe (22-6) also eased into the 182-pound championship bracket with a bye and quick pins over Onalaska's Donovan Olson (34 seconds) and Billy Faas of the G-E-T/M-M reserves (29 seconds).
He pinned 24-8 Parker Shackleton of St. Croix Central in 1:14 in the semifinals and beat Jacob Summers of G-E-T/M-M 6-2 in the title bout. Summers (26-7) is ranked fifth in the state this week, while Bowe is fourth.
The tough-luck losses in championship bouts started with Rehbein at 126 pounds. Rehbein (17-9) got to the championship bracket with three pins, including one in 3:01 over Brookwood's Jaden Atha. In the semifinals, Rehbein beat 25-8 Derick Vollendorf of Ladysmith 10-4. In the title bout, Cochrane-Fountain City's Julian Spriggle, who is ranked 12th this week in Division 3, outlasted Rehbein in a match that ended with some confusion. Marcis said Rehbein made an illegal move, the official got bumped and called the match with second remaining.
"At the end of the day, it's going down as a referee error and the match was called because both wrestlers left the mat," Marcis said. "It wasn't a disqualifi cation, it wasn't an unsportsmanlike. It was referee error. There were six seconds left. You can't re-wrestle it because they already left the mat. Chalk it up as a learning thing for everyone."
At 138 pounds, Higgins (21-6) easily got to the title bracket with three first-period pins in his pool. He got a semifinal pin in 2:50 over Minnetonka, Minn.'s Marco Christiansen but then suffered a 7-6 loss by decision to 26-8 Sam Johnson of GE- T/M-M, who is ranked fourth in the weight class this week. Higgins is ranked sixth.
Sigmund (25-4) got a bye and two pins to get to the 145-pound championship bracket. He then met Cadott's 26-8 Dawson Webster in the semifinals, who Sigmund beat 4-1. In the finals, Sigmund and Minnetonka's 25-5 Andrew Sanders battled to a 3-3 tie in regulation. Sanders, however, got a takedown in overtime to earn a sudden-victory win.
Sigmund is ranked seventh this week in his Division 2 weight class.
"I think nine times out of 10 we beat that kid," Marcis said. "Maybe we just got a little lethargic on the feet. That happens. We want to learn those lessons now and post-season is when it really matters. I look for Zeke to make a big impact at the end of the season."
Nelson Wahl of Cadott (17-5) took a sudden-victory championship win over Grunwald at 152 pounds by a score of 3-1. Before then, Grunwald (23-8) got pins in 1:57 over Logan Bee of Eau Claire Memorial and in 5:29 over Minnetonka's Dylan Pitt as well as a 13-4 major decision over 20-12 Ryan Vollendorf of Ladysmith to get to the semifinals, where he beat 16-5 Gabe Schumacher of Minnetonka 8-3. Grunwald is 12th in this week's Division 2 152-pound rankings.
Jake Brunner (19-9) used a bye and two quick pins to reach the 160-pound title bracket. He lost his semifinal match to 32-1 Devin Wasley of St. Croix Central 6-1. Wasley is ranked fourth this week in Division 2. But Brunner rebounded to win the third-place match by pin in 1:30 over Ladysmith's Grant Rydlund.
Dalton Krug (17-12) was one of just six 195-pound wrestlers entered in the tournament, so that bracket featured a straight round-robin format. Krug went 3-2 to place third. He pinned Mosinee's Thomas Obremski in 2:51 and Onalaska's Alex Bautista in 19 seconds before losing 9-1 to champion Gavin Tegels of Cadott (28-5). Minnetonka's 17-3 Quinn Sell took an 18-5 major decision before Krug finished with a pin 3:53 over Eau Claire Memorial's Hendrick Boese.
Ty Sova (13-8) got a bye, a pin in 5:47 over Minnetonka's Charlie Palm and a 9-6 win over Arcadia's Hunter Fitzpatrick to reach the 106-pound championship bracket. Carson Koss of G-E-T/M-M (29-6) won the semifinal match with a 16-0 technical fall and Brooks Johnson of the G-E-T/M-M reserves beat Sova 8-6 in the third-place match.
Carson Church (10-2) beat St. Croix Central's Tadan Holzer 14-1 in the fifth-place match at 132 pounds. Church went 2-1 in his pool with two pins and a tough 1-0 loss to Cadott's Tristan Drier (26-9). Church also beat Minnetonka's Diego Pitt 8-4.
Hayden Johnson (12-13) pinned Mosinee's Jaydon Cherek in 5:45 in the 170-pound fifth-place match after beating Minnetonka's Daniel Mbonde 7-3 in the bracket semifinal. He was 1-1 with a bye in his initial pool, losing by pin to 32-0 Brady Spaeth of Cadott.
Matthew Gebert was 11th at 113 pounds with a 2-3 record. He pinned Minnetonka's Jackson Jaffe in 1:08 and Hayden Fry of the G-E-T/M-M reserves in 45 seconds. Blake Schilling was 12th at 120 pounds with a 1-4 record. He pinned Gabe Rombalski of Independence-Gilmanton in 2:36.
Minnetonka placed fourth in the team standings with 403 points, followed by St. Croix Central (293), Prescott (286), the G-E-T/M-M reserves (263.5), Eau Claire Memorial (228), Independence-Gilmanton (208) and Ladysmith (204.5).