Posted on
Raiders nearly make stunning comeback, 7-game streak ends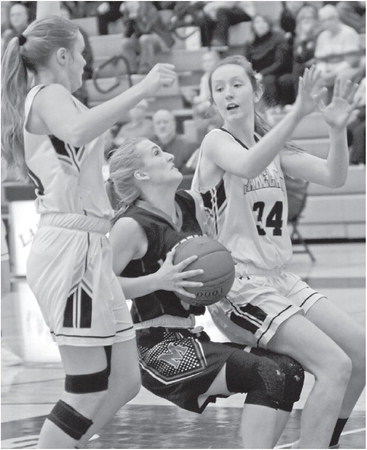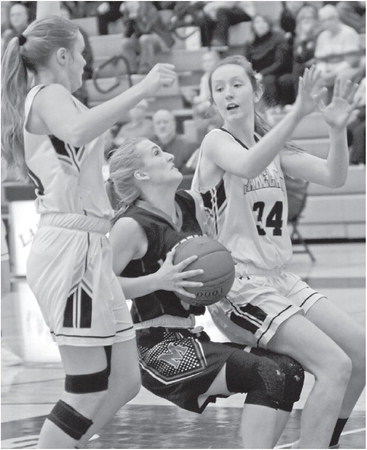 MEDFORD GIRLS BASKETBALL
The damage done in 34 minutes Tuesday was almost undone in the last two minutes by the Medford Raiders, who nearly pulled off a miraculous comeback in a 56-52 Great Northern Conference loss at Lakeland.
The defeat snapped Medford's sevengame winning streak and was the Raiders' 11th loss in their last 12 meetings with Lakeland in a six-year stretch. It also put a big dent in Medford's fading GNC title hopes. At 5-3 in league play, the Raiders trail league-leading 7-0 Rhinelander by 2.5 games and trail Lakeland and Mosinee by a half-game for second place.
The Raiders are still a solid 12-4 overall.
Lakeland improved to 5-2 in league play and 11-5 overall and completed a season sweep against the Raiders. Medford played well early but couldn't hold on in a 48-41 loss back on Dec. 20. This time, the Raiders led 12-11 early, but a 12-2 run turned things in Lakeland's favor and that's where they remained until the final moments.
With 6:55 left, the Raiders fell into their biggest deficit at 54-33 and were only able to slightly chip away over the next 4:30 on three free throws, a Marissa Fronk pull-up jumper and a 15-foot jumper by Katie Brehm with 2:35 left.
Brehm stole Lakeland's ensuing inbound pass and got the ball to Fronk, who swished a left-wing 3-pointer. But Lakeland quickly broke Medford's press and got an easy layup from Amaya White to make it 56-43 with 2:17 left. Vivian Trapp got a steal and Lakeland ran the clock under the two-minute mark, seemingly ending all hope.
But Rynn Ruesch started one last rally, stealing a pass and scoring a lefthanded layup with 1:42 left. Fronk and Rau trapped T-Bird Juliana Ouimette and pried the ball loose, leading to Rau's right-corner 3-pointer with 1:30 left, pulling Medford's deficit under double digits for the first time since late in the first half.
After a T-Birds' timeout, Fronk stole their inbound pass and scored to suddenly make it a two-possession game. Hanson tied up Trapp in the backcourt at the 1:15 mark, giving the Raiders a chance to pull even closer with plenty of time to work with. They got the shot they wanted, but Rau overshot a close look from right side. Camille Quade missed a bonus free throw, giving Medford another crack at it. Rau missed a 3 and an outof- bounds call went Lakeland's way with 31.9 seconds left. But, Brehm stole the inbound pass, scored and was fouled with 30.3 ticks to again give Medford hope. Brehm's free throw and Rau's chance at a putback both rimmed out and the Raiders were unable to get the T-Birds on the free throw line until there were 9.8 seconds left.
White missed her bonus throw, but Ouimette blocked Fronk's last-gasp shot.
A mid-game lull was responsible for putting the Raiders in their big hole. Fronk scored off a coast-to-coast drive and then hit a 3-pointer to pull them within 25-19 late in the first half. The TBirds finished the half with an 8-1 spurt to lead 33-20 at the break and a 16-6 run turned a 38-27 into the 54-33 gap Lakeland enjoyed late.
Six of Medford's 21 made shots from the field came in the last three minutes of the game, boosting the team's shooting percentage to 41.2% for the game (21 of 51). Lakeland shot at a 51.1% clip (24 of 47) and scored 38 points in the paint.
Both teams turned the ball over 22 times.
The shooting troubles did not hit Fronk, who made 10 of 13 shots from the field, including three of four 3s, to finish with a game-high 25 points. Hanson scored nine for the Raiders, Ruesch scored six, Brehm got her four points late, Laurissa Klapatauskas and Rau scored three apiece and Autumn Krause scored two. Brehm and Fronk had five rebounds each. Fronk had four assists while Krause had three.
Ouimette led Lakeland with 12 points, while Abby Parris had 10.
The Raiders return to their home court Friday for a date with last-place Tomahawk at 7:15 p.m. Medford then plays back-to-back Wisconsin Valley Conference opponents, hosting Merrill Monday and visiting Wausau East on Tuesday.
Medford 59, Antigo 34
Medford's seventh straight win didn't come quite as easily as expected, but the Raiders finally broke down the Antigo Red Robins in the last 12 minutes and pulled away for a 59-34 win to start the second round of conference play.
Antigo came into the game with a 1-11 overall record and was pounded 61-32 by Medford in the first meeting Dec. 6. The Robins, however, hung tough in the first half, leading 9-6 midway through and, after a pair of 3s by Rau and another by Hanson gave Medford a 15-11 lead, they forged a 15-15 tie on two free throws and a rebound bucket by junior forward Greta Parsons.
Brehm's bucket with just over three minutes left broke the tie and gave Medford the lead for good. Fronk's left-side drive and then four free throws in a 29-second span put Medford up by eight and a Hanson 3 put the Raiders up by nine with 11 seconds left in the half, but McKenzie Schroepfer's baseline shot beat the buzzer and kept Antigo within 26-19 at the half.
Four early points by Parsons continued to keep Antigo close in the second half with her basket off a baseline inbound making it 28-23. A Lonna Weix 3-pointer answered hoops by Ruesch and Krause to make it 32-26.
A three-point play by Fronk, however, at the 14:21 mark put the Raiders up 35-26 and started the closing run that finally put the game away in a second half that featured plenty of contact and free throws as well as a key contribution from freshman Bryn Fronk, who scored a season-high seven points in the game, all in the second half.
Her first bucket came off a Hanson assist inside and gave the Raiders their first double-digit lead at 37-26. Her 3-pointer made it 42-31 with just under 10:30 left and her transition bucket, followed by hoops from Marissa Fronk and Hanson put it away at 52-33 with less than five minutes to play.
Marissa Fronk led Medford with 17 points, six rebounds, four assists and three steals. She made seven of eight free throws and was the focal point of a boxand- one defense Antigo tried to employ for a stretch in the second half. Hanson scored 14 points and added three assists and two rebounds.
Krause had a tough shooting night, but pulled down a team-high eight rebounds and had four assists and two steals while scoring eight points. Rau had six points while hitting two of five 3-point shots and added five rebounds and two steals. Ruesch scored four points, Brehm had two with four rebounds and Klapatauskas added a late free throw.
Parsons led Antigo with 11 points and five rebounds.
The Raiders were on the winning side of the turnover battle 23-12 and, though it wasn't a great night, had a key edge by simply shooting the ball better. The Raiders were 19 of 56 overall from the field (33.9%), five of 21 from 3-point range (23.8%) and 16 of 28 from the foul line (57.1%). Antigo was 12 of 44 (27.3%), two of 11 (18.2%) and eight of 15 (53.3%).
Medford 52, D.C. Everest 45
Krause played the role of zone buster while scoring 12 of her game-high 17 points in the second half of Medford's 52-45 non-conference win at D.C. Everest Thursday night.
The Raiders survived an eight-minute scoring drought in the first half that put them behind 20-11 by going on an 8-0 run in the final 2:48. The run included a Hanson steal that led to a Marissa Fronk bucket, a Rau putback off her own miss and a Krause 3-pointer with nine seconds left.
The teams traded the lead a couple of times in the first nine minutes of the second half, but the second of Krause's trio of second-half 3s put Medford ahead 31-29 and the Raiders stayed ahead the rest of the way.
Krause's third corner 3-pointer of the half against Everest's 1-2-2 zone made it 36-31.
The Evergreens pulled within 38-35 when McKenna Hammond put back her own miss, but Rau hit a big 3-pointer with 4:22 to push Medford's lead to 41-35. Everest got a Hanna Stuedemann bucket and free throws from Kiara Hammond with 3:23 left that cut it to 41-39. Everest got a stop, but Ruesch came up with a big defensive play, drawing a charge in the lane on Stuedemann. Marissa Fronk swished two free throws after a technical foul and Rau drove through the lane and scored another key bucket with 2:30 left to put Medford back up by six at 45-39.
The Raiders were clutch from the free throw line from there, making seven of eight in the last 1:50 to seal their sixth straight win.
Fronk scored 16 points and had three steals in the win. Rau scored 12 points and had four assists. Hanson had seven points, five assists and two steals. Ruesch and Katie Brehm had five rebounds apiece. Krause had three rebounds.
Stuedemann led the Evergreens, who fell to 2-14, with 16 points. D.C. Everest missed all 13 of its 3-point attempts, while Medford was seven of 23.
Medford is 2-0 against Wisconsin Valley Conference teams.