Posted on
Raiders in great position as GNC teams make the turn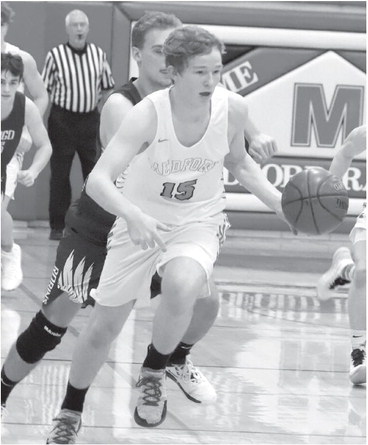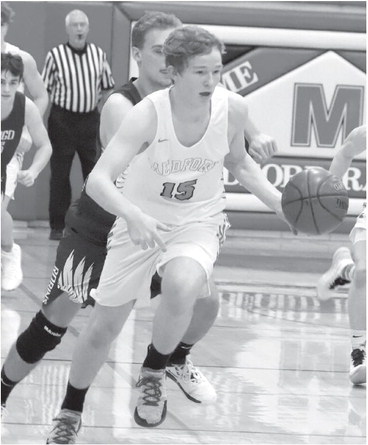 MEDFORD BOYS BASKETBALL
Peyton Kuhn and Mason Rudolph hit big 3-pointers down the stretch to finally get the Medford Raiders past pesky Lakeland 62-53 Tuesday and stay unbeaten in the Great Northern Conference.
Kuhn's deep 3 from the left wing gave the Raiders a 56-49 cushion with about five minutes to play and punctuated his 28-point performance. Rudolph's only points of the night came on a clutch trey from the left corner with 1:52 left that pushed the lead to 60-51 and ultimately put the game away for the Raiders, who improved to 7-0 in league play and 12-3 overall.
Medford has a two-game lead in the GNC over Mosinee (5-2, 9-4) and at least a four-game lead over everyone else with five conference games left.
In the rescheduled date of a Jan. 17 postponement, the Raiders had an inconsistent shooting night and met an inspired Lakeland team that came in scuffling a bit having lost seven of its last eight games, including a 55-51 home loss to Amherst the previous night.
The Thunderbirds, though, showed some life from get-go, scoring on the game's first possession and turning an early 10-5 deficit into a 16-15 lead on a Collin Quade transition bucket off a Michael Ouimette outlet pass. Lakeland grabbed a 23-22 lead on a Jacob Borak 3-pointer, but Raider Ty Baker answered with a 3-pointer from the left wing to put Medford back on top. The Raiders never trailed from that point on.
Kuhn hit the last of his four first-half 3s to make it 30-23 and a block shot on the defensive end by Justin Sullivan led to Baker's transition hoop off a Rudolph assist to push the lead to nine. Lakeland got back within 34-32 on a Tim Crisco triple, but Medford got five big points in the last 21.6 seconds of the half from Baker, who grabbed a loose ball and scored and then drilled a long 3-pointer at the buzzer to make it 39-32 at the break.
Baker had a big night with 12 points on five-of-six shooting from the field, five rebounds, two steals and two assists.
Each time Lakeland closed the gap in the second half, the Raiders had an answer. The closest the T-Birds got was 4544 on a long 3-pointer from Alex Fortier with less than 10 minutes to play. Logan Baumgartner filed Medford's response, getting a putback and adding a couple of free throws at the 8:06 mark. Kuhn added two free throws a minute later and hit a short baseline jumper moments after that for a 53-44 lead.
Lakeland clawed back within four before Kuhn hit his final 3-pointer and was still within striking distance down 57-51 when Rudolph drilled his big shot.
Baumgartner finished with six points and six rebounds. Sullivan had five points and four rebounds. Brady Hupf contributed four points and three boards. Rudolph had four rebounds. Doug Way had a bucket, five boards and two assists. Onyi Ekwueme hit the game's last two free throws and had two steals and two assists.
Fortier's 15 points paced Lakeland (24, 4-10), while Ouimette had 10 points.
Medford shot just 37.7% from the field (23 of 61), including nine of 29 from 3-point range (31%). Lakeland shot at a 41.5% clip (22 of 53) overall and was seven of 17 from long range. Medford forced 20 turnovers, committed only 10 and had a 24-12 edge in points off turnovers.
The Raiders hit the road again Friday to visit Tomahawk in GNC play. They'll be at Wausau West Tuesday before returning to Raider Hall Feb. 7 to face Rhinelander. After the Tomahawk game, three of Medford's last four GNC games will be played at Raider Hall.
Medford 88, Antigo 44
Whether it was built-up energy from not having played a game for 10 days, the fact it was a big conference rival or something else, Medford couldn't have started a game much better than it did Friday in an 88-44 blasting of Antigo at Raider Hall.
In their first repeat meeting of the conference season, the Raiders smothered the Robins defensively in the opening 18 minutes. They held them to five of 21 shooting from the field, forced 23 turnovers and got 12 steals. Medford had five offensive rebounds in the half and turned those into eight second-chance points.
Medford led 9-5 five minutes into the game. Twelve minutes later, the Raiders led 46-10.
"That was exactly what we were looking for," Medford head coach Ryan Brown said. "I was kinda nervous. I knew they wouldn't be happy after how we put it to them a little bit last time in Antigo (7046) and they've been playing pretty good. They were tied for second in the conference and they just lost a close one at Merrill by eight. We haven't played for 10 days so I really wanted to be able to come out with some intensity but still execute, still keep our head and I thought our guys did a great job. They really brought it on the defensive end getting stops and turning them into fast breaks or really doing a good job of breaking down the 1-3-1 in the first half."
"Our communication was great and we just played with great energy," Kuhn said after leading all scorers with 26 points and securing a game-high five steals.
The knockout punch was a 21-0 run that covered just over five minutes. It started right after high-scoring senior guard Nevin Cornelius went to Antigo's bench with his third foul with 12:34 left in the first half.
Kuhn hit one of two free throws following that foul. Baumgartner rebounded the miss and that led to Kuhn hitting a tough scoop shot in the lane to make it 12-5. Baumgartner got a steal and score, Sullivan aggressively took the ball to the rim and scored, Baumgartner got another steal that led to bonus free throws and then the freshman drilled a 3-pointer to make it 21-5 with 10 minutes left in the half.
That opening stretch was the start of a big night for Baumgartner, who finished with 15 points, three steals, two assists and two rebounds.
"Coach tells me to keep shooting it and he trusts me with the basketball," Baumgartner said of his increasing comfort of playing at the varsity level. "He teaches us to keep running the offense and we'll get a good shot at the end of it."
"He's a smart player," Brown said. "He sees gaps to cut into. He knows how to get himself into his shot area. He attacks the boards hard."
Way's defensive deflection led to Kuhn score. Kuhn got another bucket off a long outlet pass from Ekwueme and Rudolph capped the spree with a 3-pointer to make it 30-5. The lead got to 38-8 on Kuhn's 3-pointer off an offensive rebound by Baumgartner and 43-8 on a Rudolph bucket off a Hupf assist. The halftime lead was 47-14.
Kuhn simply pointed to the team's desire to dominate within the conference as a key reason for the team's inspired start.
"In these conference games, we know we've gotta go," he said. "We're confident that we're going to win every single one, so we come out with that intensity and energy that gets us going."
To their credit, the Red Robins didn't quit and gave Raider fans an uneasy moment or two when they clawed back within 54-34 with just over 10 minutes left. Cornelius scored 12 points in a 20-7 run and a more aggressive approach from their 1-3-1 zone that started turning the Raiders over and leading to transition chances.
After John McMurry drew a charge to give Cornelius his fourth foul at the 9:56 mark, the Raiders went on an 11-0 surge to regain control. Kuhn scored first, followed by a Baumgartner 3-pointer, a Kuhn steal and score, a Way bucket off a Sullivan assist and Baumgartner's free throws after he got a steal in the backcourt. That made it 65-34 with 8:40 left and allowed the Raiders to substitute freely down the stretch. Senior Dylan Wickersheim took advantage of his chance to shine, hitting two late 3s and scoring seven points and sophomore Joey Sullivan scored five points, including a triple.
Rudolph finished with 11 points and there steals. Way had eight points and seven rebounds. Ekwueme, Sullivan and Cooper Wild scored four points apiece. Ekwueme had four rebounds, three steals and two assists. Baker had a bucket, five rebounds and three assists. McMurry had a hoop and Hupf had four rebounds and two assists.
Cornelius finished with 18 points for Antigo, who sits at 3-4 in the GNC and 4-9 overall.