Posted on
Lechleitner makes quick comeback to rejoin team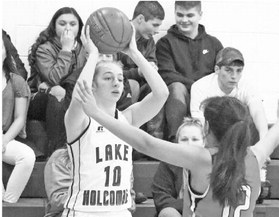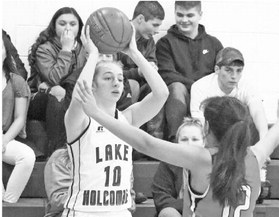 It hasn't been an easy road for Lake Holcombe senior Megan Lechleitner, as she made her way back to playing for her girls basketball team, after a second ACL tear.
Lechleitner saw bad luck strike in her sophomore year of the regular basketball season, tearing her left knee, then disaster struck once more this year, as she tore her right knee during summer league basketball play.
"It's a little frustrating at times," said Lechleitner of sitting on the bench with an injury, "but, can't really do anything about it, so, just sit and watch."
Coming from a competitive family, where her mom is a head girls basketball coach, her dad coaches middle school ball and her sisters join her on the court, sitting on the sidelines wasn't an option for the whole season.
"This year, they (family) were pushing me a lot harder to get back than my fifirst ACL," said Lechleitner.
At the beginning, Lechleitner was told the earliest she could begin play was six months after her surgery.
"My fifirst one, they wouldn't let me come back for nine months," she said.
Lechleitner pushed herself in physical therapy, with leg lifts, leg presses, hamstring curls and biking, putting in a lot of time before school in the weight room.
"That's a lot of work," said Lechleitner. "That's harder than actual practice, right there. Not a fan of that."
With the time in the gym and a lot of protein shakes to rebuild muscle, Lechleitner was back practicing low impact moves in January. She moved up to full impact the second week back and was on the court Jan. 14, for the true start of her senior year.
"Not very many people can do it in six months," said Lechleitner of her rehab, adding she feels good about her comeback. "I've really pushed myself through this."
The 2018-19 Second Team All-Conference player plans on college ball somewhere and says one positive came from her injury – better free throw shooting. With no jumping required, Lechleitner can shoot free throws to her heart's content and let her knees have a break.
Lechleitner encourages other athletes who are going through the same thing to stay strong, stay focused and stay determined.
"If you really want it," said Lechleitner, "then you gotta work for it, cause it's just not going to come to you."
Senior Megan Lechleitner was back on the court Jan. 14, for her Lake Holcombe girls basketball team, after being sidelined by her second ACL tear and knee repair. Lechleitner picked up where she left off last season, doing anything A