Posted on
Despite absences, Medford avoids second tie with Antigo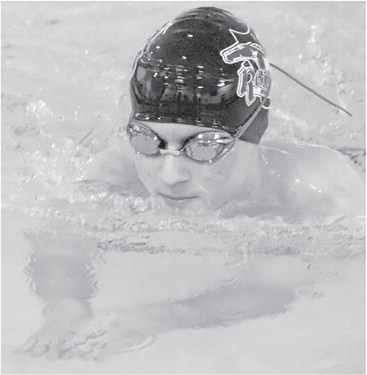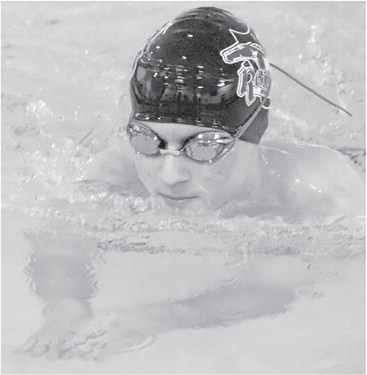 MEDFORD BOYS SWIMMING
Already without injured senior Matt Buchan, the Medford Raiders took another hit Thursday when junior Abe Miller went home from school sick, leaving the team with just nine available swimmers for their Parents' Night meet with Antigo.
Nine, however, was just enough as the Raiders who, despite winning only one event, pulled out a 78-74 victory over the Red Robins in the year's last home meet.
"I knew it was going to be a really close meet tonight," head coach Shari Bergman said. "My prediction was 76-74. I re-did the lineup several times based on where we needed points. I had a conversation with our guys tonight right after school and I'm like, 'look, this is a numbers game and we have only nine guys that means we have 18 spots. So we're not able to do two relays tonight. We need some guys to step up and do some distance events.'" Freshman Dylan Kraemer and senior Blaze Kesan filled those key distance spots, Tahtankka Damm slid into the backstroke for the first time and earned a big second-place finish and several personal-best times were set as Medford improved to 2-6-1 in Great Northern Conference dual meets. Medford and Antigo tied 73-73 in their first meet Dec. 17.
The Raiders had just enough depth to put two entries in the meet-opening 200-yard medley relay while Antigo, who suited up six swimmers, had none and those 12 points were huge. Ethan Kraemer, Nathan Sislo, Damm and Kesan finished in 2:15.31, one of Medford's top times of the winter, and Isaac Dittrich, Christian Di Benedetto, Jacob Mitchell and Dylan Kraemer got the second-place points in 2:29.08.
The Raiders earned second-place finishes in each of the remaining 10 events.
While Karl Busse of Antigo won the 200-yard (2:17.2) and 500-yard freestyles (6:26.61), Medford earned nine points in each by sweeping the next three spots.
Dittrich took second in both with times of 2:32.38 and 6:47.19, Sislo dropped over five seconds to take third in the 200 at 2:34.06, Kesan took a big drop in his second 500-yard swim to take fourth at 7:38.86 and Dylan Kraemer cut five seconds to take fourth in his second 200-yard freestyle swim of the season in 2:49.17 and he took third in his first 500 at 7:36.35.
"Dylan was worried, but he did very well. He really did," Bergman said. "He's a first-year swimmer, had never swam, let alone competitively, so he did real well. Blaze had over a 20-second cut in his 500 tonight and he went a 1:06.86 as leadoff in the (400-yard freestyle) relay. That's huge for him."
Sislo, a first-year junior, had another milestone swim, setting a new personal best in the 100-yard breaststroke at 1:25.55 that caused a reaction of pure joy for him as he exited the pool. He took fourth while Mitchell was second in 1:21.01 just behind Antigo's Tate Beaber (1:19.99).
"Those are huge accomplishments for first-year swimmers because right now they're tired," Bergman said of Sislo's reaction to his time. "They're almost double the yards from where they were. So they're tired, but things are just starting to click together with them. Seeing that, that means the world, really. That was a little over three seconds (faster). So that was really huge for him."
Senior Jack Griesbach provided solid leadership by grinding to a personal-best 2:43.85 that was good for second in the 200-yard individual medley, just ahead of Mitchell (2:56.26) and behind Antigo's state-caliber senior Brett Farmer (2:15.64). Griesbach then blew away his previous best time in the 100-yard butterfl y at 1:14.85, good for second behind Farmer (57.68) and ahead of teammate Ethan Kraemer (1:19.68).
Damm's first 100-yard backstroke time was 1:17.62, not far behind Antigo's Bryce Karl (1:15.47) and just ahead of Ethan Kraemer (1:19.9). Damm set a new personal-best time in the 100-yard freestyle too at 1:03.78 to take second, while Di Benedetto was third in a personal-best 1:10.28. Karl won that in 1:01.93.
Kesan sprinted to a new best time in the 50-yard freestyle at 28.41 seconds, while Di Benedetto set a new personal best at 28.96 seconds to take fourth. Devin Farrar won for Antigo in 27.25 seconds.
Damm, Mitchell, Ethan Kraemer and Griesbach put together Medford's best 200-yard freestyle relay time of the winter at 1:52.14, 3.19 seconds behind Antigo. Kesan, Di Benedetto, Dittrich and Griesbach finished the 400-yard freestyle relay in 4:47.98. Antigo won in 4:18.03.
The Raiders will finish the dual-meet portion of their schedule today, Thursday, at 7-2 Tomahawk. The GNC championship meet follows Feb. 7 in Rhinelander.