Posted on
Cadott wrestles with team focus as season winds down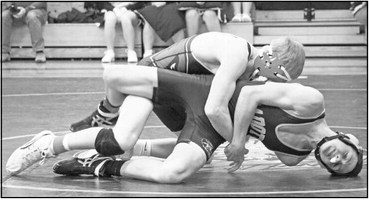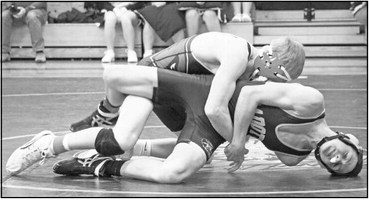 The Cadott wrestling team continued their winning ways, earning the home win against Stanley-Boyd-Owen-Withee, before bringing home the championship in an Arcadia invitational.
Jan. 23 vs. Stanley-Boyd-Owen-Withee Dual (W 56-18) "The boys wrestled great last night," said coach Josh Spaeth. "We are really starting to come together as a team. Our guys looked to be in shape and transitioned well from move to move."
In what was only Stanley-Boyd's second dual loss of the season, Cadott brought home a 56-18 victory over their opponents.
"They have a great team and as always, there was a great crowd who came out to support both teams," said Spaeth. "I feel our whole team looked good, but we still have improvements to make. Our freshmen continue to show great poise and continue to defeat older wrestlers."
Winning on the road, was sophomore Gavin Tegels (195 pounds) over Caden Koepl in 32 seconds. Senior Steven Pfeiffer (182) earned his win in 1:46 over Evan Meeker, while Brayden Sonnentag (106) took down Justin McManus in 1:15.
Sophomore Kaleb Sonnentag (120) claimed victory over Jarrod Marten in 1:31, with freshman Tristan Drier (132) winning in 2:42 over Trystan Christoph. Freshman Cole Pfeiffer (138) got the win over Dustin Bergmen by a 14-2 major decision, while fellow freshman Dawson Webster got the fall over Jack Wise in .39.
Junior Nelson Wahl (152) also claimed victory, over Joseph McDermond by a 12-2 major decision and senior Brady Spaeth (170) made quick work of Anthony Nicpon in .53.
The win qualifies the Hornets to wrestle for the Cloverbelt Conference Championship against Neillsville-Greenwood-Loyal Jan. 31.
Jan. 25 vs. Arcadia Invitational
Cadott finished off their week at the Arcadia invitational, winning the 16-team "Raider Challenge."
"I feel our wrestlers wrestled well," said J. Spaeth. "They were aggressive and very stubborn toward giving up points."
Coming home as champions, were B. Sonnentag, Wahl, B. Spaeth and Tegels, with K. Sonnentag placing second. Drier, senior Ethan Tegels (220) and senior Josh Briggs (285) each came in third.
Earning fourth places, were sophomore Logan Harel (113), freshman Nick Fasbender (126), Webster and S. Pfeiffer, while C. Pfeiffer came in fifth. Freshman Peter Weir (138) finished in sixth, with sophomore Ethan Duck (132), junior Michael Pecha (160) and freshman Kane Mengel (285) placing ninth.
Rounding things out, were freshmen Austin Walters (132) and Levi Lindsay (138), in 14th and 15th place, respectively.
Earning Best Effort for the Hornets, was Pecha, who wrestled sick, but stayed mentally strong and scored 23 points for the team.
"Our team continues to get better each week," said J. Spaeth. "Every member of our team scored team points. That is what will need to happen in the upcoming Regional."